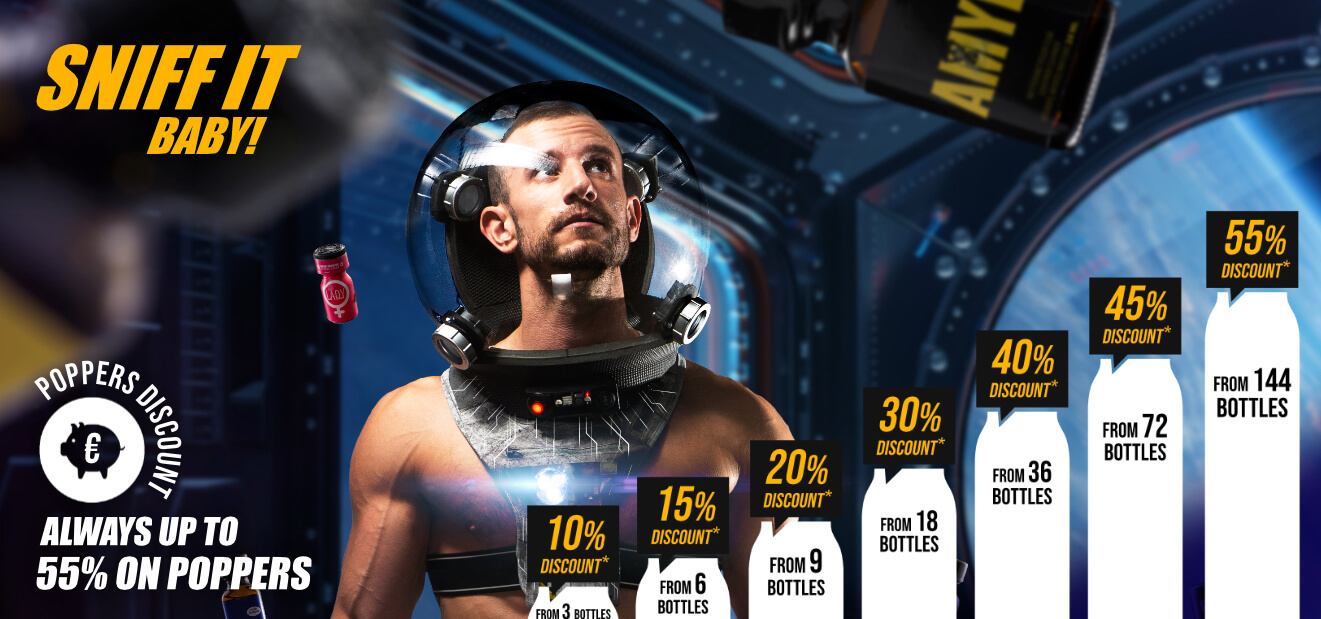 67 Produkte
UK Poppers: The best from GB for all gays
For us as a british company, the heart beats naturally above all for the poppers from the island. But not only the passion for products from the UK, but also the quality plays a role here. Our poppers are developed directly for the UK market and the reviews of our customers say a lot. Maximum enthusiasm and an increasing preference for poppers we experience again and again. A highlight is that in this category you get poppers in different strengths.
If you are an experienced gay who wants to really let go during sex, you can use Potent Blue or FIST Black. These are probably the strongest poppers that you can buy in our poppers store. Legally you won't get anything more intense on the markets and you really don't have to resort to illegal stuff. All our UK poppers and also the offers from other countries you can use legally and thus lift your sex life to new spheres.
ATTENTION: All UK poppers in our store are room scents and may not be officially inhaled directly from the bottle! We hereby distance ourselves from the improper use of our products. The sale takes place in our store only to persons from 18 years!
UK Poppers for gays - that's what's behind it
You've heard a lot about poppers, but you have no idea what's behind them? Originally, the "poppers" come from the USA and have their name from a very special sound. The predecessors of the modern UK poppers were filled in ampoules. If you opened them at the predetermined breaking point, a soft "pop" sounded. Thus the name for the blood-vessel-expanding pleasure bringer was found. Today, popping is still done, but you don't need ampoules for it.
UK Poppers are delivered in a practical bottle, for optimal effect it is best to store them in the refrigerator. Take your poppers out an hour before the lustful experience with your lover and let them warm up slowly. Important: Please do not use the heater or the microwave. The poppers get room temperature by themselves. If you overheat them, the active ingredients will evaporate and the effect will diminish. Responsible for the pleasure rush are nitrites, which are combined differently in all our english poppers. In addition, there is a fragrance that underlines the individuality of the varieties.
For beginners and advanced: UK Poppers offer the right thing for everyone
If you look around in our gay store you will see that we have the largest selection of UK Poppers. This has an advantage for you, because you will find the right variety for every taste. Some of them are more suitable for submissive gays, others for tops who want to relax their lover. Lighter varieties are ideal for you if you want to try out the effect of poppers first. Just look around our online store and click on interesting varieties.
You will of course find a comprehensive description for each of our poppers from the United Kingdom, so you know what to expect. If you want to involve your lover, ask him about his favorite flavors. And if you can't make up your mind, use popper packs. They're perfect for trying out for the first time.
For gays by gays - with us you shop UK poppers reputable
Stores always tell you the truth, but how much expertise is really behind it? With us you can rely on experience, because we are not only a gay-run store, but also experienced in dealing with UK poppers. And so you can be sure that we will only send you safe and tested goods to your home. Even though being gay is nothing to be ashamed of, we ship in a discreet box. Why? Quite simply, your sex life is nobody's business, especially not your neighbors. They would probably snatch the poppers out of your hand anyway. What was that slogan from the famous chips commercial? Once popped ... ? Forget chips, our UK Poppers are the true magicians of popping pleasure.
Safer sex first - use UK poppers carefully
Sex is fun, but safety is still paramount. You can also make mistakes when using poppers. To prevent this, please familiarize yourself with the method of action. The various UK poppers are mainly distinguished by their flavors and ingredients. The strength varies, but the effectiveness is the same. Poppers consist of nitrites and they have a vasodilatory effect. You know a similar effect from nitro spray, which is used for patients with high blood pressure. Poppers are not ingested through the tongue, but through the nose. Here the aroma counts, it is your sensual scent for better sex.
If you take Viagra or other vasodilators at the same time, there is a danger. Your blood pressure can drop to the point of fainting. As a fair, gay store, we have to tell you this because your safety is our concern. If you have any questions, feel free to contact us. Our experts in poppers will help you.