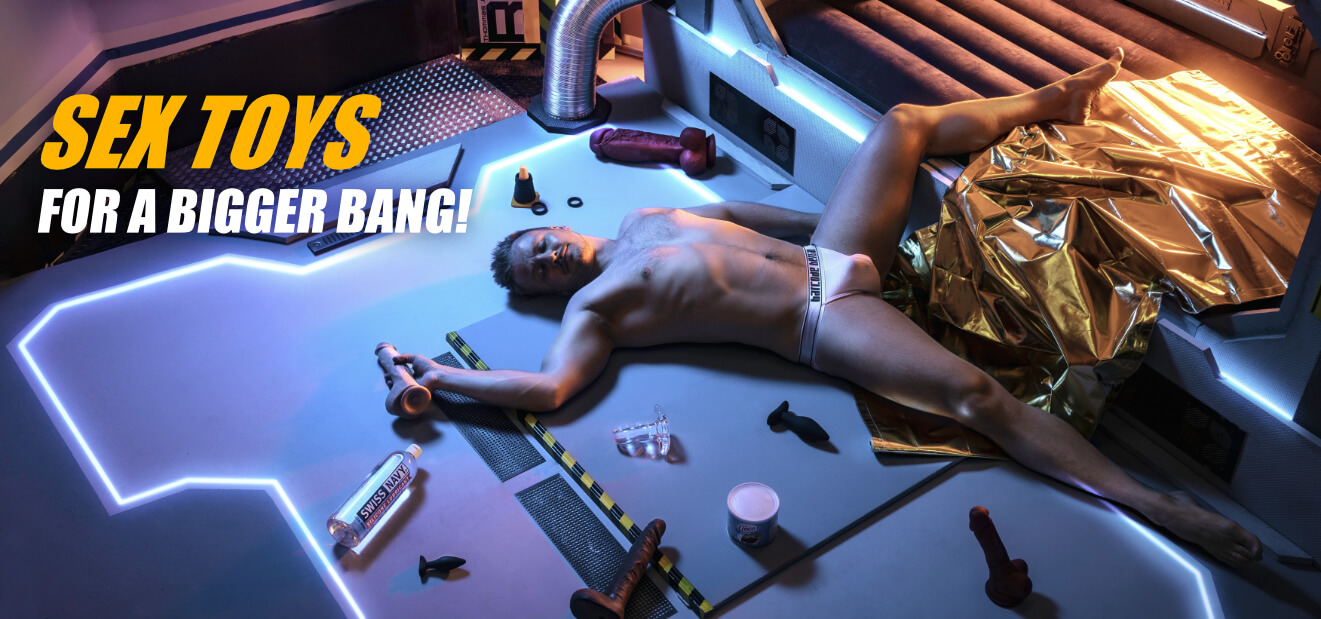 15 Produkte
No results were found for the filter!
The best accessories for horny e-stim sex
Stimulating current toys and accessories for the electrostimulation of penis or anus are indispensable in the field of BDSM and have long since found their place in mainstream gay eroticism. At Tom Rocket's you will find sophisticated devices for hot electro sex games and sophisticated accessories from the market leaders.
What accessories do I need for hot electro play?
In our store you will find everything you need for imaginative games with electrostimulation. Butt plugs, dildos, toys for the urethra and prostate vibrators - just to name a few. But in order to use these toys for e-stim, you need the right accessories:
electrodes: self-adhesive pads that you can attach to your skin
loops and rings: to attach to the penis and testicles
cables and adapters: for connecting your e-stim toys as well as the pads and rings
lubricant: to ensure the conductivity between skin and electrode
stimulators: the actual stimulator with which you can strike lightning with your sub
remote control: in case you want to control your sub from a distance and get him off with fine impulses
Tips for games with electrostimulation
when using e-stim clamps on the nipples, make sure they fit tightly, otherwise it will be uncomfortable. The current flow must not run over the heart!
tighten e-stim loops on penis and testicles, then it is really fun. But please no permanent blood stasis!
the following applies to dildos and plugs: the wetter, the better the stimulation current flows. Therefore, always use plenty of conductive gel, which is available from us
always sterilize toys for electrostimulation of the urethra beforehand
How to play safely with electrostimulation?
If you want to play with e-stim in BDSM, you must always keep in mind the greatest possible safety for all involved. For tested e-stim toys, the following applies: Before the first use, thoroughly familiarize yourself with the application. It is best to test the operation and intensity on your own, starting at low levels.
In addition, not everyone may be played with electrostimulation. People with heart problems, pacemakers or people suffering from epilepsy may be exposed to serious health risks. Also, e-stim must not be used on the head, larynx or neck.
If e-stim toys are to be used in a BDSM session, always use only tested devices developed for this purpose and never homemade or DIY brand devices!
At what point does electrostimulation become painful?
Whether the current stimulus is stimulating or painful depends not only on the pulse strength, but also on the contact surface of the electrodes. Large-area contact tends to cause a dull tingling or tapping sensation. On the other hand, smaller electrodes tend to cause pain and stinging (some also experience it as a burning sensation). Used on the prostate or penis, the pain can then extend to the testicles.
Using electrostimulation in a BDSM session?
With the right accessories from Tom Rocket's, electrostimulation offers absolute SM pleasure from tender to hard. Let yourself be pampered with vibration and stimulation current at the same time and enjoy the varied pleasurable eroticism of electrostimulation. Whether you are a beginner or an e-stim professional, we have the perfect accessories for you in our assortment. E-stim toys from Tom Rocket's are a real wonder weapon for lustful erotic games up to punishments!
Order now if you want to experience the tingling eroticism of e-stim Toys!