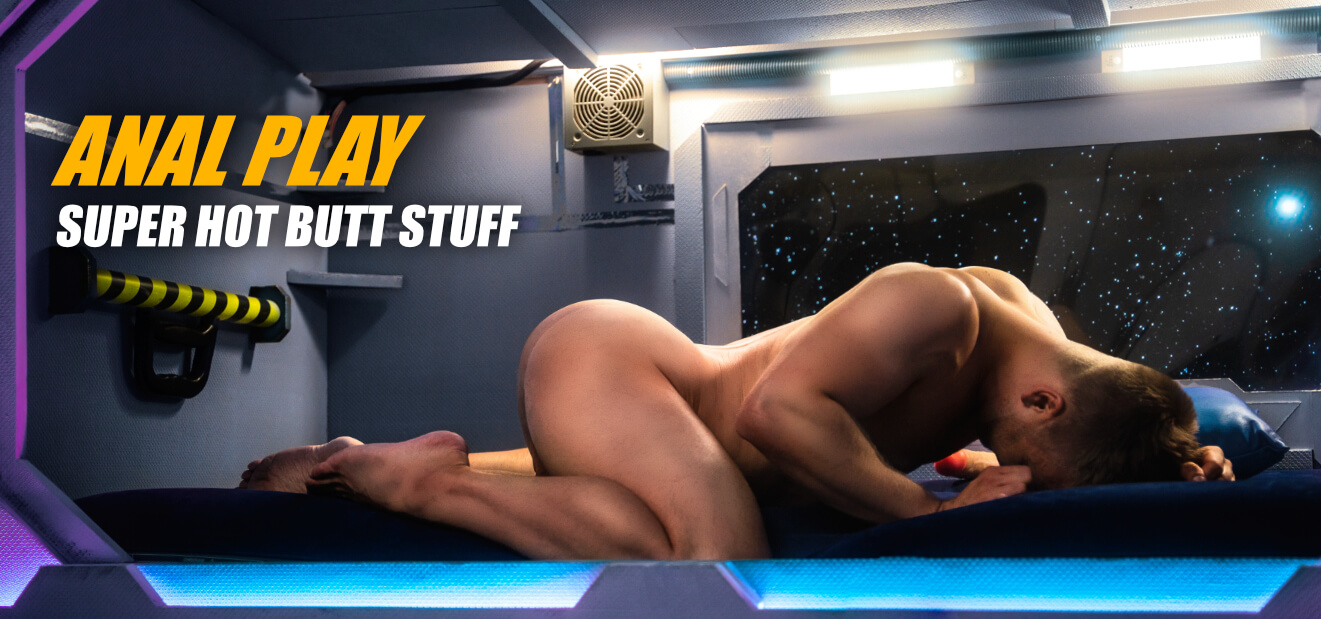 18 Produkte
No results were found for the filter!
Anal showers - for a clean pleasure!
Many gay men swear by physical cleansing - including the anal area - before lovemaking. You want to play anal games with your partner or are into stimulation? Anal douches, also called anal rinses, anal showers or enemas, are designed to clean the anal area before stimulation and ensure cleanliness and hygiene. They thus give you peace of mind that no unpleasant surprise awaits you during anal lovemaking or afterwards, and let you enjoy hot sex with your partner all the more. Due to their shape, some people also use them as anal toys, for example, during medical sex. Maybe you find the stimulation with the anal douche so cool that you want to use it directly as a toy.
Use of anal showers and enemas
With the help of the ergonomically shaped anal or intimate douche you can easily clean your rectum. The anal douche is similar to an enema and removes everything that could be unpleasant during anal sex. The application is simple and painless. It is available with a hand pump, an enema with a silicone ball, or as an attachment that connects directly to the shower hose or faucet. Before use, wash your shower fitting anal attachment once with warm water and put some lubricant on it before inserting it into your anus. Please be sure to watch the water pressure and amount to prevent possible injury.
If you use an anal douche with a pump ball, fill the ball with lukewarm water and gently insert the narrow shaft into your anus with some lube.
To make it a bit easier, you can bend forward a bit while using anal douches and use lubricant - it should be painless in any case. Once you have a good feeling, run the douche (liquid) into your bowels.
Be careful: if you use a large amount of water, there will also be a lot of pressure. This can lead to injuries. So feel your way slowly in terms of water pressure and quantity, and follow the manufacturer's instructions. This should be followed shortly by a visit to the toilet, during which you simply flush out the water and the stool residue. After use, you must clean the anal douche, you can use a mild soap or a toy cleaner.
Anal douches made of aluminum, stainless steel, silicone, etc.
Anal douches, enemas and showers are available in a wide variety of shapes, variants and materials. Anal showers with pump ball are mostly made of skin-friendly silicone, which is very flexible. This makes handling and cleaning very easy. Anal showers that serve as an attachment for the shower head or bathroom faucet are usually made of hygienic aluminum, plastic or stainless steel. Do not buy anal showers that contain phthalates (plasticizers) or other untested substances and look for a seal (TÜV, etc.).
Advantages of anal showers at a glance:
hygienic
easy and quick to perform
gives you a safe and clean feeling
depending on the model, can be connected directly to the shower faucet
you can enjoy sex more without fear of surprises
has a health-promoting effect and can also help with constipation
for anal care against itching, burning and inflammation
Of course, you should use anal douches, enemas and Co. despite the benefits in a healthy amount, because too frequent use can also have a negative impact on your body.
Order anal douches online
We carry anal showers, anal shower attachments / anal attachments for the shower, enemas, intimate showers, anal douches, anal syringes, disposable anal showers etc. Feel free to take a look around our store! We carry shower heads with anal attachments, micro enemas, silicone anal douches (enemas), stainless steel intimate showers, anal showers with pump ball etc., anal showers with dildo segments and actually everything you need for clean anal sex.

You want to buy anal showers online? Then you are exactly right in our online store for poppers, toys and gay sex. If you order on weekdays until 1 pm, your order will be shipped on the same day. Of course, we ship discreetly in a neutral package.

You still have one or more questions? Then feel free to contact us - by e-mail, via our contact form, WhatsApp or the chat window (on the bottom right)!