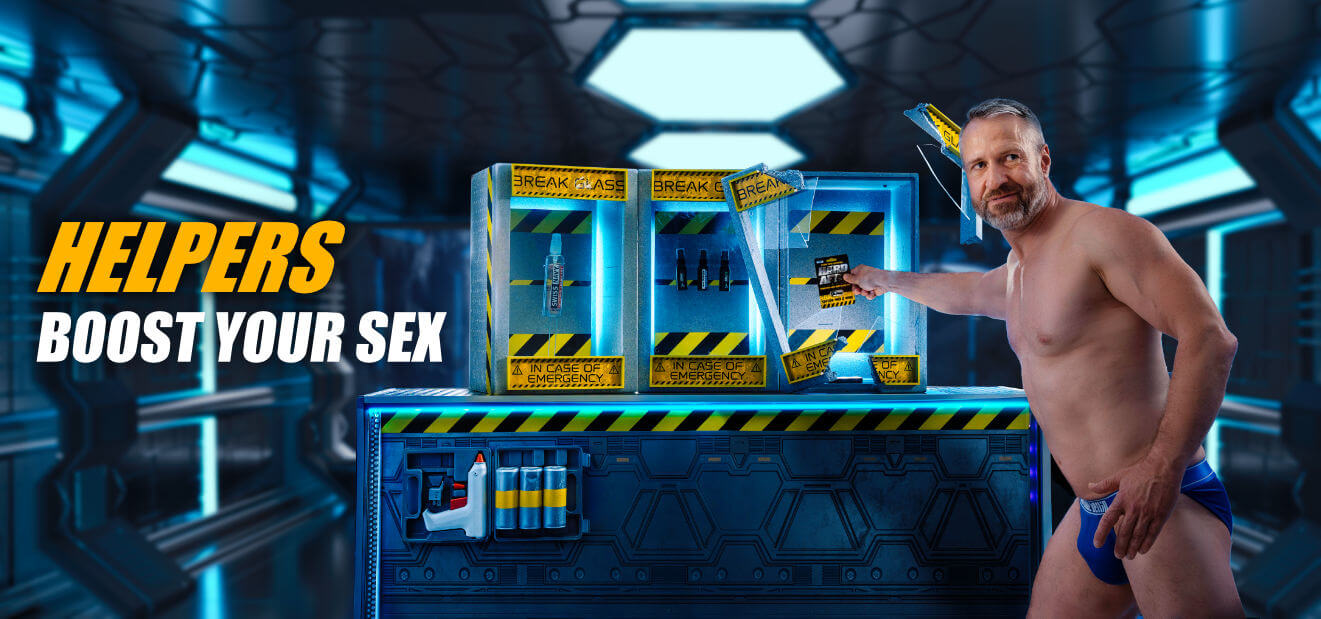 5 Produkte
No results were found for the filter!
Masturbation creams: No more sore spots on your penis
Among gays, jerking off is not only a way to relieve pressure, but a part of health care. Regular masturbation ensures good sperm quality and strengthens your stamina. In order to have even more fun and not get your dick sore, you need a potency and aid, which provides more suppleness when jerking off. With masturbation creams you have found the solution to your problems. If you want to achieve a positive effect for your skin, take a look at our CBD creams, which are of course legally available for you.
Unlike classic lubricants, masturbation lotions don't drip, but even a small amount will make your dick glide through your hands as smooth as butter. They're also perfect if you want to jerk off your lover boy and like to grab it harder. Just apply a small blob of cream on your or his cock and your hand will slide from top to bottom and back as if by itself. Steamy moments while jerking off become a reality.
Thanks to masturbation cream to a high pleasure - solo and together
If you want to bring your libido to the limit, enjoy a few poppers before the jerk-off pleasure, which will relax you wonderfully and already put you in ecstasy beforehand. Now just put a dab of your pleasantly scented masturbation cream on your palm, rub it on your penis and you can jerk off for hours without your cock being sore later and burning in your underpants. Of course, the cream is also suitable for your toys. Dip your cock deep into your anal pussy and penetrate it without causing unpleasant friction and pain. There are many reasons to use a masturbation cream:
suitable for your anal pussy collection
long gliding with your hand and in other openings
also a highlight for joint masturbation
pleasantly gentle to your skin
You are in the club and the sweet bartender clearly has blue balls? No problem, because you always have the tube with the masturbation cream with you. Lure him to the toilet with a wave of your hand and jerk him off like he's never experienced before. Your secret? The masturbation gel that lets your hand glide over his cock so pleasantly that he sees stars. Afterwards, he can wipe off the high-yield cream with a body cleaner in just a few seconds.
Boredom during solo sex? Not with the right masturbation cream
No lover in sight and all you can do against your permanent horniness is jerk off? That doesn't have to be a disadvantage, because if you use a masturbation lotion to moisten your cock, jerking off will take on a whole new meaning for you. Never before have you felt so weightless. Never before has your hand felt so good, almost like a tight, lubed ass.
Masturbation gels are also ideal if you and your partner want to masturbate together and each other. In the evening, you can comfortably watch Netflix or a hot gay porn movie and casually unpack the cream, take out the cock and the gay masturbation act among gentlemen can begin. Hygienic, slippery and guaranteed horny.