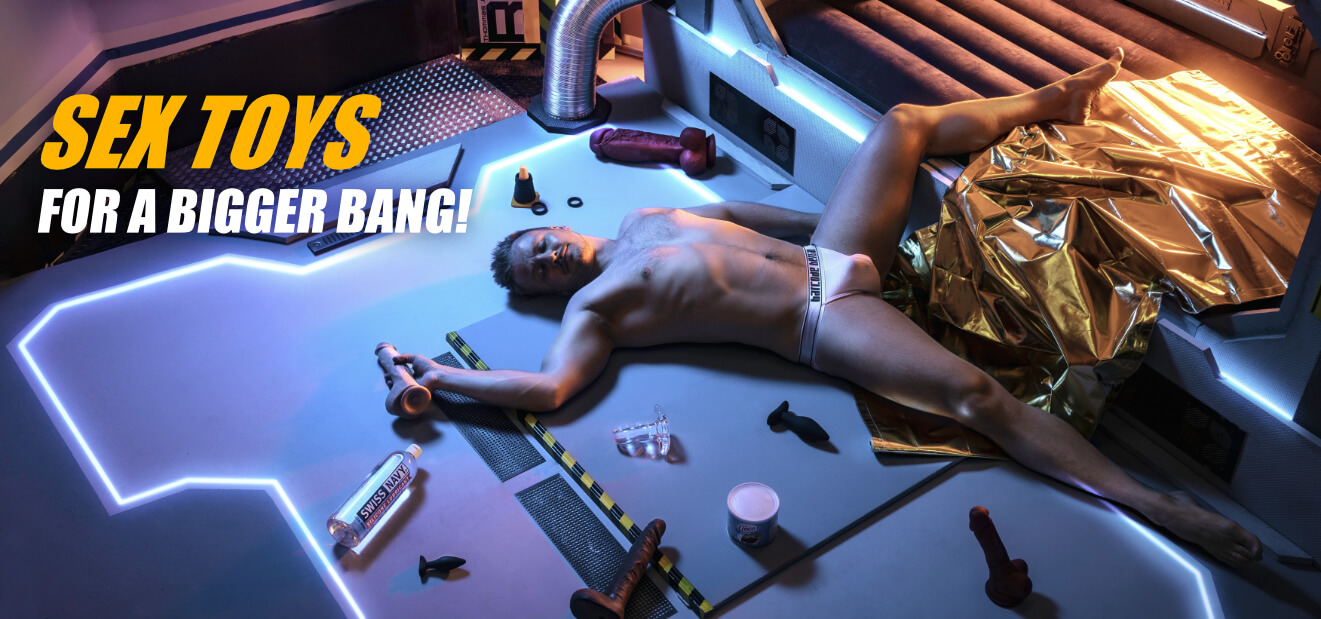 485 Produkte
Gay Toys for Anal, Cock and Electro Plays
We have everything you need for gay sex in our online store. Besides poppers, fisting, BDSM & fetish and gay fashion, our gay sex toys category is especially popular. Here you will find everything you need for hot nights and horny sessions.
In our assortment you will find many sex toys for:
Sex Toys for Gays
Sex toys are extremely popular with both straight and gay men. There are now countless different sex toys for gays, of which we have a select choice for you in our online store. Looking for a cock & ass masturbator? Strap-ons, dildos, vibrators, butt plugs, ass blasters, asshole strokers, penis enlargers, electric stimulators, penis pumps, vibration rings, stretchers, cock rings, fisting toys, ass balls, anal, electric and cock toys or even a blowjob machine? Then you are exactly right here in the webshop for gay sex toys! Just order whatever you feel like!
Advantages of gay toys at a glance:
for different needs: anal, cock, electro and more
bring new swing into your sex life
provide variety in bed
show you new erogenous zones and sexual highlights
intensive love play
available in different colors, shapes, sizes, with function like vibration etc.
also available in sizes that are not available in nature
make solo sex a special number
are suitable for stimulation, stretching etc.
Use of sex toys for gays
There are countless gay toys and just as versatile is also the use. In principle, the following applies: Do what feels horny!
Sex toys for partner sex enrich every love game. A vibrator, for example, can stimulate more than just your anus. You can also pamper other erogenous zones with it and become hornier than you could ever imagine. And dildos can also be inserted into more than just one hole. There are sex toys for gays made of different materials, in various colors, shapes and designs and for different purposes like fisting, anal sex, cock or electro play. With them you can seduce the body of your sex partner in many ways until the other squirms with horniness.
We also have a lot of toys for masturbation in our assortment: Blow Mouth or Cock & Ass Masturbators, Asshole Strokers, Vibrators, Dildos in all sizes and much more. With our toys you can take your gay sex to a new level!
Order gay toys in our gay store
You want to buy gay toys online? We have gay toys in our web store in different sizes, shapes and colors: whether for anal play, cock play or electro play. Here you will find everything your heart and your body desire. With us you will definitely find the right thing!
If you order on weekdays until 1 pm, your order will be shipped on the same day. Of course we ship discreetly in a neutral package.
Do you have any questions? Then feel free to contact us - by e-mail, via our contact form, WhatsApp or the chat window (bottom right)!