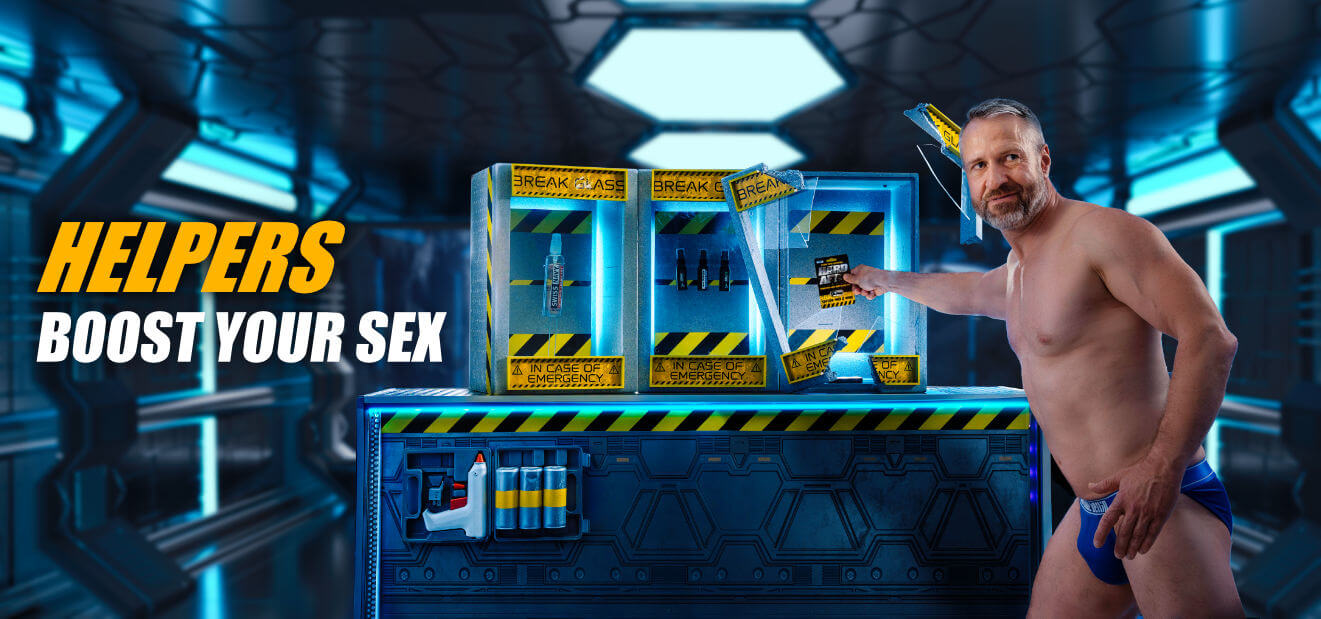 12 Produkte
No results were found for the filter!
Oil Lubes: For the really deep anal pleasure
You rely on potency and tools that allow you deep penetration in his ass and also bring hours of lubrication? Then an oil-based lubricant is the perfect solution for you. Important to know: oil-based lubricating gels are not compatible with latex condoms and are therefore especially well suited for fisting with rubber gloves. They are also a must-have for anal fingering, because they allow your fingers to glide deep into his anus for maximum ecstasy.
Oil-based lubricants are usually made on the basis of nourishing coconut oil and thus provide internal care and long-lasting slipperiness. You can't get any deeper than that, especially if you use an applicator or capsule form to insert the lube deep into his body cavity. Use your sex toys to get him really horny or to not only jerk your dick during masturbation, but also to stuff your greedy ass. With the right oil lubes you will get even the biggest fist in the back, without pain and without discomfort.
Suitable for toys and hands - Oil Lubes for deep pleasure
With a few hot poppers you have heated up your libido to the maximum and now you want to get it really dirty for yourself or your lover? Your rubber glove is already handy and you can't wait to spread his asshole with your fingers and then spoil him with your tongue? Boy, all you need is an oil lube, which really opens him up and makes him ready for all your messes. The advantages are obvious:
high yield and suitable for your toys
long-lasting lubrication
skin caring also in areas, which you otherwise do not reach
available with numbing properties
cool and so sensual
You can get oil-based lubricant gel not only with a slippery effect, but also with numbing properties, if you prefer painless and intense anal sex. Then even the XL fisting dildo is no longer a problem, because it penetrates effortlessly into any ass.
This will be hardcore - with oil lubes you'll really give it to him
Your dildo collection contains some monsters that have made every one of your lovers sweat so far? But no one has dared to let you shove a monster up his ass? You can change that by having the right oil lube ready and making it easier for the toy to overcome the sphincter. If you rub it gently around the hole, his little ring muscle will open automatically and present you the gate to horniness. Put it on and off it goes, deep, deeper, until he's finally all the way in and dizzy with lust. You don't want to hurt his sweet gay ass, but stuff it to the last centimeter.
Find your desired consistency in our store. Whether boy butter for long-lasting anus care and deep penetration or semi-liquid milking grease - you decide what you like during sex. Even if you can't use oil-based lubricants with rubbers, they are a must-have for sex with your hot toys. You'll take solo sex to a new level and with a partner, you'll make sure his asshole opens willingly for you to fuck him.