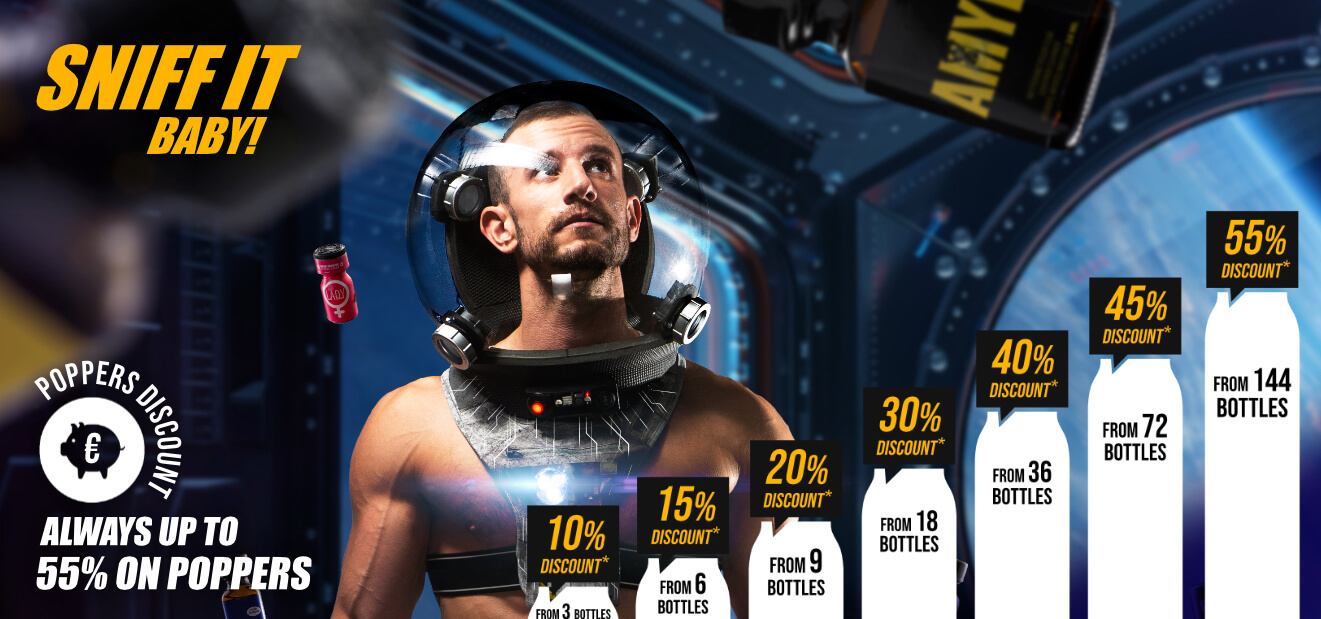 54 Produkte
FR Poppers: Sensual gay greetings from France
The French are known for their pleasure. In the morning Café au Lait with croissants and in the evening sensual smelling poppers , which provide unforgettable moments. Of course, you can also buy the popular poppers varieties of our french friends in our well-stocked gay online store. Varieties such as Almond, Furious Orange or Snake Blue are not only an aromatic highlight, but also allow you to have spicy nights with your lover.
After the ban of poppers in France, during the 90s, french gays are now allowed to sniff officially and legally again. The country has legalized the use of poppers and thus there are always new varieties from France. And you can get them from us, at least when we deem them suitable. We ourselves try out what we sell you, because we want to make you happy. Poppers from France are considered especially beginner-friendly and versatile, but you will also find products from many other countries in our store.
ATTENTION: All french poppers in our store are room scents and may not be officially inhaled directly from the bottle! We hereby distance ourselves from the improper use of our products. The sale takes place in our store only to persons from 18 years!
Use FR Poppers safely - gay sex on a new level
FR Poppers will intoxicate you and drive your lust to unimagined heights. Many of our customers describe the milder varieties like a gentle intoxication. First it seems mild, then the whirlpool gets faster and suddenly you are in the middle of the most beautiful gay fucking. However, safety is our top priority, and yours. Therefore, please remember not to ingest poppers, but to enjoy them as a room scent. You will be surprised how strong the effect is just by inhaling them. Additionally, the aromas will make the whole bedroom smell really good as well.
If you are on medication, you should not use poppers. This is especially true for vasodilators like Viagra. There is a risk that your blood pressure will plummet and you will suffer from side effects. A little tip: When using FR Poppers, you should also avoid alcohol, because you don't need any additional intoxication to experience real pleasure. In general, it is not advisable to use downers, as they can unnaturally intensify the effect of the poppers.
No more fear of anal - FR Poppers relax you and him
Poppers were used almost exclusively in the gay scene after their invention in the 70s. The main reasons for this were on the one hand the courage of the gays and on the other hand the desire for more relaxation during anal sex. You might know the situation yourself that your lover's new XL dildo really scares you. If you are nervous, you tense your muscles and nothing works. If he continues, you are in pain. If he stops, you are frustrated. This is exactly where FR Poppers can help.
They enrich your sex life by lowering pain sensitivity while providing more sensation. Your dick will get super-strong blood flow and you'll feel his every touch much more strongly than ever before.
The super orgasm - no problem thanks to FR Poppers
Sex (almost) always ends with an orgasm. But have you ever experienced the super mega gay orgasm? If not, then you are already on its trail. Many of our customers tell us that poppers not only reduce the sensation of pain. Again and again, we also hear from our regular customers that the orgasm has climbed to a whole new level.
What is the reason for that? FR Poppers, and of course the poppers from all other countries, cause your blood vessels to dilate. This makes it easier for the blood to circulate and also easier for it to get to your dick. When your skin is well supplied with blood, you become more sensitive to touch. If he now licks your glans or you penetrate his relaxed rosette, you simply perceive the feeling more clearly. French poppers are often described by our satisfied customers as the legal super kick that brings completely new possibilities when fucking.
>
No pain during anal intercourse - FR Poppers relax you and him
On the one hand poppers increase sensitivity and on the other hand they reduce pain? You are rightly wondering how these two features go together. Let us explain. French poppers and all other types relax the muscles. During gay anal sex, you penetrate his rosette with your cock or with one of our horny toys. This is closed by his ring muscle. If he is afraid or tense, the muscles tense up. You can now naturally give pressure with the appropriate lubricant gel and will make your way. Whether the experience is horny for him then, however, remains to be seen.
Poppers promote blood circulation and thus simultaneously provide relaxation of the muscles. You may know this effect from heat patches for back pain. The heat stimulates blood circulation and at the same time relieves tension. This is also the effect of FR Poppers, only much hornier and more aromatic!