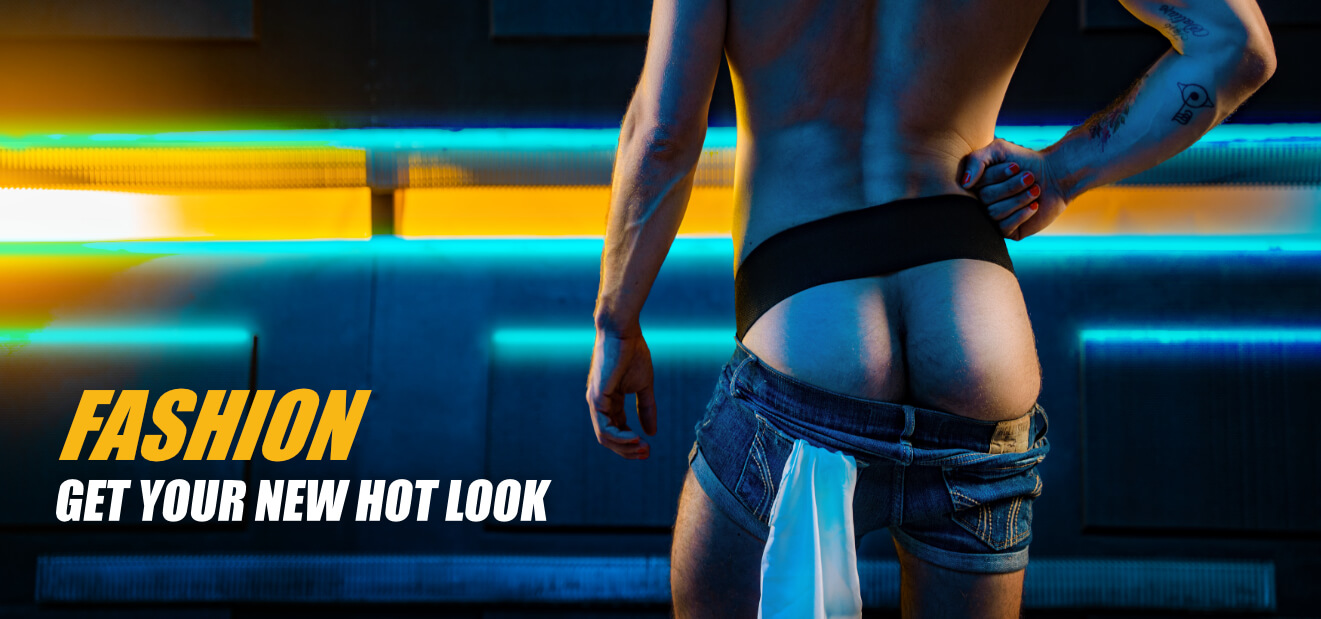 65 Produkte
Underwear: hot underwear for gays
You invest a lot of time and work into your body and want to stage it perfectly? You want to feel sexy and comfortable? Do you want to surprise your partner with something beautiful underneath? You wish that your counterpart can no longer avert his eyes from you? Then hot gay underwear is just the right thing for you!
Many gays like great underwear, because they give their best piece on the one hand good support and put it on the other hand ideally in scene. Depending on the cut, the hot parts also ensure that remains free, which is intended for quick access.
In our online store for gays, poppers, sex toys, gay fashion and more you will also find hot underwear in the gay fashion section:
Briefs / Panties

It is not for nothing that briefs are the most popular underwear for men - not only gays. The model is ideally suited for the male anatomy. Your best piece is wrapped comfortably, attractively and sexily. Meanwhile, there are gay briefs in innovative cuts, with great features and reinforcing properties. With us, you will find a wide selection of men's briefs - especially for gays who put more emphasis on appearance and luxury. For example, we have briefs that expose the butt or make the penis look bigger. We have hip briefs, retro briefs, reinforced briefs and much more in our assortment: just look around!


Jocks / Jockstraps

Jockstraps, often just called jocks, are popular in Germany, especially in the gay scene, although not only gay men have discovered the benefits of jocks for themselves. Originally, they were worn by athletes as jockstraps/genital protection. An elastic waist band, as well as two elastic bands that run underneath the butt to the side of the waist band, hold the actual jockstrap in place. It was originally made of sturdy plastic to protect against injury. The cut of today's jocks is still very similar - the ass remains free. But now they come in high-quality fabrics, designs and models that optimize them for everyday use and provide ideal comfort. So from the front, jocks resemble classic briefs, but your butt cheeks remain free, which will surely make your counterpart especially happy when you turn around. The bands provide a nice push effect, so your ass looks especially crisp and delicious.


Socks & Stockings

In addition to attractive gay underwear, you can also find stockings and socks with individual sayings.

Advantages of gay underwear:
puts the best piece in scene
hot underwear for horny guys
can visually enlarge
perfect fit and hold
different styles, colors and cuts
ideally suited for the male anatomy
comfortable and sexy
Order underwear for gays online

You are looking for underwear that will ideally highlight your male assets so that your opposite can't take their eyes off you anymore? You want to buy sexy underwear for gays online? Then you are exactly right in our online store for poppers, toys and gay sex. If you order on weekdays until 1 pm, your order will be shipped on the same day. Of course, we ship discreetly in a neutral package, so no one will know what's really inside.
You still have questions? Then feel free to contact us - by e-mail, via our contact form, WhatsApp or the chat window (bottom right)!