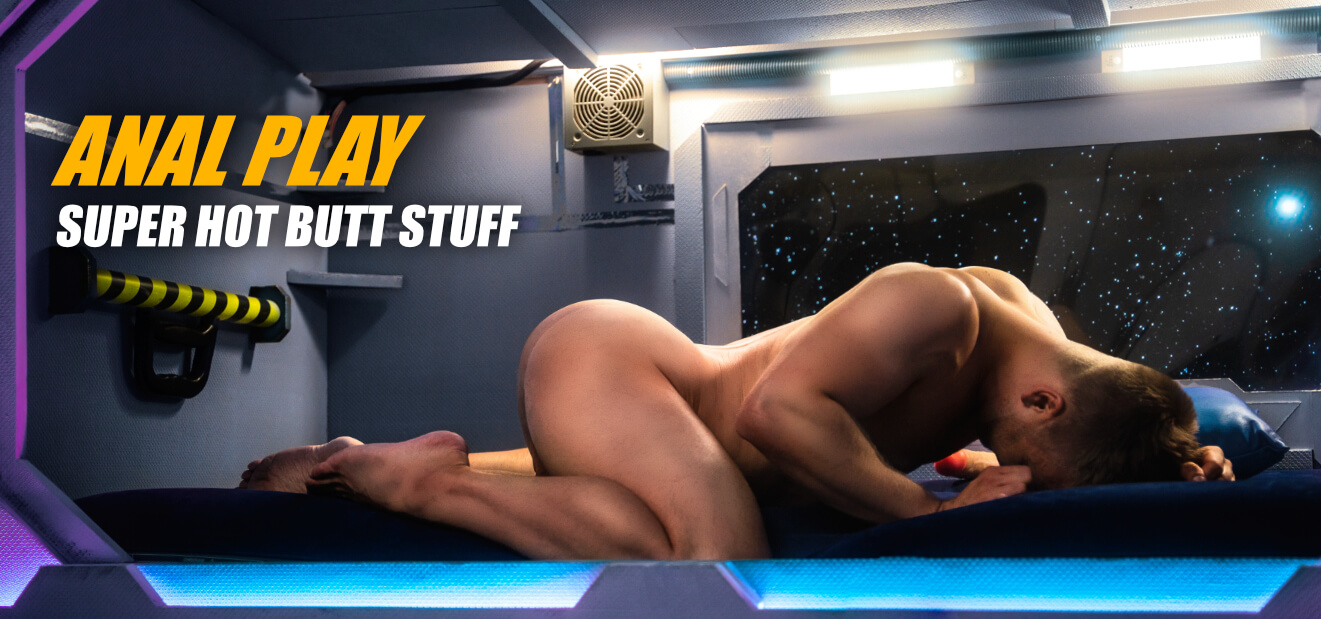 11 Produkte
No results were found for the filter!
Double dildo for double anal fun
In the Anal Play section at Tom Rocket's you will find sex toys of all kinds. We carry dildos, plugs and vibrators. We have the toys of the best brands, fulfil even the most unusual wishes with porn star dildos, prostate vibrators, huge butt plugs and specula. A special highlight are our double dildos. In this category, you will get really horny just by looking and browsing.
What is a double dildo?
The double dildo is characterized by the fact that it has two ends, both of which are perfectly suitable for joint anal penetration due to their shape. It also has - as the name suggests - twice the length of a 'normal' dildo. Most double dildos are made of silicone, TPE or PVC and are extremely flexible. In addition, both ends have a sexy modelled glans.
Are double dildos only for gays?
Double dildos are available for every sexual preference and taste. However, the double dildo for ladies differs in one important point: In these models, which you can get in straight sex shops, the two ends of the double dildo are usually different in thickness. The thicker end is intended for vaginal satisfaction, while the narrower end of the double dildo is used to pamper the backdoor. Gay double dildos are a little different.
Who are double dildos suitable for?
Since the double dildo is very flexible and has two beautiful, realistic glandes, it can be inserted easily and is ideal for kinky pleasure for two. However, the length and unusual flexibility also make the double dildo the perfect sex toy for pleasure alone. For particularly deep penetration, insert the double dildo while lying on your back to train the anal reception of especially large cocks. (Practice makes perfect!)
Use the double dildo correctly: Alone or with a playmate
You have absolute control when you indulge yourself alone with your new double dildo. Determine the pace and the depth with which you fuck yourself, and thus also when you want to come. You can experience complete fulfillment - in the proverbial sense - with a silicone model by bending the double dildo in the middle and inserting both ends. This makes the double dildo the perfect sex toy if double anal is one of your kinks, and you don't have the right partners.
If you want to use the double dildo as a couple, you can let your play instinct run free. Thanks to its flexibility, there are an incredible number of sexy positions that are really fun with the double dildo. Ass to ass, both in the doggy position, you can even have a kinky competition.
As with any anal toy, you should always use enough lubricant with the double dildo. The best thing is to order it directly from us!
Which double dildo models are available at Tom Rocket's?
- Double Dong
Our bestseller is a classic double dildo, which is available in two sizes. The Small/Medium version is 33 cm long, while the large model measures a gigantic 48 cm.
- The Red Flex
This realistic double cock made of silicone comes in a dangerous red colour, measures 42 cm, has a beautifully veined shaft and well-defined glandes.
- Anal Romance Glass
An exciting double dildo in a special design made of shatterproof borosilicate glass for double anal stimulation.
- Double Stuffer
A special double dildo that comes with two shafts of different thicknesses, so you can stuff your horny hole properly.
If you're looking for variety in sex and like to experiment, you must order a double dildo or simply surprise your partner with this extraordinary sex toy!