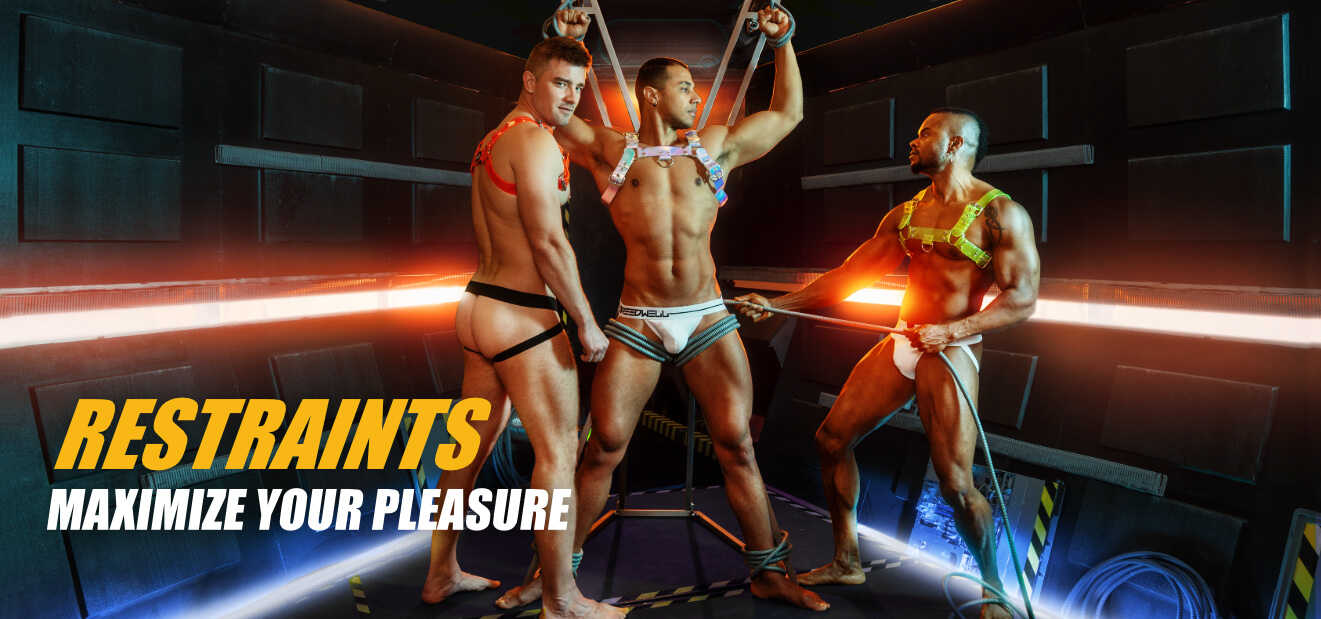 17 Produkte
No results were found for the filter!
Ropes and tapes: A must-have for BDSM lovers
At the last party you met this guy who immediately caught your attention with his muscular body. You're hot for him and finally he's coming to visit you tonight. You're a man of action and you have nothing else in mind but to make him scream while tied up on your bed. Tied up in a will-less, horny package, writhing and whimpering in front of you, unable to wait until you finally ... well, you know!
Tying up is a real art form of pleasure and such a session can last for hours. Quickie my ass, this is where it really gets down to business and why not go all night? As a BDSM-experienced gay you have of course already learned your personal bondage techniques and know how to wrap him completely without metal posts with a simple rope not around the finger, but around himself. The quality of the equipment is of high importance.
One man, one rope - for a hot BDSM evening
Your doorbell rings and there he is, just in his tight clothes, lying on your living room floor just ten minutes later. You sniffed a few poppers and then you already couldn't hold on to each other anymore. As horny as his touches make you, this little slave doesn't deserve to lay a hand on you. Now it's his turn, because your BDSM fetish is really asserting itself.
But why not just use the cheap rope from the hardware store? Quite simple: you want to have the little slut lying willy-nilly in front of you, but of course he should not take serious damage. BDSM is supposed to be fun for both of you, even if he is more at your mercy when he is tied up. That's why you resort to our high quality hemp rope or our other bondage options to make him as comfortable as possible, in as tied up a position as you can imagine. We focus on quality in all of our products:
suitable for beginners and professionals
various colors for your personal touch
multiple uses, with your imagination
High-quality and skin-friendly materials
Not up for rope? Then there's nothing better than the right BDSM tapes, high-quality fabric adhesive tapes that leave no residue while still providing clear fronts.
Captivating moments need the right equipment
With straight guys, it took a completely overrated guy like Christian Grey before ladies and men started buying up hardware stores and experimenting with cable ties in the bedroom. Of course, as a proud gay with a BDSM inclination, you can only smile about that. Christian who? Who needs this guy anyway, you know what's good even without instructions, and that's why you use high quality bondage for your slaves and make them sweat.
When it comes to ropes, you go for jute or hemp, because the material is extremely durable and at the same time so comfortable to wear that you don't pinch off your toyboy's skin. And if he still won't shut up, there's always tape. Safewords and gestures are declared anyway, so you can always make sure that your hot BDSM game happens in mutual consent.