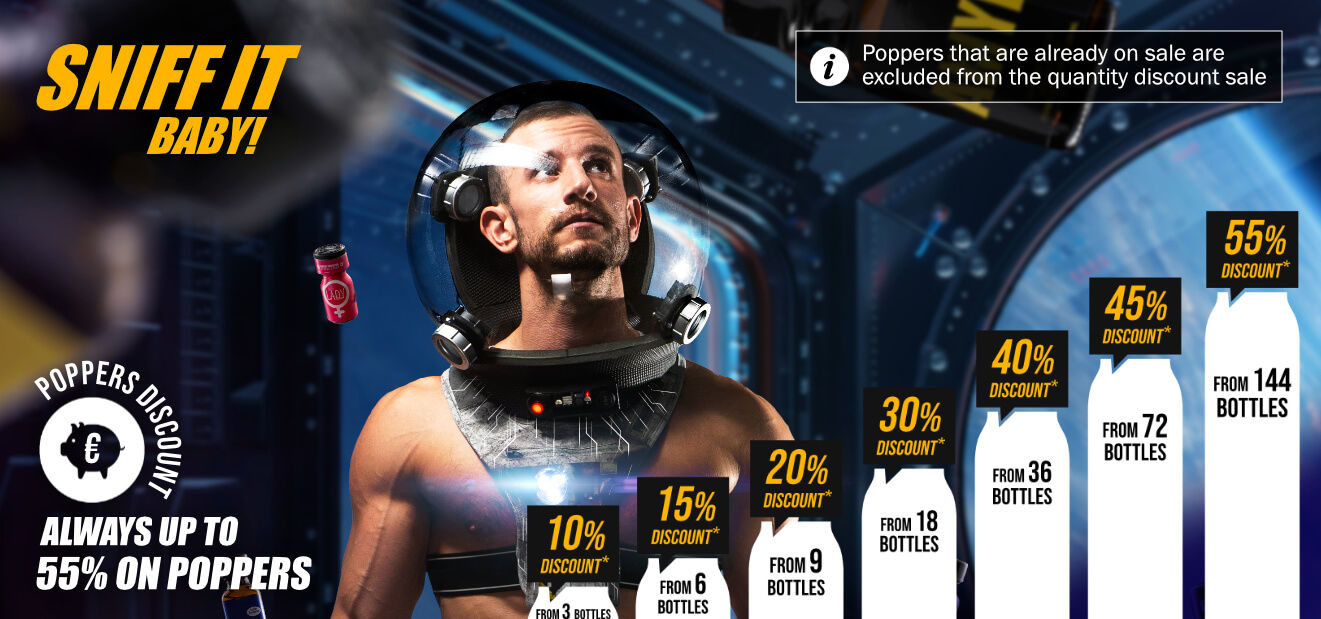 5 Produkte
No results were found for the filter!
Poppers Masks - Incomparable feeling with a kinky look!
In your pursuit of a heightened level of passion and dedication for your kink-play, we warmly welcome you to our poppers masks. Here, a world of new possibilities awaits to enrich your most erotic adventures. Dive with us into the fascinating dimension of poppers masks and experience a transformation of your sexual encounters to an entirely new and exciting level. Our poppers masks take you on a journey into the realm of intense sensations, where the play of hot, dirty, and damn horny will captivate you. We invite you to explore your boundaries and turn your wildest fantasies into reality. These poppers mask open a door to a universe of lust and horniness, waiting to be discovered by you.
Gas Mask with History
Our poppers gas masks are an absolute must-have for any fetish (rubber) enthusiast and should be an essential part of any kinky collection. These unique masks originate from the original stocks of the Soviet Union from the 70s and 80s and have been meticulously restored with utmost dedication and quality to bring your fantasies to life. The rubber that envelops these poppers masks has been carefully treated with a special care that provides a breathtaking shine, making this mask a true eye-catcher. The shimmering surface invites exploration and discovery. But that's not all! The traces of use from the original masks of times gone by are still easily distinguishable. These traces add an extra dose of horniness to your look and take your preferences to an exciting new level.
The combination of unique vintage charm and high-quality restoration makes these poppers masks an irresistible accessory for your most intimate moments. Whether you already have experience in the world of fetishes or are taking your first steps, our poppers gas masks will ignite your desire and provide you with unforgettable experiences. Experience the fusion of history and erotica as you wear one of our fascinating poppers gas masks. Prepare to push your limits and explore your fantasies – with poppers masks that make your kink-play even hotter! Welcome to a world of devotion, temptation, and absolute ecstasy.
Application: Poppers Mask - Sophisticated Play
Whether with the aerosol mask or the bubble mask: discover the ultimate poppers kick. When applying the poppers mask, only a small amount of your favourite aroma is needed to achieve an intensified and long-lasting effect that transports you to ecstatic realms. The aerosol mask consists of a face mask with an adjustable rubber band and a three-part container for an aroma-soaked swab. The handling is incredibly simple: place a few drops of aroma on a small cotton pad, place it in the poppers gas mask filter, put on the mask – and "bang," the effect kicks in! For an even more intense experience, you can close the two holes of the mask with your fingers, which enhances the effect. Always use cotton and avoid pouring aroma liquid directly. This cost-effective product impresses with its outstanding functionality. However, note that such masks should be replaced regularly due to direct contact with liquid leather cleaner to preserve the plastic of the container.
For those looking for something more unique, our bubble poppers gas masks are the way to go. The set includes a cool rubber mask and a sturdy 50 ml aluminium bottle into which you can pour your preferred aroma without the risk of breaking it. The aluminium bottle is perfectly sized to provide you with a long-lasting and intense inhalation of your favourite aromas. Another exciting feature: the adapter features a regulator that effortlessly allows you (or your partner) to control the amount of inhaled aroma precisely. This innovative addition enables you to experience the exciting world of aromas through a poppers mask in an entirely new way. Thanks to the convenient dosing regulator, you (or your lover) maintain full control over your experience and can adjust the intensity according to your desires. As an additional highlight, a cap is also included to securely seal the aluminium bottle when not in use! Also, remember not to use the poppers mask while lying down, as this might cause the aroma to run through the breathing hole.
Feeling intrigued? Then immerse yourself in a world of sensuality and discovery while enjoying the enticing combination of history and passion. Push your boundaries and experience aromas like never before – with our unique poppers masks. Your journey to intense sensations starts now.
Gas Mask Poppers - Put It On and Sniff
If you're looking to take your kink-play to a new level and want to try poppers with a gas mask, then check out our range, grab your favourite aroma, and look forward to our fast delivery, so you can soon hold your poppers mask in your hands. We always guarantee safe and discreet shipping. You have a variety of payment options to choose from, including credit cards (Mastercard, VISA Card, AMEX), instant bank transfer, PayPal, or even cash on delivery.
If you have any questions, our Tom Rocket's customer service team is here to help. You can reach us here or during the day via chat or WhatsApp. Your team at TomRockets.com is looking forward to hearing from you! Our goal is to ensure a seamless and satisfying shopping experience for you. Also, make sure to check our aroma information for safe handling:
How do poppers work, and what are poppers exactly?
How to use poppers to enhance pleasure?
What do poppers bring to sex?
Are poppers legal?