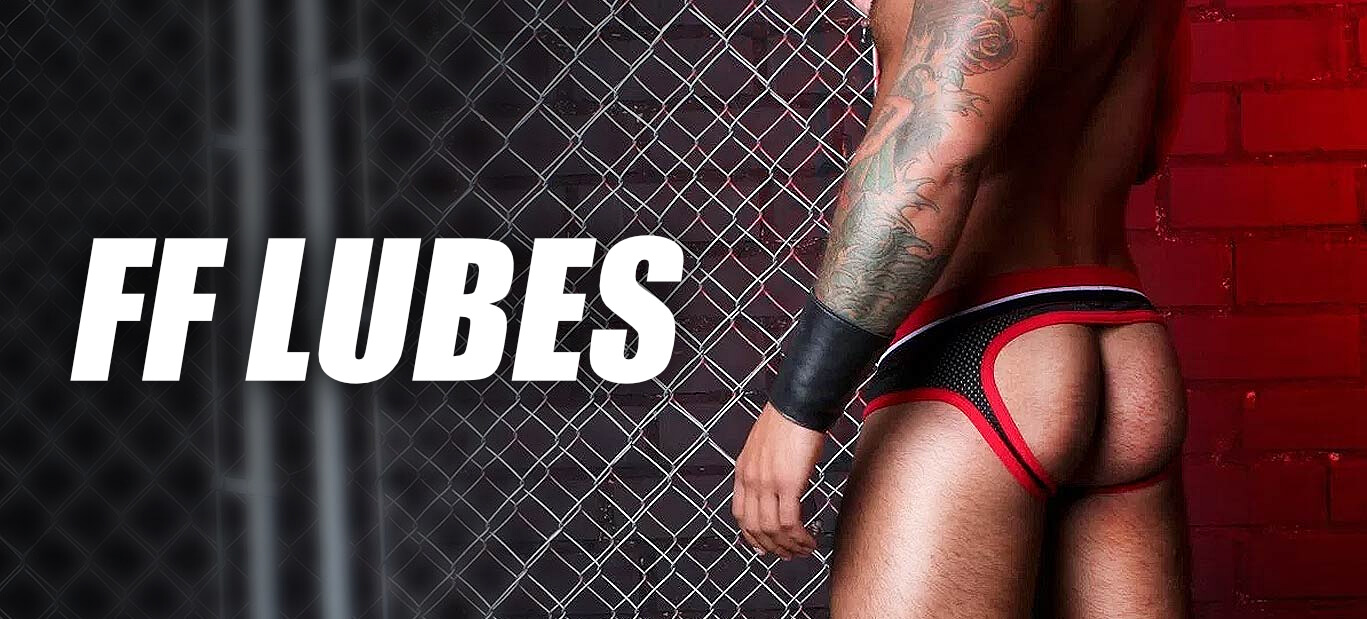 40 Produkte
Lubricant for fisting: Don't spill it, use it!
Whether it's classic anal sex or fisting - never save on lube, especially when fisting. It's not a freestyle, it's mandatory that you rub your ass extensively with lube or anal butter before sex, so that you don't encounter any obstacles or injuries during sex. Since you, as sensible gays, naturally focus on safer sex make sure that your lube can also be combined with rubbers. Most water-based gels won't harm the surface of your rubber, so you can fist it safely and slippery, giving him an unforgettable experience.
Lube is one of the FF tools that help with pain, keeping everything supple for more fun in bed. Unlike the vagina of a woman, the ass does not produce lubricant, no matter how horny you are. Everything is always dry back there, even more so after a successful douching. But it doesn't have to stay that way, with a suitable lubricant you'll slide into it almost by yourself. Of course, you can also use the practical helpers when you do it yourself with a plug or when he goes for a fistful.
The right lubricant for every purpose - for deep experiences
No hot sex without poppers, that much is clear. But to top it all off, you also need the right lube. No, not one for everything, but the right choice for each purpose. And to make sure it lands where you want it, use handy lube syringes that you insert deep into your ass and then provide wet and slippery conditions from the inside. Find the right lube for:
fisting sex with a numbing effect
anal sex with rubber
toy sex with a deep opening
If you use a condom, a water-based lube is the only sensible solution. It does not damage the surface of the latex sheath and you can penetrate his ass right after fisting well protected and with full steam. The effect is not as long-lasting as with an oily butter, but you can always top it up for maximum fun.
Oily butter is the perfect extension for fisting
When fisting, the glove is mandatory, but if it is made of a durable material, you can use an oily ass butter for slippery penetration. What's especially cool about this is that there are numbing fist butters that not only make penetration easier, but also less painful for your gay, so you can push your limits - and beyond. Because oil lasts long and improves lubrication, you can penetrate him deeper than ever before. Watch his hole widen as you circle it with your fingers and spread the slippery butter. An invitation you won't resist, right?
For the perfect combination, go for lube in him, butter on him and a well-lubricated fist. Your glove surface won't be damaged by oily lubricants, but will be able to penetrate him better and easier than ever before. If you work with toys, go for oil- or water-based products and avoid using silicone-based lubes. The latter have the property that they can attack the surface of your toys especially if they are made of silicone. Do it without lubricant? Forget it, only with the right tool anal sex is really fun.