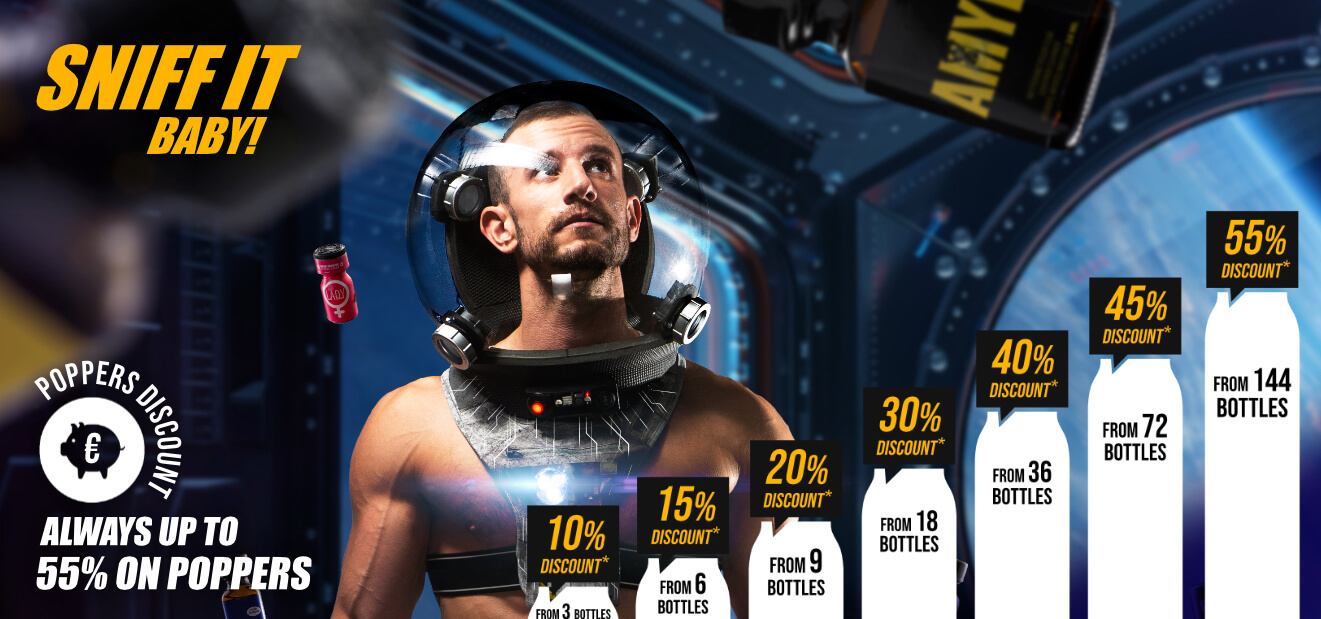 44 Produkte
CA Poppers: Buy online at Gaystore
CA Poppers comes from Canada and is one of the strongest and most intense poppers you can get on the market. Of course, this strong product is also legal and can help you revolutionize your sex life. Especially among gays, poppers are a popular way to intensify orgasms and reduce the sensation of pain. CA Poppers are perfect for you if you are looking for the ultimate sniff kick from a convenient bottle.
ATTENTION: All Canadian Poppers in our store are room scents and may not be officially inhaled directly from the bottle! We hereby distance ourselves from the improper use of our products. The sale takes place in our store only to persons from 18 years!
The poppers we sell from Canada are made by the producer Lockerroom and are extremely popular on the market. Constantly out of stock because the demand for them is so high. In our gay store you can also find a lot of other varieties. Look around for the hot poppers from England, USA, France and the Netherlands, for example. All the varieties we sell are produced in the EU and the UK. This ensures quality, because only high quality goods go over our counter.
With CA Poppers to the ultimate orgasm - the Sniff for Gays
Actually, you are hot for sex, but suddenly there are these inhibitions. Your lover has never been fucked anally and can't relax. Instead of swallowing any drugs, make your life easier with poppers. The aromas take effect immediately after opening the bottle and help you and your gay lover to have better sex. Please always remember to use the aromas in moderation and with understanding. Don't use any other substances beforehand, and don't get drunk without restraint. The effect of CA Poppers will blow your mind even without alcohol.
If you use downers like nitrous oxide or illegal drugs like heroin, there is danger in the combination with isopropyl nitrite. Also, the simultaneous use of Canadian poppers and Viagra is not a good idea! Blood pressure often drops uncontrollably, and a life-threatening situation can occur. Poppers alone are a great way to boost your dick and revolutionize sex. You don't need any other tools, that's clear to you after the first sniff at the latest.
CA Poppers are a matter of trust - our gay store delivers them to you
The Canadian poppers are not a toy, but an awesome way to spice up your sex life. Due to the vasodilating effect, not only does the blood circulate better in your cock, your lover also becomes less sensitive to pain. A real must-have for hot gay fisting nights. But buying strong CA poppers requires trust in the store. Please do not buy underhand because you want to save a little money. We are one of the best and low priced gay stores in the DACH region! With us, you can always rely on the following facts:
high quality
absolute purity in the production
we offer you personal advice
you can grab up to 55% quantity discount
This is how CA Poppers work - best gay sex thanks to the super sniff
The effectiveness of all poppers is similar, but the Canadian flavors are particularly strong. That means you can look forward to a fast and intense effect. The vasodilating effect ensures that your dick is better supplied with blood and that your lover relaxes. Even if you take the passive role, you will benefit from Poppers. No more fear of his fist, because your anus relaxes all by itself.
Depending on the variety, the effect of our high-quality CA poppers lasts between 10 and 20 minutes, and even after that you are still completely relaxed. With this, you fuck differently, simply better and more intense. Although your body becomes more disinhibited and the rush of pleasure inspires you, you are not befuddled. But remember not to mix CA Poppers with other substances. You can be sure, the effect of your pleasure helper alone is completely sufficient.
Poppers from Canada - the room scent for the extra kick
In Germany, you can buy Poppers as a room fragrance. By the way, the practical helpers got their funny name from the sound they made when opening the earlier ampules. Today, the bottle no longer pops, but it pops all the more in your bed. Did you know that in the past poppers were mainly used by gays, but today heterosexual couples also like to take a sniff?
No wonder, after all, the aroma alone develops a pleasant feeling of warmth in your whole body. The previously tense muscles relax, your sense of touch is increased. The feeling of pleasure intensifies for you and your lover, stressful blockades are simply forgotten. With reduced pain sensation, you can simply fuck better, fist better and sense much more intensely.
When buying poppers, please always trust only experts, such as our gay online store. This is the only way to make sure that you always have the best quality in your hands.