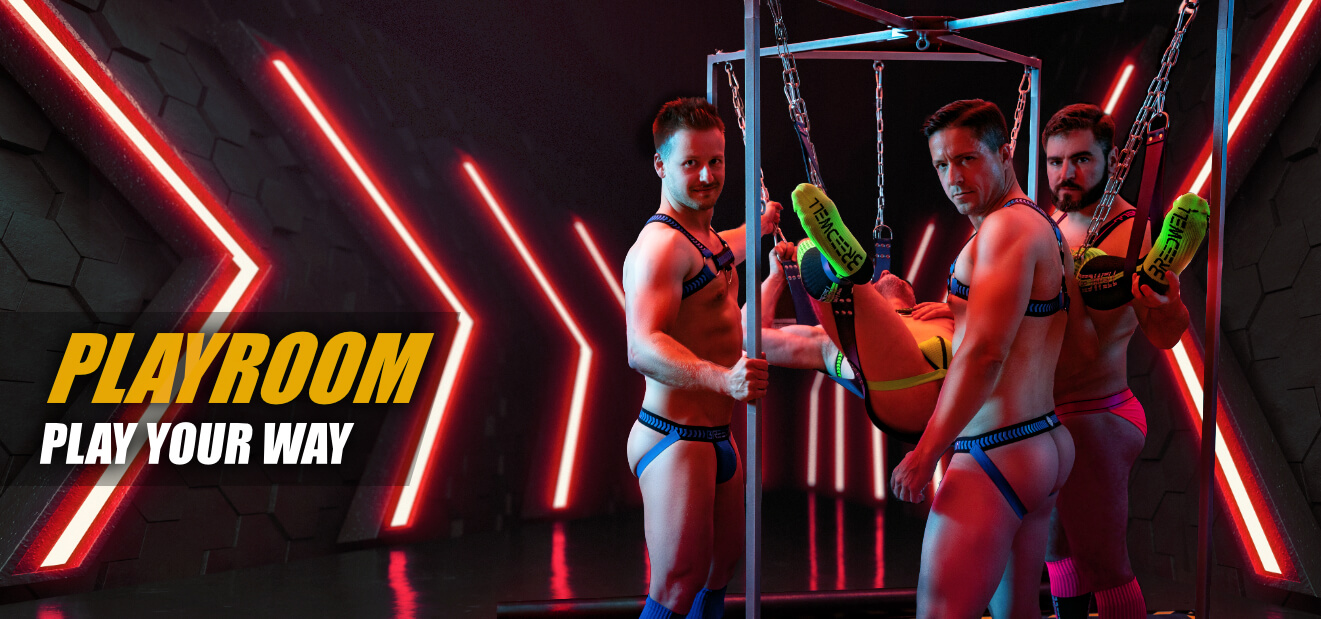 51 Produkte
Everything for darkrooms & your sex playroom!
Are you looking for a new kick for your sex life? We provide you with the perfect playroom equipment to make your love life more exciting. Do you want to spoil your partner on a luxurious BDSM Kink Seat? Or would you like to turn your love nest into a real dungeon with a St. Andrew's cross made of sturdy steel, as it is usually only known from professional studios?
Playrooms: the playground for hot sex
With slings and BDSM furniture your bedroom will become an exciting playground for adults in no time! This very special BDSM equipment not only looks hot, but also offers the highest comfort and endless fun. Saddle up for a hot ride.
What is a Playroom?
Technically, any room is a playroom if a BDSM session takes place there. Mostly, however, the term playroom is used only for the rooms that are permanently equipped with furnishings, furniture and toys that are used in a BDSM session. In BDSM circles is also often spoken of a Dungeon: This fulfills the same function as the playroom, but you can find a dungeon in the basement and it usually offers a correspondingly sterile ambience. A playroom, on the other hand, can also be more playful in terms of furnishings, design and décor.
Where can I set up my own playroom?
Überall where you have enough space. It is ideal, of course, if you can convert a free room to the Playroom and expand. There you can gradually install exactly the sex furniture that you and your lover boy(s) have always dreamed of.
Playroom in the rented apartment – does that work?
Do you live for rent and do not have any unused space? Even then we have a solution for you. You can use many of our BDSM games without having to install them on walls or ceilings. For example, our VIP Sling (love swing) is self-supporting up to 140 kg. If 'normal' visitors come, it is disassembled to save space and discreetly stored in the closet. If you plan a session, it is assembled with a few simple steps.
Advantages of a Playroom Equipment:
Get out of the bedroom and into the playroom - whether you're a beginner or a hardcore enthusiast. With our unique collection of sex and BDSM furniture, we offer the perfect equipment for your playroom and guarantee more satisfaction with designs that are optimized for horny sex. Live out your dark fantasies and prepare for an intense BDSM session in the new Sex Playroom. All our bondage furniture are made of the best materials to make your play safe and exciting. Easy to use and easy to assemble, yet sturdy construction guaranteed not to let the slave escape so you can raise him properly too.
Psssttt Playroom - Discretion is important!
With the right playroom accessories, you can turn your living room or bedroom into the perfect playroom at any time with just a little advance notice. You can store the sex toys safely and discreetly in the storage room. When needed, you bring them out and unpack your favorite sex toys and toys. It's best to spread our sex sheets over the couch, sensitive furniture and the carpet beforehand. This way, you not only protect your furniture during kinky massage and other games, but also provide the appropriate sexy flair. And already it can start with a really hot and dirty session.
What goes in the playroom
In your own Playroom fits everything that makes you and your partner / s horny and increases your desire. No matter if you plan a horny, hard punishment session, you want to let yourself be turned on for hours in a comfortable love swing or experience the ultimate sex rush on our hot rodeo fuck machine. Here we have some appetizers for you:
Playroom Highlights for the Gay Playroom
BDSM Kink Seat 2.0
The ultimate mübel for (almost) every kind of kink and anal play. The sturdy steel construction won't break down even during demanding play. The Kink Seat is versatile adjustable, has steel rings for bondage and is versatile thanks to its universal design.
Interested in the Kink Seat? Saddle up here!
Anal Impaler Dildo Pillory
Robust stainless steel pillory with foot;restraint and dildo for anal horny submissive toyboys.
Go to product page!
BDSM Universal Bondage Board
The universal bondage board with 14 attachment points can be folded to save space and easily stowed away. Especially well suited to use the slave to your heart's content. Universal Bondage Board: view here!
Multi Play & Rim Seat
The ultimate möbel for hot anal play with adjustable seat and headrest. Additional handles provide security when the post times really goes off. Easy to clean and well padded. Excellent as a fuck bench and compatible with the Extreme Power Engine 2.0 Fuck Machine. Curious about the Rim Seat? Take a seat here!
Categories of our Playroom range
Slings – Sex Swings & Sling Accessories
Slings (in Germany they also say love swing) consist mainly of straps and pads and are either anchored to the ceiling or free-standing. The Sling serves the passive partner during love play as a reclining surface and brings new momentum into your sex life. With the Sex Swing you can let your imagination run wild and get to know unknown dimensions of pleasure. With your partner, who is completely at your mercy in the sling, you will discover completely new positions and are guaranteed to rock you into ecstasy.
Sexmöbel – Equipment für advanced adventurers
Here you will find fancy accessories for our slings, fuck machines and other exquisite sexmöbel that will complete the equipment of your playroom. Indispensable to keep your slaves under control. Hard education or fine anal play – here really no wishes remain open.
Playroom Equipment – Sex Room Equipment
Essentials and equipment that no playroom should be without. Whether cameo net, sling butler, lacquer pillowcase or the legendaryäre fetish pad – in this department you will find the equipment that one otherwise likes to forget.
Pads – Fetish & Sex Playgrounds
You like it wet and slippery? Here you'll find everything you need to turn even the most bied living room into a horny playground for really messy games. Our fetish sheets and pillowcases are suitable for especially wet games and offer you optimal protection on all surfaces. Just put the underlays & basin üover the bed, cover the carpet and the sofa and you can enjoy horny, wet moments with your partner carefree.
Playroom equipment order discreetly online
Order now playroom equipment like slings, sexmöbel, equipment, pads & basins here in Tom Rocket's gay webshop!