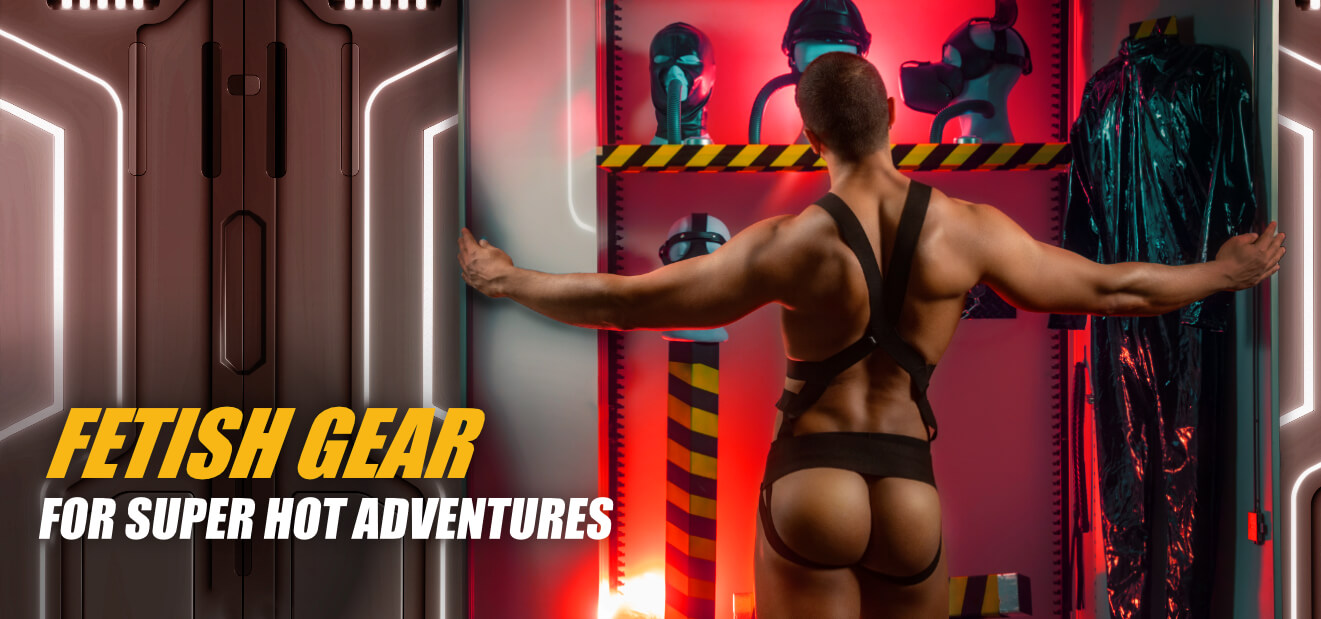 9 Produkte
No results were found for the filter!
Gloves: No gay sex without the right gloves
You don't need a BDSM fetish to know that gloves just belong in bed. Sure, you can just use the standard latex gloves from the supermarket, but real professional equipment is of higher quality on the one hand, and on the other hand it is much hotter, if you want to fist your lover again. However, the subject area of hot gay gloves goes far beyond safety when fisting and fucking. With paw gloves, for example, pet play is taken to a whole new level and is even more fun.
Expand your fetish gear and make sure that every one of your lovers gets their money's worth in your bed. We only offer high-quality gloves for today's modern gay, because we know how important quality is for good sex. Even if you're single, you'll benefit from our offer, because you can also use ass-stimulator gloves on your own and fuck yourself to cloud nine.
Fisting like a pro - for gays with style
A hot sex date does not only include your favorite poppers, but also measures to raise the sex life above the typical standard. Just fucking is too boring for you? Then just torture your little pleasure slave with the whole fist in his ass? For this you will need the right gloves. There are two factors involved, not just the look. Hygiene is important while fisting, because when you push your fist into his ass, tiny injuries can always occur.
As an intelligent gay, safe sex is of course an issue for you and when you fist him, you wear your rubber or latex gloves, which make your arm much more slippery. It's best to get the appropriate lubricant right away so that you can penetrate his tight hole inch by inch after you've widened it with a plug or your hands. And so that he doesn't whine, you push a gag between his teeth beforehand. You'll find gloves for every need:
hygienic disposable gloves in fierce black
fisting gloves for the whole arm
shorter fisting gloves up to the elbow
How far do you penetrate your lover? Can he take the whole arm up to your shoulder, or does it stop at the elbow? Enjoy your fisting adventure with the right gloves.
Lube and gloves - get your gay adventure started
Imagine him lying there, in front of you, on his stomach, his butt cheeks widespread. He flinches a bit when the finger of your glove slides around his hole and you spread the lube. Your whip whizzes on his ass cheeks, because the slave has not to move. Then he relaxes, because he is keen on you exploring his innermost and not just inserting a finger into his tight anus. As a professional lover you are of course prepared, the skin-tight black latex glove goes up to your elbow.
It shines sensually and appealingly as you spread the lube from top to bottom and then slowly apply it to widen him. Is he ready? His moans will blow your mind as your shimmering wet glove, stretched tightly over your hand, slowly penetrates his sacred halls. His penis can't help but bulge, after all, you've finally reached his prostate. Fisting is a hot pleasure for gays, but only with the right equipment it is not only hot, but also safe.