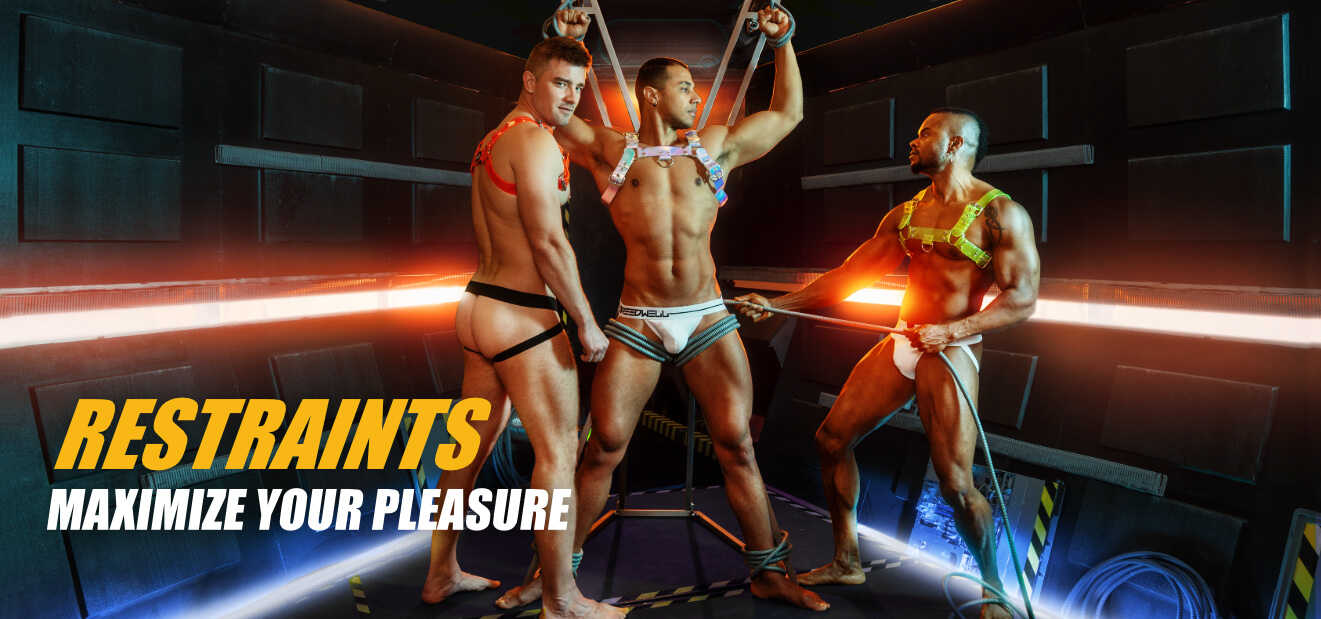 23 Produkte
No results were found for the filter!
BDSM hand and foot cuffs: You'll put any gay in chains with these!
Imagine you're sitting back in your leather chair, the cool fabric hugging your back from behind, and you're watching this infinitely hot guy squirm on your bed with a clearly visible erection. He looks at you pleadingly, begging for you to touch him, to give it to him, but you just grin, look at the time lock on his restraints, and very slowly start doing it to yourself.
His eyes get bigger, he wants you (and you want him too), but you let him zap, because you are the Dom, you are master over your slave, and you give it to him when you want it. With the right ties you get him in any position where you want him. As a proud gay, we don't need to tell you that you need a safeword and that BDSM must always be by mutual consent. You are a man of honor and your little bound slave is enjoying the moment at least as much as you are.
Without hand and foot – now he's yours!
After you've gotten some poppers in, you've shown him your new acquisitions with that grin that's so typical of you. You went shopping at our store, got high quality leather cuffs for his wrists and right away the matching models for his feet. To pay him back for his sins, you also got some Steel Finger Claws to control his nimble fingers.
Whether it's leather handcuffs or cool metal with a combination lock that wraps around his hands, the sight of him completely bound and at your mercy will drive you crazy. How long will you last this time before you give in to his pleas and bring that little slut to a boil? What a blessing that you wore the right outfits at the last gay party, because that's how you wrapped him around your finger. Our high-quality bondage equipment is suitable for all kinds of BDSM games and can become an unforgettable experience with your imagination. With us you get:
Hand and ankle restraints with comfortable wearing
optimal equipment for your playroom
Specially hot restraints for fingers, penis and more
Time locks to add spice to your BDSM act
BDSM bondage buy: Here beginners and professionals will find the right thing
BDSM is not so long on the agenda with you and you are unsure how to chain your slave? Don't worry, you'll find not only professional equipment, but also hand and foot cuffs that can be used by beginners. No master has fallen from the sky yet, but damn many masters have already mentally transported their slaves exactly there.
Be the next to make the bound naked male body on your bed bubble. Our handcuffs and other BDSM equipment is designed so that you don't need complex instructions, but can get started right away. Of course, you can also store with us if you are the slave yourself and want to give your Dom some inspiration for the next BDSM evening.