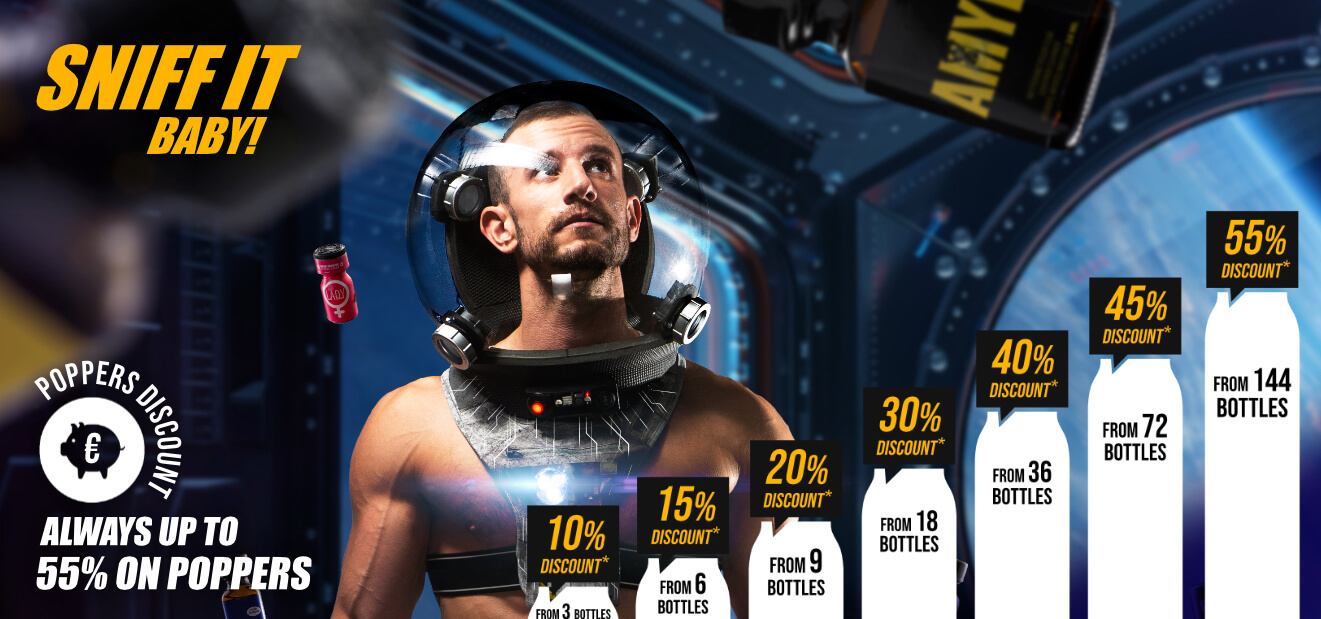 87 Produkte
Poppers Specials: Everything you need for your poppers
Whether it's cool mixed popper sets or accessories, if you're a true fan of poppers, we've got some compelling must-haves for you. How do you prefer to enjoy your poppers? Alone at home with your lover or on the road at the big gay party? In our store you will not only find poppers sorted by country, but also bundles that are designed for a specific purpose. Are you looking for maximum relaxation while fisting? Then choose the most suitable bundle for that. All our poppers have one thing in common, they are something special! They literally blast you away so that you have a whole new experience while fucking.
Beginner or professional? It doesn't matter, because we have a great selection. We are happy to tell you that we are one of the cheapest and best popper stores around. And this quality pays off. It doesn't matter if you buy them individually or if you decide to buy one of our bundles.
Poppers Packs - the super offers for gays
You want not one, but several? Then our Poppers Packs are the right choice for you. Benefit from great combinations and fair price reductions. Did you know that you can get up to 55% discount in our gay store if you buy a larger quantity of poppers right away? As an experienced sniffer you need them anyway, so why not start a bulk purchase.
The benefits of Poppers Packs are easily explained:
Up to 55% off your favorite varieties
Perfect for just giving poppers a try
The best poppers in each pack, sorted by theme
Get to know our highlights. From the Domination Nation Pack for the strong master in bed to the Fist Pack for relaxed fisting - we have them all! You don't know yet what you're really into? No problem, our Poppers Bundles are also perfect for trying them out. Find out if your favorites are more likely to be found among the US Poppers, the CA Poppers or another land-based category.
Poppers accessories - an absolute must for cool gays
You use poppers like an experienced pro and want even more professionalism? Then you need our poppers accessories, which open up completely new possibilities for you. A highlight for our customers are the Poppers Sniffer Caps, which fire the aroma directly into your brain cells. If you want to take a deep nose together with your lover, opt for Poppers Duo Power Sniffer, the banger for double the pleasure. You can get our offers individually or in a practical multipack.
If you are totally into poppers and want to achieve the maximum effect, you can't avoid poppers inhalers. You can find them in our store in different variants. Of course, we also offer you practical poppers bags, fanny packs, sniffers and dispensers for on the go, poppers masks and much more. Take a look around, you will automatically become a full professional popper!
With the right equipment for full popper enjoyment
Never tried poppers before? No need to be afraid, because this sexy fuck aid will take you to new worlds. Our customers and thousands of users describe poppers as the start of an ultimate journey. A pleasure trip that you can improve with our tools. As a beginner, it's enough if you opt for the practical basic flavor vials. Just open them and inhale the aroma. Boom, boom, boom! You don't have to wait long for the effect to kick in and take over your whole body.
Less fear of fucking, relaxed muscles and lots of horny moments are waiting for you. And if you can't get enough, our diverse poppers equipment has advantages for you. For example, if you use a double booster cap, you can snort two poppers at once. More boom is not possible!
Boost the intense flavor and be blown away by an effect you never expected. Even our most experienced customers are always surprised at how much the scent unfolds and changes when used correctly.
Buy poppers in practical pack and accessories in gay store
Since we are often asked about this, here is the answer once again: yes, poppers are legal, otherwise we would not sell them to you at all. We put extreme emphasis on safety, your safety! In addition, we focus on maximum quality. That's why our poppers only come from high quality manufacturers that we can rely on.
Our store offers you a lot of choice around your poppers and accessories. We ship your order quickly and of course discreetly. Even though you can be proud of your gay lifestyle, your neighbors don't have to know about your cravings. Unless you invite them to fuck, then you can enjoy your poppers together.
ATTENTION: All poppers in our store are room scents and may officially not be inhaled directly from the bottle! We hereby distance ourselves from the improper use of our products. The sale takes place in our store only to persons over 18 years!