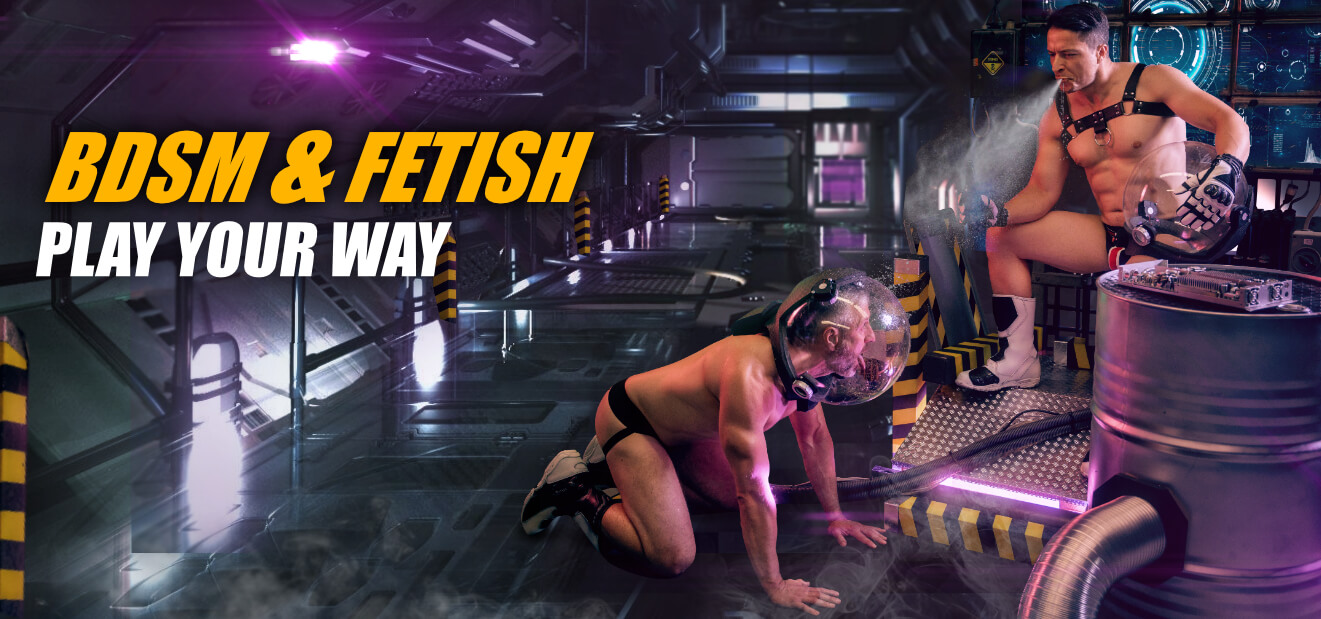 18 Produkte
No results were found for the filter!
BDSM accessories for horny gays
Welcome to Tom Rocket's, the gay online store for the hottest BDSM and fetish gear. With our huge selection of bondage gear, restraints and toys for role-play and SM-play you can perfectly equip your playroom and experience the hottest sessions with your loverboy. On this page you will find an exclusive collection of hot gay & BDSM accessories to complete your equipment. In addition, we know how important hygiene is, and have searched through the whole market, so that you can always keep toys and equipment properly maintained and cared for. Because sex toys come into contact with the most intimate zones, good hygiene before and after each use is essential. This is the only way to prevent unwanted visitors such as bacteria or fungus from settling on your beloved toys.
Clean BDSM sex toys properly!
Every BDSM sex toy inevitably comes into contact with bodily fluids during play, your own or your partner's - sometimes even both. These bodily fluids contain bacteria that can multiply outside the body and then cause dangerous infections. That's why it's extremely risky using a toy immediately after a partner has used it without cleaning it first.
What do you need for cleaning?
In many cases, cleaning BDSM sex toys or accessories with warm water and a mild soap will do. We strongly advise you not to use products that contain bleach. Some antibacterial substances can attack the material of your toys, so you need to check their compatibility before using them. In addition, you certainly don't want to bring your own intimate zone or that of your partner into contact with harsh chemicals.
However, with the right toy cleaner, you can play safe. Our cleaning agents are specially produced for cleaning sex toys and effectively kill all germs.
Enjoy BDSM with the right intimate care and toy cleaning
We even carry cleaning products that you can use not only for your BDSM sex toys, but also for your intimate area. And with the Boners Penis Cleaner, we have a product in our assortment with which you can prepare your best piece especially thoroughly for game night. The penis cleaner provides a clean and fresh feeling and cares for the skin at the same time.

Hygienically clean BDSM toys are a must for lustful experiences. Therefore, don't forget to stock up on care and hygiene products at your local drugstore. Our tip: It's always best to order the right toy cleaner when you buy a new toy.
Hygiene for BDSM toys and accessories
Tom Rocket's carries kinky BDSM sex toys and fetish gear and accessories made from various materials. But not every cleaning agent is compatible with every material. With our special cleaning products you can achieve the perfect hygiene for your toys. For example, with the Anal Toy Cleaner Spray Bath Mate, which was specially developed for cleaning anal toys and is suitable for practically all materials. The antiseptic spray is applied, then left to act briefly and wipe the toy clean with a cloth or sponge. A simple and gentle cleaning that is guaranteed to extend the life of your sex toys.
Clean Facts:
only use a cleaner specially suitable for your anal toys
check compatibility with materials
Buy disinfectant and antiseptic cleaner
Use alcohol-free cleaner

With Care Toy Wash from the renowned supplier Mr B., you are always on the safe and clean side. Thanks to its composition, this cleaning agent is particularly well suited for the gentle cleaning and care of erotic toys. The application is very easy: Just like a dishwashing detergent, add some cleaner to warm water and let your toys soak for about 10-15 minutes. Then wipe with a cloth or sponge, rinse, and you're done!
BDSM Accessories - Gadgets and More
In the BDSM gadgets section you will find everything you need to complete your outfit for the next kink event. We have the hottest stickers and party tattoos. No matter if you want to wear the Pride Flag discreetly or if you want to make an aggressive statement with a Fist my Hole sticker.
Even if you prefer very unusual styles, we have the right accessories for you. Do you prefer to mark your slave with a stylish and noble puppy dog tag or treat yourself to a latex fetish apron made of high-quality natural rubber for the really dirty and filthy games?
You are looking for an ultimate gadget for hot bondage games?
The extremely versatile lock is a highlight of our accessories, which is guaranteed to give you a lot of pleasure. With this programmable BDSM time lock you can experience exciting adventures in self-bondage. But if you'd rather not put yourself in bondage, you can of course use it on/with your partner. No matter if you want to fix him for a spanking or keep him chaste for a certain time. This little helper gives you the free choice - and takes it away from the one you tie up with it.
You can order the BDSM time lock and all other accessories right here!