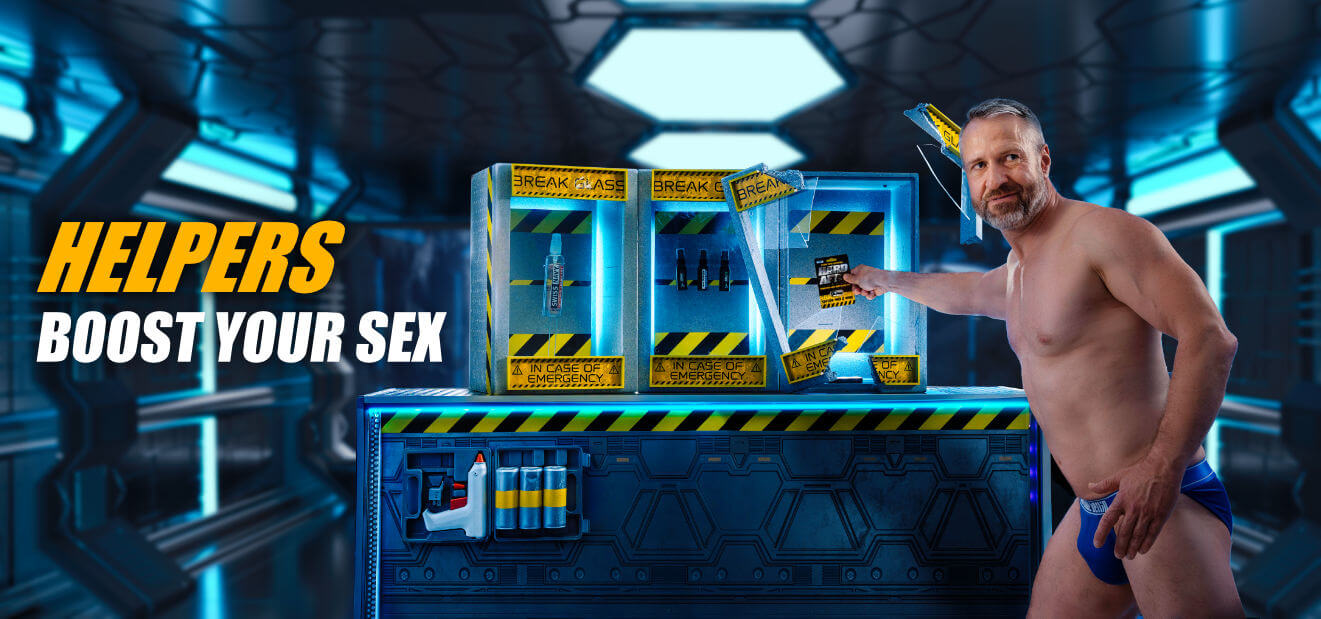 18 Produkte
No results were found for the filter!
Care & Pheromones: So you get them all!
For hot sex you need not only potency and aids that give your cock more stiffness and let you hold out for a long time. Also, the right care is crucial because you know, gays attach importance to hygiene and cleanliness. Wild growth? Foul smelling penis? Sweaty nuts? Sorry guys, for most people it is over very quickly with their sexual horniness. But fortunately, you can prevent such nightmares by focusing on personal hygiene, always and everywhere.
The most important tools you need for a well-groomed body are razors, aftershave, penis lotions and co. A clean and hairless or trimmed body will also convince your lover. Especially if you want to show at a gay party what a horny pike you are, a well-prepared body is the be-all and end-all. How would you look if the guy across from you is only wearing a harness, but his chest fur is spilling out everywhere without being trimmed and he smells bad? Don't be the guy the others look at in disgust. Be the gay they all want and only the hottest really get.
Attract them - with the right pheromone spray
Once you've hooked him up, all you need is the right poppers and he won't be able to hold back his horniness. But before that happens, all you have to do is use your whole body to attract his attention. Really only the body? Not quite, because horniness is known to go through the nose. With a pheromone perfume you convince him subconsciously, because he will be able to smell you and will automatically be keen on you. Convince yourself of the advantages:
invisible and working subconsciously
smell like a Greek god
sexual attractants bring him to you
Even the great Greek gods knew how to use pheromones to lure their lovers. Yes, they existed in ancient Greece, too, the lustful men who couldn't resist an aromatic attractant. Bet on their intelligence and the power of scent, which will impress your counterpart quite unconsciously. Do you know the Pied Piper of Hamelin? With you it's not a flute and it's not rats. But your scent will attract the attention of the most beautiful men in the club.
Styled for the unexpected - always ready for hot sex
But that wasn't planned, was it? Suddenly you've invited the hot cashier from the supermarket for a cocktail and all of a sudden you end up making out right there in the stairwell. No problem, because as a well-groomed gay you are always prepared for such moments. You don't need more than your penis cleaner spray, which turns your sweaty member into a fresh piece of jewelry in no time. Thanks to your body trimmer, your body hair is always the right length anyway and you can let yourself go.
If you now also have a rubber handy, a random encounter will turn into a raunchy quickie faster than you would have guessed. As you can see, there are good reasons why a high level of care and body hygiene is expected, especially among gays. Who would want to receive a stinky affair when opening their pants?