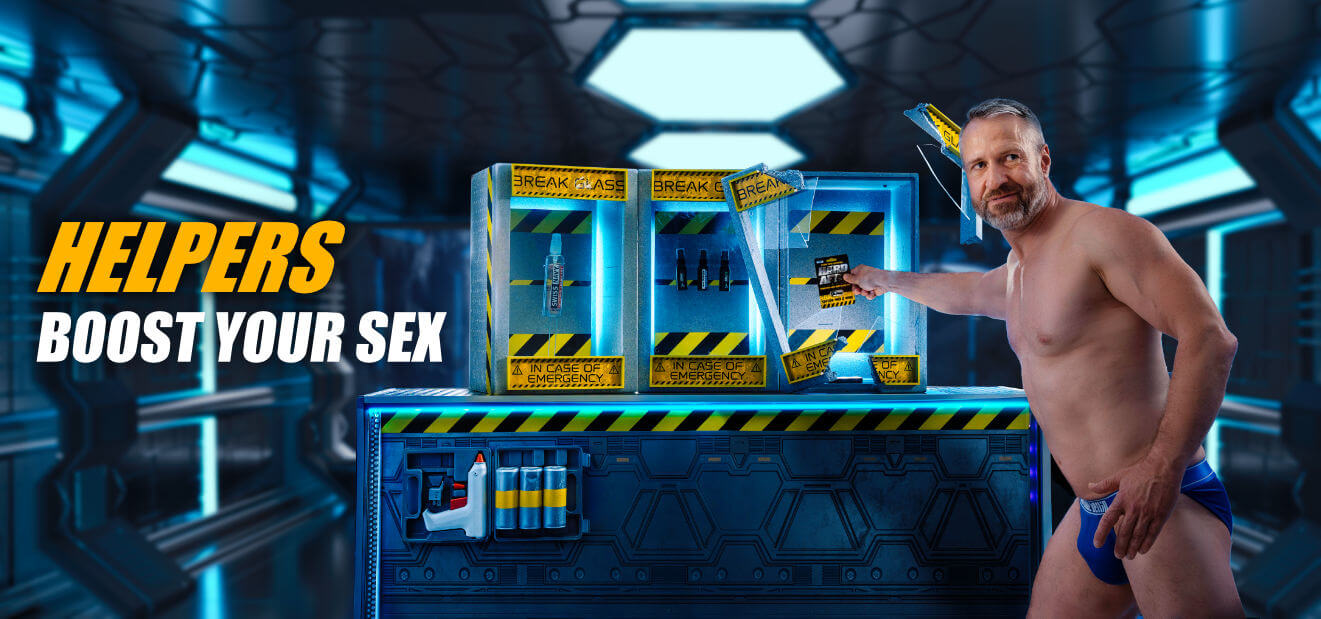 2 Produkte
No results were found for the filter!
Sterile Lubes: For safe sex and much more
Whether in the BDSM area or simply during gay sex in bed, a sterile lube is a potency and aid product, which ensures hygienic conditions and is compatible with rubbers and toys. Whether it's your cock in a condom, metal devices, catheters or other things - with a sterile lubricant gel you introduce everything that increases his horniness and makes him sweat. Medical lubricants are gentle to the skin and convince with their good compatibility.
Sterile lubricants are also used in medicine, whether for inserting metal instruments or placing a catheter. If you are into clinic sex yourself, the alarm bell will have already gone off. Right, with a sterile lubricant gel you are perfectly prepared for the worst case scenario. With it, you not only push your hand into his ass as far as it will go, but also the spreading speculum to see what's going on in his hot sweet body.
Less friction, more pleasure - sterile lubes take care of it
At the sight of your toy collection, his heart almost skips a beat? Make sure you relax him by giving him some poppers before you pull his tight shorts over his sweet ass and take his stiff cock in your hand. Want to give him more than just your best piece? Then pull it out, the collection of hot toys that will make his eyes get bigger. Metal clamps for his nipples, dilators for his urethra - he will feel completely different at this sight. But it is important to use a lubricant that you can rely on:
sterile and grease-free
clean to use
practical from the tube
non-irritating and water-soluble
for less friction in the anal area
Thanks to being water-based, sterile lubes are not only compatible with condoms, but also with sex toys of all kinds. No matter if you want to push your silicone XL dildo into his sweet butt or if you take him hard with your cock - this lube variant always fits.
No skin irritation - sterile lubes are the be-all and end-all for clinic sex
Especially when it comes to clinic sex among gays, sterility plays an important role. If you penetrate him with other objects made of metal or glass, then you need slipperiness and hygiene. No problem, if you have the sterile tube at hand. With it, you not only open his urethra for all kinds of sharp clinic toys, but also his ass to explore it afterwards with a speculum. Of course, you can also just use the sterile lube for fucking, thanks to its water base it is condom-friendly and can also be used with all your sex toys.
Your must-have when you're invited to a horny night at the fetish club. Convenient small tubes can be carried everywhere and so you always have a lubricant gel ready, which prepares you or him for penetrating pleasure. Thanks to its ingredients, it does not irritate the skin, can be washed off with water and is therefore particularly hygienic to use. A stain on the clothes is not a nuisance, because it is gone in the next wash.