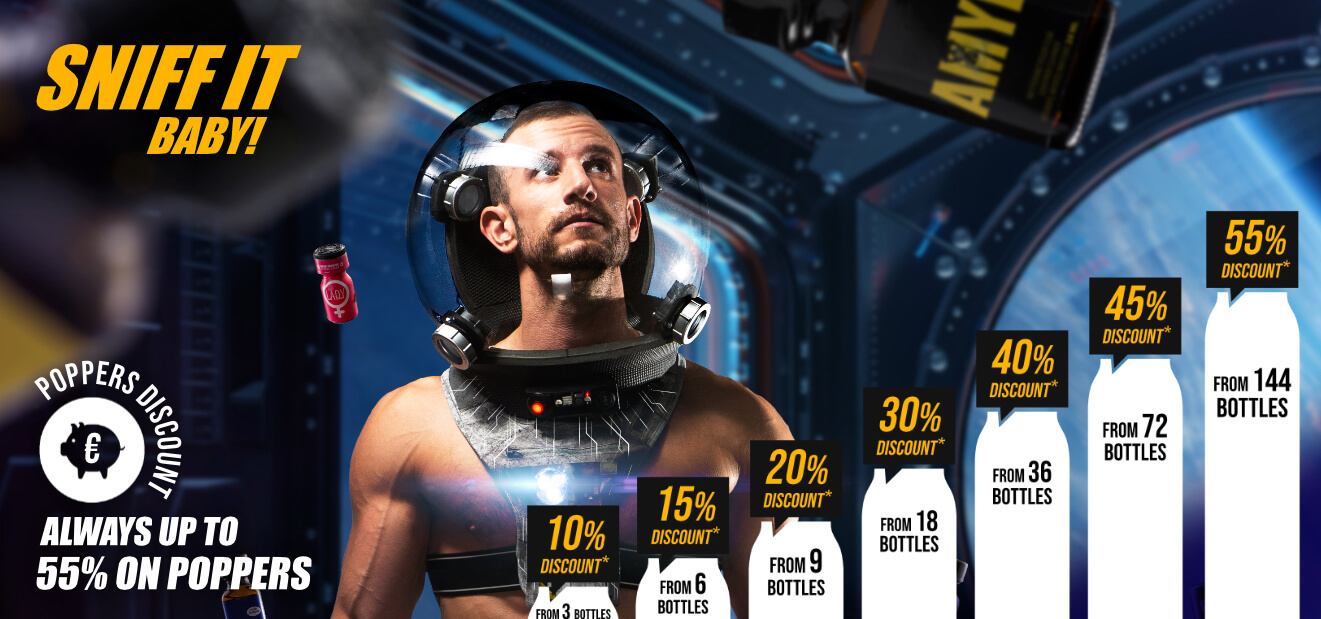 29 Produkte
Lockerroom Poppers: The gay treat from Canada
You like poppers with intense flavors and ingenious effect? Then you can't get around the renowned manufacturer Lockerroom. These poppers exist in numerous different flavors and smells and in a variety of formats. A brand that stands for quality products and guarantees you a relaxing and pleasant effect.
As a serious gay online store, we have the manufacturer in our portfolio, of course. We want to offer our customers poppers fun at the highest level. Choose your favorite variety directly in our store. The shipment will be discreet in a protected box to your home. Nothing stands in the way of the next poppers party with your lover.
Whether Jungle Juice or Amsterdam Special - experienced gays can recognize these varieties by their smell. The effect sets in suddenly and lets all your fears fizzle away. Just now his fist seemed too big? Poppers from Lockerroom relax you and let you wait completely relaxed for what he has in store for you. Whether top or bottom, these poppers are simply part of a well-appointed gay bedroom.
XL variants available - Lockerroom Poppers for the whole night
Lockerroom manufactures its high quality poppers directly in Canada. Since we are a well-stocked gay store, you can of course get the diverse products from us. It is our pleasure to offer you the best quality for sensual moments with your lover. And if it takes longer in bed with you? Then the XL bottles of Lockerroom Poppers are just the right choice for you! They simply work longer, better and faster. Absolute relaxation already at the first sniff, of course in the quality we are used to.
You wonder why you should buy your Lockerroom flavors from us? There are many reasons. But the most important one is your safety. As a store from gays for gays, we attach maximum importance to selling you only safe and tested goods. We understand the desire for uninhibited gay sex, but we always remember that safety comes first. Our customers thank us for that, often even with personal testimonials. We are always happy to hear from you and your impressions.
Use Lockerroom Poppers safely - for horny gay pleasure
Poppers are often called an illegal drug, we are now putting an end to this old prejudice! In some countries, including France, poppers were actually banned in the 90s. Then the ingredients were more closely examined, optimized and fully legalized. So, as of now, it is completely legal in the DACH region and in most European countries to spice up your sex life with poppers. Otherwise, we wouldn't sell you the selection in the first place, because your protection is important to us.
When using Lockerroom Poppers, the same usage instructions apply as for all other varieties. If you are dependent on taking medication or if you use Viagra, Lockerroom flavors are unsuitable for you. The problem is the interaction, which is mainly due to the vasodilator effect. Viagra lowers blood pressure, poppers have the same effect. It is therefore better not to combine them.
ATTENTION: All Lockerroom Poppers in our store are room scents and may not be officially inhaled directly from the bottle! We hereby distance ourselves from the improper use of our products. The sale takes place in our store only to persons from 18 years!
This is how Lockerroom Poppers change your sex life - a pleasure for all gays
You know poppers only from hearsay and want to know what's behind it? The effect is difficult to put into words, because it is so varied and diverse. But we can tell you what our customers say about it. They describe poppers as pain-relieving, as pleasure-increasing and as a ticket to a sexual journey. The best way to find out exactly how these little helpers work for you is to find out for yourself.
A number of events take place in your body after using them. Your pulse accelerates, you feel your heart racing all the way to your chest. Pleasant warmth floods your body because your blood vessels are dilated. Every corner of your body gets more blood flow, even your dick gets a real booster. And from then on the journey really starts.
Suddenly your muscles become more relaxed, your rosette loosens up and the fear of his cock fizzles out. At the same time your sensitivity increases, you feel his hands much more intensely. The intoxication of the Lockerroom Poppers has struck. Now it's time to close your eyes and surrender, because you can only fuck so relaxed with poppers.
Poppers from Lockerroom enrich every party - also in your bedroom
On many gay and fetish parties, poppers have long been part of the good tone. There is no need for illegal drugs, if you can intoxicate your senses with the small aromatic helpers. As soon as the bottle is opened and the aroma spreads, the effect becomes clear. The lust pulsates in your loins and your lover can't keep his fingers off you. No matter if it's a big fetish party or a private party with your sweetie in bed - with Poppers every event will be a highlight.