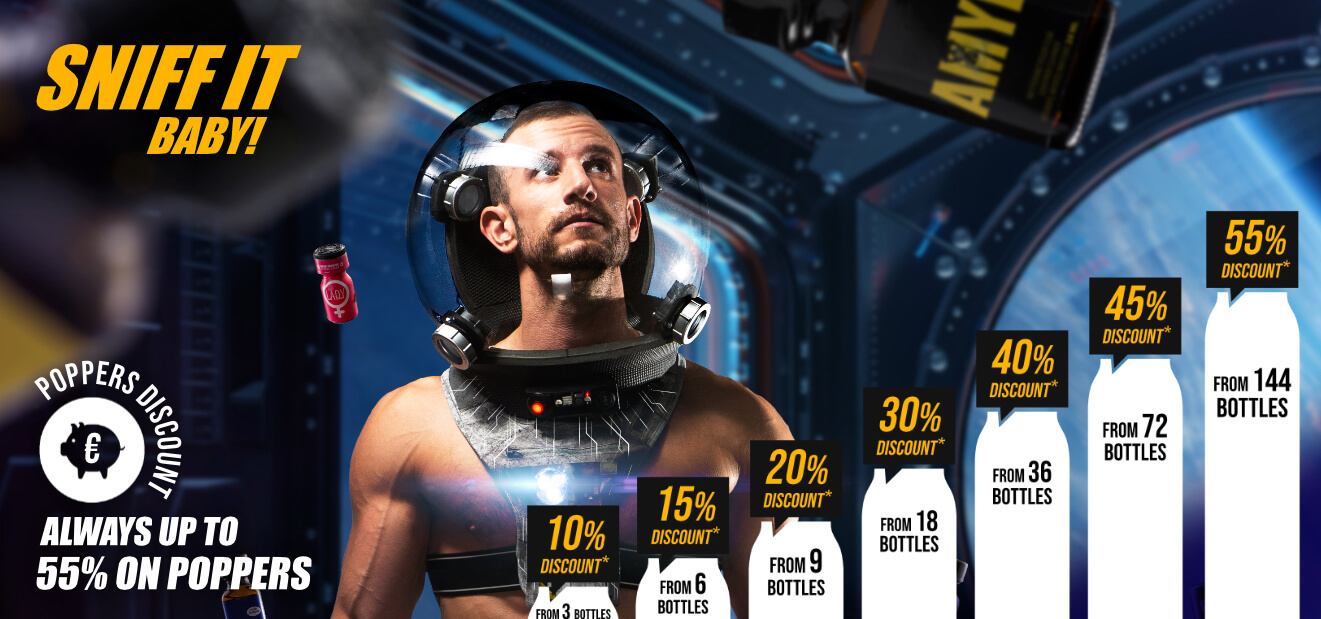 138 Produkte
big poppers bottles
Yes, often more is simply more! And that's why you can find poppers in different sizes in our online store for poppers, sex toys & more: small, medium and big aroma bottles.
You have no idea what aromas / poppers are? Then you will get some explanations here:
Different nitrites provide in the poppers for your intoxicating and stimulating effect. The name poppers comes from the English word "to pop". This is because the glass bottles make such a sound when they break. Once opened, the easily flammable, translucent yellowish liquid releases vapors at room temperature that have a vasodilator, muscle relaxant and stimulant effect. So you get a sex rush from the bottle!
Especially the gay and BDSM scenes, but also more and more straights, rely on poppers to get that extra kick during sex. Our big poppers bottles have a phenomenal effect: maximum stimulation, increased pleasure, disinhibition, feeling of warmth and palpitations, intense touch sensation, reduced pain, etc. Especially in anal fisting, many appreciate the muscle relaxing, stimulating and pain reducing effect and can enjoy and feel it even more.

large poppers with up to 40 ml per bottle
Large poppers bottles are especially for those who have used poppers more often and can handle the ultra effect. Beginners often use the small or medium poppers first. We offer you big poppers with up to 40 ml per bottle - you will never forget this sensational sex rush!
In our web store we have the most popular poppers in large bottles and of course in top quality in our assortment. We offer you for example Quicksilver Skull, Jungle Juice, Fist Tall, Highrise Ultra Strong, Everest Zero, El Toro Premium, Kraken Extra Power, FF XL, Expectations, Daddy and many more.

Advantages of large poppers bottles at a glance:
ideal dosage with up to 40 ml per bottle
very easy handling. Poppers open and the vapors do the rest
best quality
phenomenal effect: vasodilating and warming effect, more intense sensation of touch, sexual stimulation, disinhibition, reduced sensation of pain, increased feeling of pleasure

order big poppers online
You want to buy big poppers bottles online? Then you are exactly right in our online store for poppers, toys and gay sex. If you order on weekdays until 1 pm, your order will be shipped on the same day. Of course we ship discreetly in a neutral package.
Do you have any questions? Then feel free to contact us - by e-mail, via our contact form, WhatsApp or the chat window (bottom right).