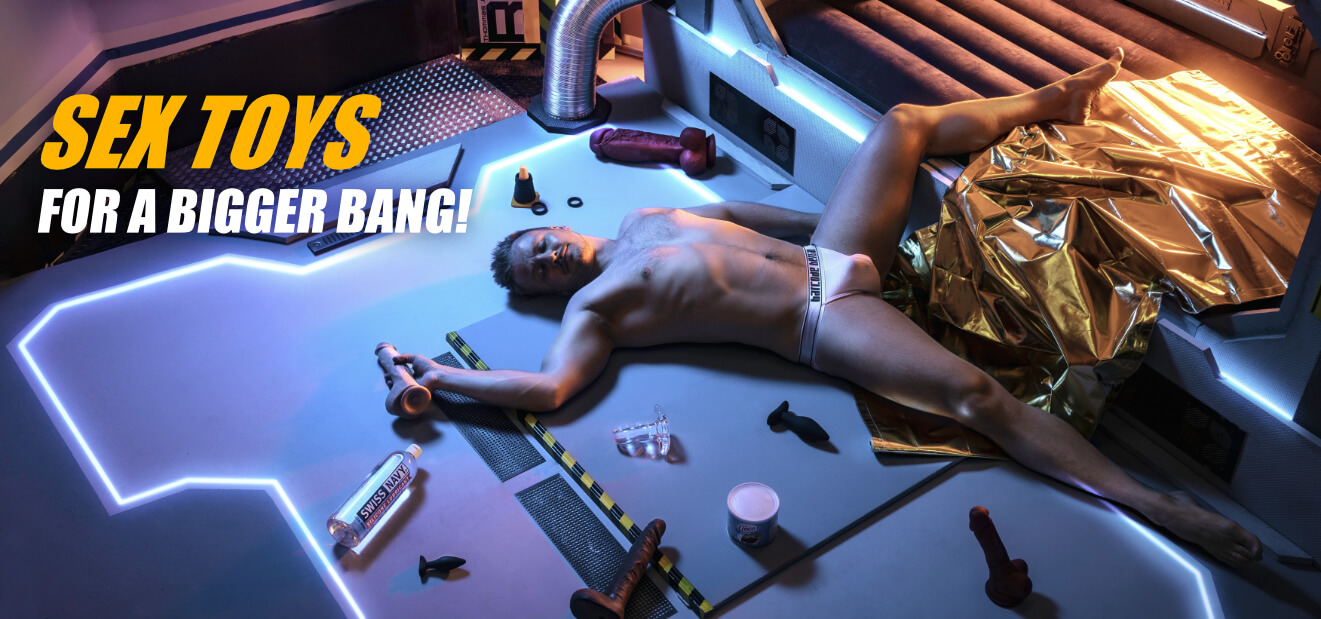 5 Produkte
No results were found for the filter!
Electrostimulation and SM - two sides of the same coin?
You are looking for horny e-stim toys for that special physical tingling, for the stimulation of penis and testicles or the anus? Tom Rocket's has a wide selection of e-stim vibrators, dildos, anal plugs and much more. But you can get even more out of electrostimulation than tingling excitement and gentle pleasure. We provide you with the perfect e-stim equipment for exciting SM games.
What is electrostimulation?
Electrostimulation (e-stim) is a medical method that has been used for years for muscle relaxation, tissue tightening or joint pain. Targeted impulses are used to stimulate specific areas of the body. In erotic applications, these stimuli are directed accordingly to erogenous zones such as the penis, testicles or anus. These toys are very popular with lovers of BDSM.
E-stim electrodes on penis and testicles
Electrostimulation on the penis and testicles are felt at low intensity like a dull throbbing with a blunt tool. At higher frequencies, you feel stronger vibrations that turn into an extremely arousing electric tingling sensation. Some settings are so pleasurable that the body can be kept in the state immediately before the onset of orgasm for a longer period of time.
Which sites are best for electrostimulation in men?
glans and corona glandis
penis shaft
root of the penis
scrotum immediately above the testicles
perineal area
anus
prostate
buttocks and inner thighs
The ideal way to use electrostimulation?
The intensity must always be increased slowly in order to have enough room for the orgasm, which should eventually be the crowning glory of the session. As the erection increases, so does the strength of the sensation of the e-stim. Electrostimulation has the strongest effect on the fully erect penis.
However, each person feels electrostimulation differently. What is a pleasant tingling sensation for one person, another may already feel like nasty stitches. That's why you first have to try out a few device settings to explore the range of reactions to different intensities of e-stim on yourself. If you're playing with a partner, it's also important to find out how far you can (should) go first.
Why is e-stim so popular in BDSM?
Modern sex toys for e-stim are designed in their performance to allow the Dom to walk a tightrope between pleasure and pain. Not least because of this, electrostimulation is particularly well suited for imaginative education and punishment games.
With what other BDSM toys and practices can you combine e-stim devices?
With practically all of them! Especially popular is the use of electrostimulation in combination with bondage. Try it out: Put your bottom in bondage, blindfold him, and then carefully attach the electrodes. At first, pamper him with a gentle electro-massage, then gradually start to increase the intensity. Very soon he will be writhing with pleasure and begging for release. It is generally known that the best orgasms can be achieved with e-stim. Also ideal is the possibility of being able to set a strong impulse just before the climax, which will bring the sub down again. And then you can let the pleasurable orgasm torture start all over again.
Do you want to spoil your partner with e-stim or punish him hard? Then order today!