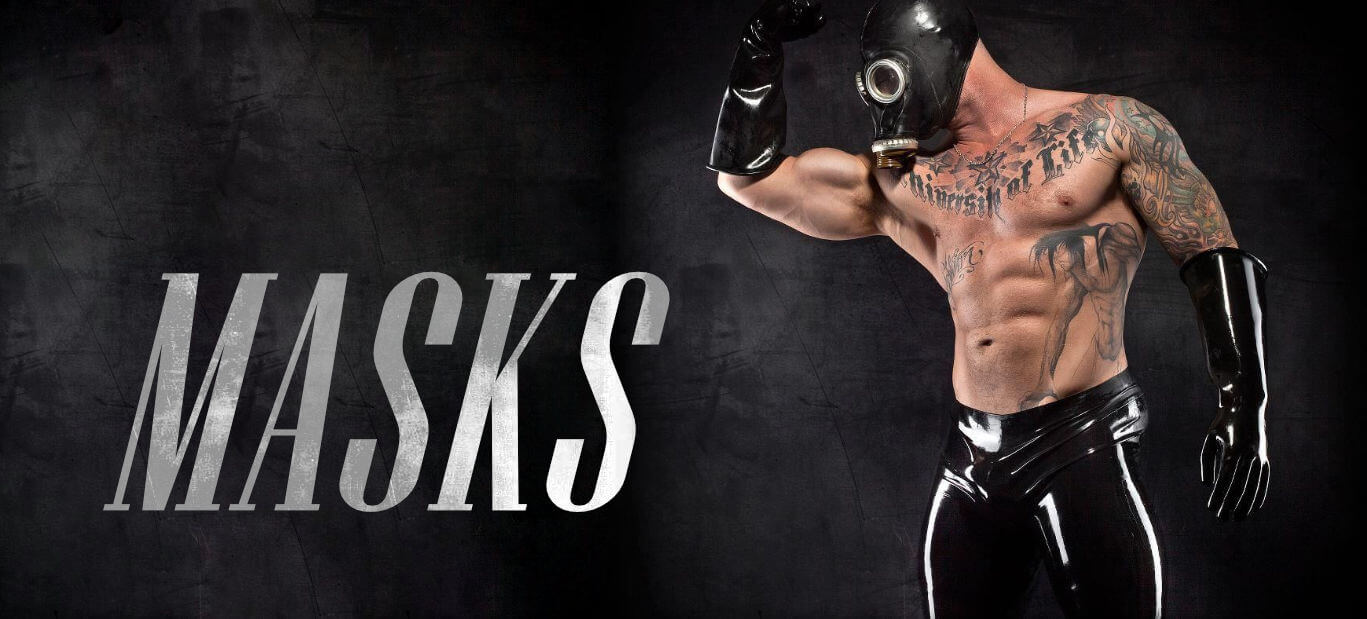 41 Produkte
Blindfolds: Horny gay equipment for your role play
Part of a full-blown BDSM fetish is simply slipping into the role of your desires. If you want to humiliate your slave, give him a cool mask, so that he knows exactly what role you assign him. We have a huge variety in our offer, from pig masks to puppy masks, to classic slave masks that will get you and him going.
Your perfect fetish equipment includes blindfolds that you can incorporate into lovemaking as needed. Which one suits you depends on the different needs. A horny toy are models with a cock-sucker opening in the mouth area, because with it you really put your sweetheart in the scene. His face is hidden behind the hood, but his mouth-pussy is available to you at any time and you can push it in when you would like to be pampered.
Gay sex with hood- a highlight at parties and in bed
Not only the ingenious aerosol poppers mask, with which you can treat your toyboy, but also the latex hoods with their hot cut belong absolutely to your equipment. Wrap the face of your slave in lacquer and leather and make sure that he is a well-behaved, submissive servant of your lusts. But you can also go in search of a Dom yourself by simply unpacking your latex hood at the next fetish party and clearly show that you are actually looking for an owner.
May it be a bit more extreme? Then try it with a russian gas mask, which certainly leaves hardly any room to breathe. Look through the openings of the eyes and recognize from the widened look of your lover that he absolutely wants to be redeemed by you. Since you are smart and combine your equipment with other utensils from our store, you will treat him to a few heavy blows on his gay ass. We have the right blindfold for every purpose:
horny blindfolds for everyday life, when you lead your slave outside
harness and hood in a combo set for your party appearance
animal masks for puppy or pig play
scent masks, if your slaves should just sniff at your sneakers
Can you resist the sight of him looking at you with the red lips of his Rubber Hood -mask, or will you unwrap it and receive a horny blowjob?
Sexy gays with matching mask - leather and latex in the most beautiful form
Nothing feels as horny on the skin as latex and leather - of course, this also applies to the face. Imagine the sight of your naked lover when he kneels in front of you with the high-quality leather puppy mask and lets his tongue hang out of his mouth. How does the tongue feel on your best piece? With the right blindfold, you'll always have the right look for your outdoor fun. The latex zorro mask, for example, puts your eyes in the limelight and makes sure that the gays at the next party stick to you with their looks.
Hoods are the extension for every horny gay roleplay, because with them your sex adventure becomes even more authentic and you show directly what to expect with you. Be what you want, from zorro to the hot dog, everything is possible.