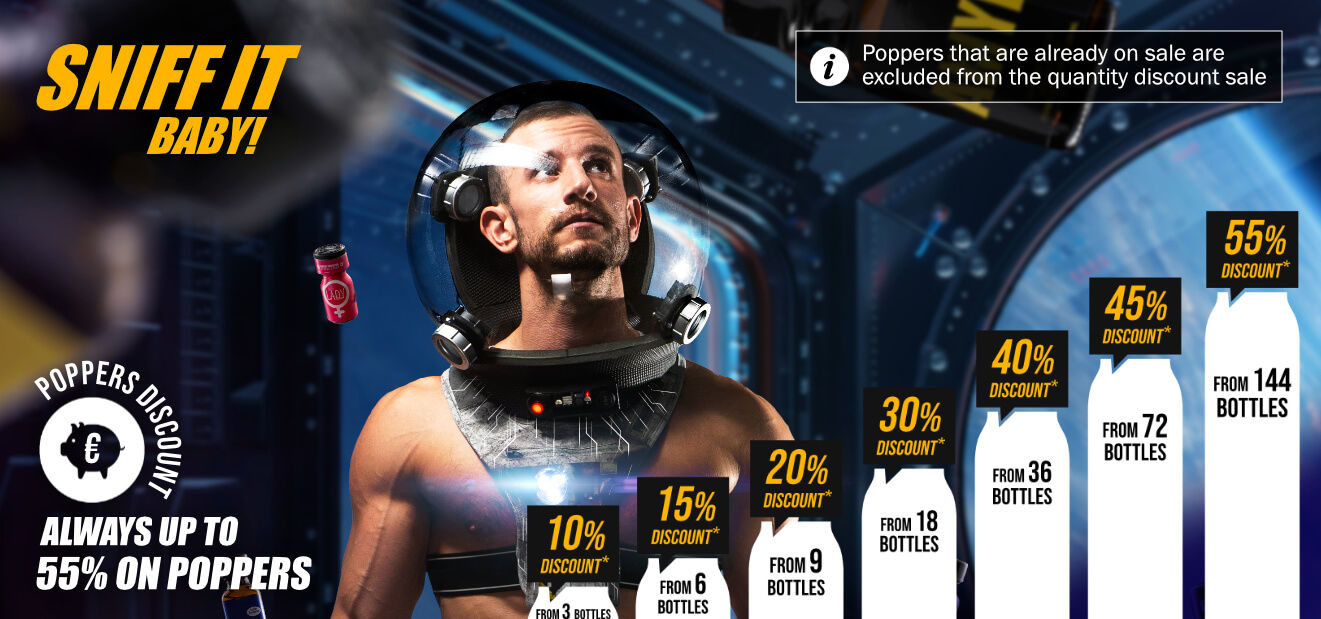 124 Produkte
Small poppers bottles
Aromas / Poppers contain various nitrites. This is a highly flammable (so be careful: you'd better not use candles at the same time), yellowish transparent, short-acting liquid. At room temperature, the small poppers bottles unfold vapors that raise your sex to a whole new level!
Especially in the gay and BDSM scene, the small poppers are becoming increasingly popular because they provide unique experiences. Particularly when fisting, many appreciate the fact that the little bottles turn off the pain sensation and increase the touch sensation.
Aromas/Poppers have a vasodilatory effect, so you will feel an unprecedented sex rush! When you crack open the small popper bottle (hence the name poppers from English "to pop"), you will feel the intoxicating effects after just a few seconds. These include: a feeling of warmth and palpitations, more intense sensations, sexual stimulation, disinhibition, no or hardly any sensation of pain, vessels are dilated, muscles relaxed, etc.

Poppers are available in our store in different sizes: small, medium and large. So there is something for every need and taste. Just take a look around our store!
Small aromas / poppers in 9 and 10 ml bottles
Especially for beginners, small poppers are the perfect choice. This way you and your partner can test together what it does to you and enjoy the rush together. But many experienced users also like to use the mini poppers.
In our Poppers online store you will find the most popular poppers in small bottles - of course in the best quality - such as Full Moon, Iron Horse Ultra Strong, Party Beast, FF small, Black Amyl, Fist deep, Real Rush and many more.

Advantages of small poppers bottles at a glance:
perfect dosage with 9 or 10 ml per bottle
easy handling (open the bottle, and you are ready to go)
top quality
hot effect: warmth, vasodilator, more intense sensation of touch, sexual stimulation, disinhibition, reduced sensation of pain, increased feeling of pleasure

Order small poppers online

You want to buy small poppers bottles online? Then our online store for poppers, toys and gay sex is the place to be! We ship quickly and discreetly in a neutral packaging. If you order on weekdays until 1 pm, your order will be shipped on the same day. If you have any questions, feel free to contact us - by e-mail, via our contact form, WhatsApp or the chat window (bottom right).