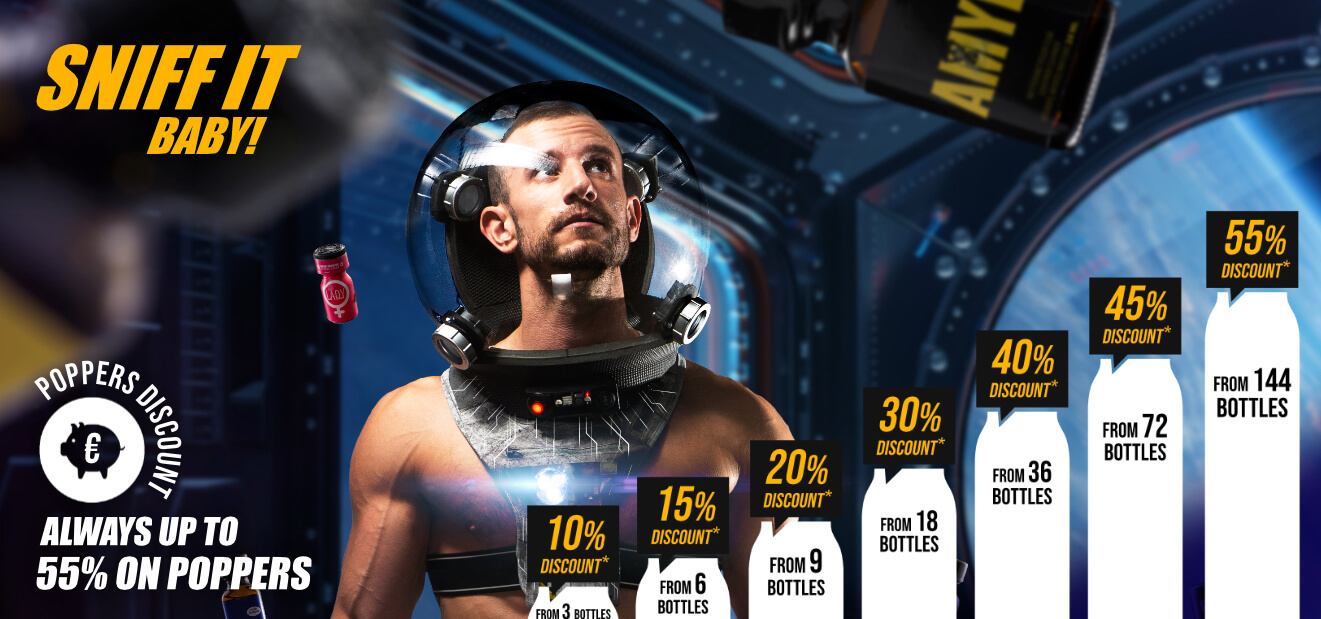 43 Produkte
medium poppers bottles
In our online store for poppers, gays, sextoys & more you will find poppers in different sizes. You think small is too small and big is too big? Great, because we also have medium sized poppers. We also have a wide variety of brands and manufacturers in our assortment, so you'll definitely find what you're looking for.
If you have never used aromas / poppers before, here are some short explanations for you:
Poppers consist of different nitrites like amyl nitrite, butyl nitrite or isobutyl nitrite. The easily flammable, yellowish transparent liquids have a short-lasting effect. At room temperature, the medium poppers bottles release vapors that have a vasodilating, muscle-relaxing and stimulating effect - virtually the sex rush from the bottle!
Many in the gay and BDSM scene have been using poppers for a long time. But also, straight men use them more and more. Especially during anal fisting, the muscle-relaxing, stimulating and pain-reducing effect is really good. But otherwise, you can benefit from the effect of our medium poppers bottles: maximum stimulation, increased pleasure, disinhibition, feeling of warmth and palpitations, intense touches, reduced pain, etc. All in all: a sex rush you never expected!
medium aromas (poppers) in 13, 15 and 18 ml bottles
Medium poppers bottles are mainly bought by experienced users. Beginners often use the small ones first. Those who want the ultra high and can handle it go for the large poppers.
In our poppers store we have for you the most popular poppers in medium bottle and of course in the highest quality in the assortment. Here you can find Extasy Men Citrus, Fuckme, Everest, Override, Blu Ultimate, Rush Pentyl, Dominator Red, Bull, XXX Hard and many more.
benefits of medium poppers bottles at a glance:
top dosage with 13, 15 or 18 ml per bottle
very easy application. Just open the bottle and go
best quality
maximum effect: warmth, vasodilator, more intense touch sensation, sexual stimulation, disinhibition, reduced pain sensation, increased pleasure sensation

order medium poppers online
You want to buy medium poppers bottles online? Then you are right here in our online store for poppers, toys and gay sex. If you buy on weekdays until 13 o'clock in the store, your order will go out the same day. Of course we ship discreetly in a neutral package.
If you have any questions, feel free to contact us - by e-mail, via our contact form, WhatsApp or the chat window (bottom right).