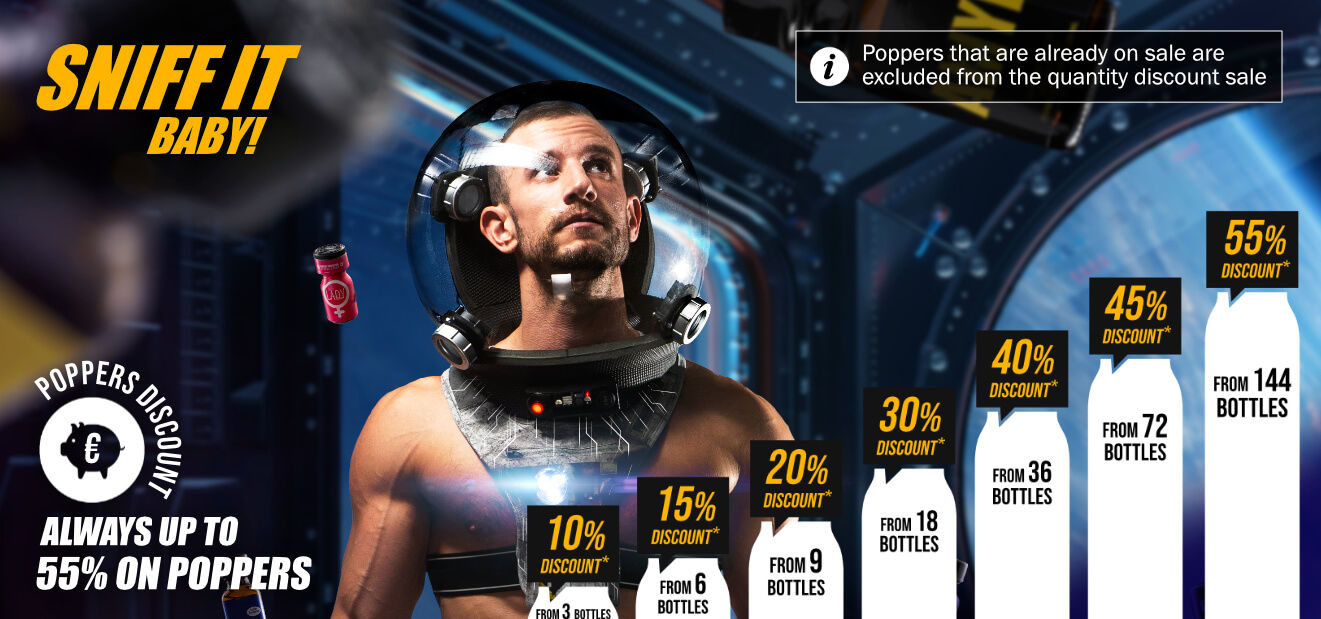 9 Produkte
No results were found for the filter!
Poppers Inhaler – Deep breaths, buddy!
With this selection of poppers inhalers, you can enhance your aroma experience. Our extensive range of aroma accessories in the online shop allows you to choose the perfect option for your needs. So, say goodbye to unintentional leakage and spills of aromas! You can choose from poppers sniffer caps or poppers duo power sniffers, available individually or in multipacks, poppers inhalers in various designs, pocket sniffers, dispensers, inhaler absorbers, and much more. With our range of fascinating and exciting poppers sex inhalers, you'll become the star of any party! Whether you're in the darkroom or on the dance floor, or if you prefer hot sessions on the go – when "sniffing poppers" with the poppers inhalers from Tom Rocket's, you no longer need to worry about your bottle breaking! The original designs in the shape of an electrical socket, small capsules, or attachments, and even entire sniffer stations, provide you with the desired amount of poppers to kick your mood into high gear. We offer the right tool for your preferred poppers sniff, whether it's:
Poppers Double Inhaler
Single Inhaler
Poppers Sniffer Cap and Duo Sniffer Cap
Poppers Inhaler Mask
Poppers Bottle Inhaler
Dive into an exciting adventure with our exclusive poppers inhaler, which entices with irresistible benefits. Made from aluminum, stainless steel, or high-quality plastic that stands out with its effortless elegance and doesn't discolor, it fits perfectly into your sensual environment. The easy handling of the poppers inhaler seduces you into carefree moments of enjoyment, while its intelligent design makes fumbling a thing of the past. Feel the pulsating energy of a more intense experience that awakens your senses and catapults you to new heights. No skin contact means no distraction from ecstasy, just pure pleasure without irritation. And just when you think it can't get more alluring, the adapter preserves the aroma from dissipating, allowing you to dive into this intoxicating world again and again. Discover a new dimension of sensuality with these irresistible benefits that unleash your desire. In our shop for aromas, gay fashion, gay toys, and more, you'll also find a wide range of room scent accessories. Your order will be discreetly and promptly shipped in a neutral package to preserve your privacy.
Poppers Inhaler - The Little Helper
Aromas consist of various nitrites, sometimes combined with fragrances. The diverse nitrites lead to varied effects when using aromas, creating exciting variations. But how do you properly inhale poppers? When you're ready, close one nostril and place the other nostril on the poppers inhaler. Breathe slowly and evenly through your nose to feel the effects. Then breathe slowly out through your mouth to remove the scent from your airways. Once you've achieved the desired effect, immediately close the poppers inhaler to contain the scent and protect the liquid from evaporating. Remember to use aromas responsibly and pay attention to the right dosage.
How much poppers to inhale: this depends on the person, body, condition, and environment, so it varies, but it's "a reasonable amount." For beginners, a short pull per nostril side is recommended. Also, note that the use of aromas is subject to legal restrictions and health risks in some countries. Thoroughly research possible dangers and local regulations beforehand.
Here's how it's done:
Open the inhaler sticks of the poppers inhaler by unscrewing.
Soak the cotton pads with an aroma of your choice, for example, RUSH PWD Poppers.
Place the cotton pads in the inhaler sticks and screw them tightly again.
Be ready for that special kick whenever you want!
Our Fantastic Poppers Attachment Inhaler - No Cap
We don't just shine in the poppers inhaler category. We also have the matching sniffer caps for all our aromas. These poppers nasal inhalers come in different sizes, tailored to the various aroma bottles – just look at the integrated description. This way, you can easily determine which sniffer cap is suitable for the one you already own or would like to buy. The sniffer adapter can be easily opened with just one hand! After opening, you can place it directly on your nostril without worrying about the aroma coming into direct contact with your skin and enjoy poppers inhalation. Experience an enhanced effect and one of the most intense rushes of your life! With this adapter, you not only get a more intense sniffing experience but also save yourself the cumbersome screwing and unscrewing. If you don't need your poppers inhaler right now, you can simply put the adapter's lid back on to preserve the aroma from evaporating rapidly.
If you have questions about poppers inhalers, don't hesitate to get in touch with us. Our knowledgeable customer service team at Tom Rocket's is always here for you. We strive to ensure that your shopping experience runs smoothly and satisfactorily. Visit our gay online shop today and discover the fascinating world of aromas. Immerse yourself in sensual pleasure and enjoy unforgettable moments. It would be our pleasure to welcome you as a valued customer! For more comprehensive information about aromas, their usage, effects, and much more, please refer to:
How do poppers work, and what are poppers exactly?
How to use poppers to enhance pleasure?
What do poppers bring to sex?
Are poppers legal?