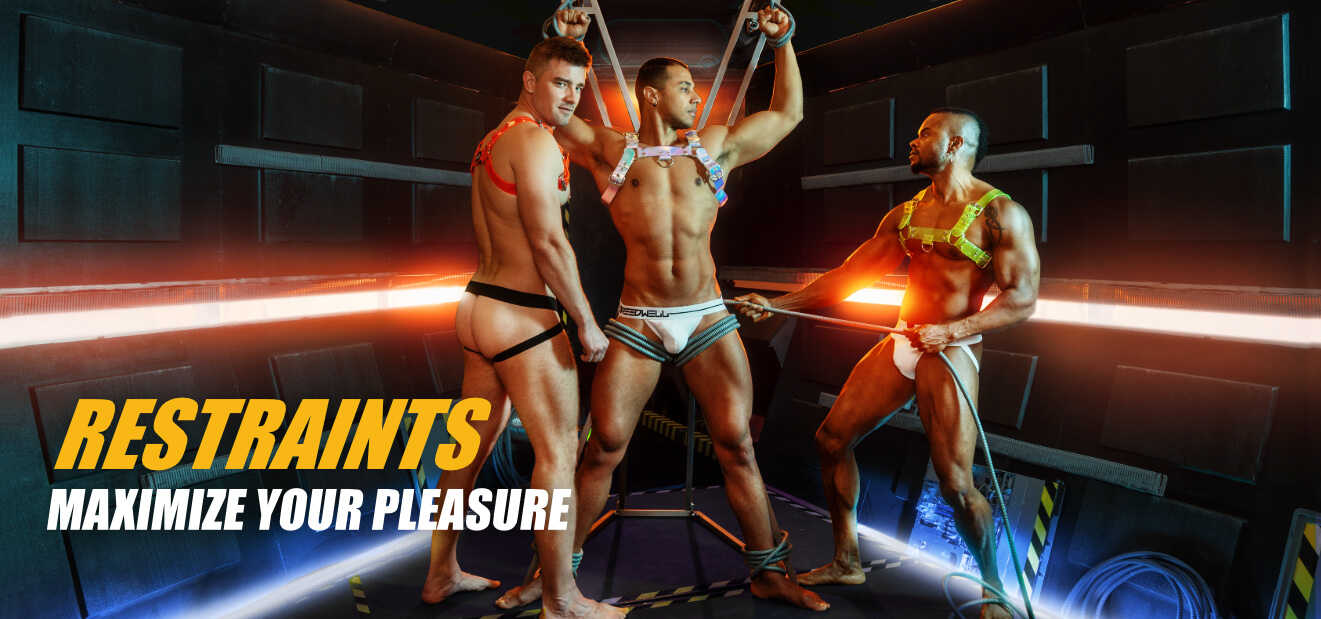 88 Produkte
Toys and accessories for BDSM bondage and bondage games
BDSM - Bondage & Discipline, Dominance & Submission, Sadism & Masochism - is a sexual practice that is about dominance and submissiveness - about domination and humiliation. Whether you discover both sides for yourself or just one, bondage is definitely part of it! Safety and pleasure are very important in BDSM - agree with your partner on what turns you on and agree on a code word if it gets too much!
We have the following to offer for your bondage fun:
Collars and leashes
Take your partner for a walk or just grab him by the neck. Show him that you're the master. Or are you rather the humble slave who is led around? For a whole new form of ecstasy!

Hand and foot cuffs
Tie up and gag your lover or your newest acquisition - or let yourself be put in chains. Maybe a blindfold would be nice, too? Abduct him into your sexual worlds, let him participate in your infinite horniness. Guide him. Explore his body at your pace and just as you wish.

Gags
This can also be an infinitely erotic adventure. Listen to the suppressed moans of your partner as he almost can't take any more from ecstasy and pain and moans into the gag.

Bondage Sets
Let yourself be tied up, immobilized with the bondage sets. Be defenseless. Delivered. Sometimes not being able to determine, sometimes not having to determine. An insanely unique feeling, a real rapture.


BDSM & Bondage: for captivating sex.
Bondage - not only gays are into it. You've never tried it before, but you can see the special appeal and you're curious? Imagine you are defenseless, at the mercy. Your sex partner may do with you what he wants. And he does it WELL. You may completely surrender to your ecstasy - if he allows it.
Or you prefer it active? Tie up your sex partner, show him your power. Caress him, stroke him, grab him, suck his cock, tie and gag him, whip him, use him. You decide what happens and seduce his defenselessly bound body, which melts under your use and begs for more.
Advantages of bondage and bondage games:
special kick
no boredom, but variety in bed
adventure
more intensity and more fun during sex
greater intimacy (trust is everything!)
go to your own limits
getting to know new things
Order toys for BDSM bondage games and bondage in our gay store
Let yourself be seduced by our toys for BDSM bondage games. We offer you collars and leashes, ropes and tapes, hand and foot cuffs, gags, bondage sets and everything else you need! Here in the gay store with no taboos. All your kinky dreams may come true.