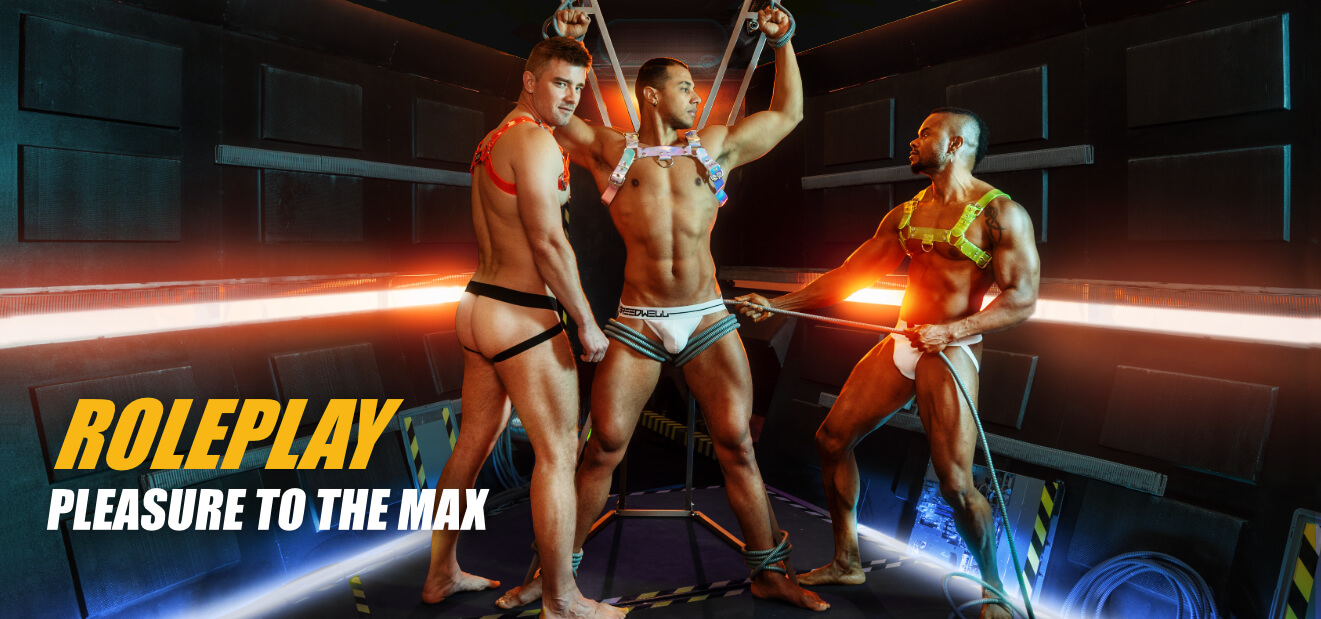 55 Produkte
Puppy Play: Educate your gay pet
"Woof," is all you can hear from under his Puppy Mask, and it tightens around your loins. You feel your penis pressing against your lazy clothes, horniness coursing through you as your BDSM fetish is teased by the sight of him. This horny gay guy on his knees, his eyes peeking out from under his dog mask and the two tails on his body smiling at you make your lust boil. His one tail is homemade, the other one you pushed into his tight anus with lube, and it stands out teasingly between his butt cheeks.
Puppy play belongs to one of the most popular variants in roleplay and needs above all the right equipment. Just kneeling, barking and crawling on all fours through the apartment just isn't enough. If you really want to put your lover on a leash, he ahs to look the right way. You, as a doggy owner, will also need bowls to feed him and, of course, leashes if your gay dog wants to go for a walk with you.
Good dog - sit, down, drop-it!
Does your good doggie get some poppers today or does he not deserve this treat at all? You alone decide about his dog life, because you are his owner. We offer you the full selection of hot toys you need for realistic puppy play.
Put him on a leash, your little gay street dog, and make him do what you want him to do. You are going for a walk? Then he has to follow, and if you order him to sit, he better does it right away. Because if your dog does not obey, you can quickly put him on the penis leash and then every step will be correct.
Does your slave puppy already wear a proper collar? What do you have in mind as his owner? Rather a noble fetish collar or does it make you hot when his collar reveals what he is, a slave? Or maybe a bitch? Of course, to completely turn him into a submissive mutt, he still needs a tail that he can even wag a bit. With or without a plug? You decide, and you can enjoy his wagging tail! For really hot puppy play, some basic equipment is needed, which you as a dog owner will naturally own:
Bowls or stainless steel plates for eating
Collar and leash for walking rounds
Mask and tail for your dog
By the way: Your slave dog can also wear his outfit at the next fuck party. Even if he is not naked, he can swing his little tail by choosing a model, which is simply attached to the belt.
Has the gay dog earned his food at all?
There he is kneeling in front of you, looking at you with a submissive look and wiggling his dog butt provocatively. Oh, how you would love to push his plug cock aside now and show the doggy what "doggy" really means. But your puppy is hungry, he whimpers softly behind his mask and sneaks around the polished stainless steel plate in the corner.
What will you give him today? Has he earned something good, or is there just a can with something in it? Since your gay dog's hands are in puppy gloves, he has no choice but to satisfy his hunger directly on all fours while you watch him do it.