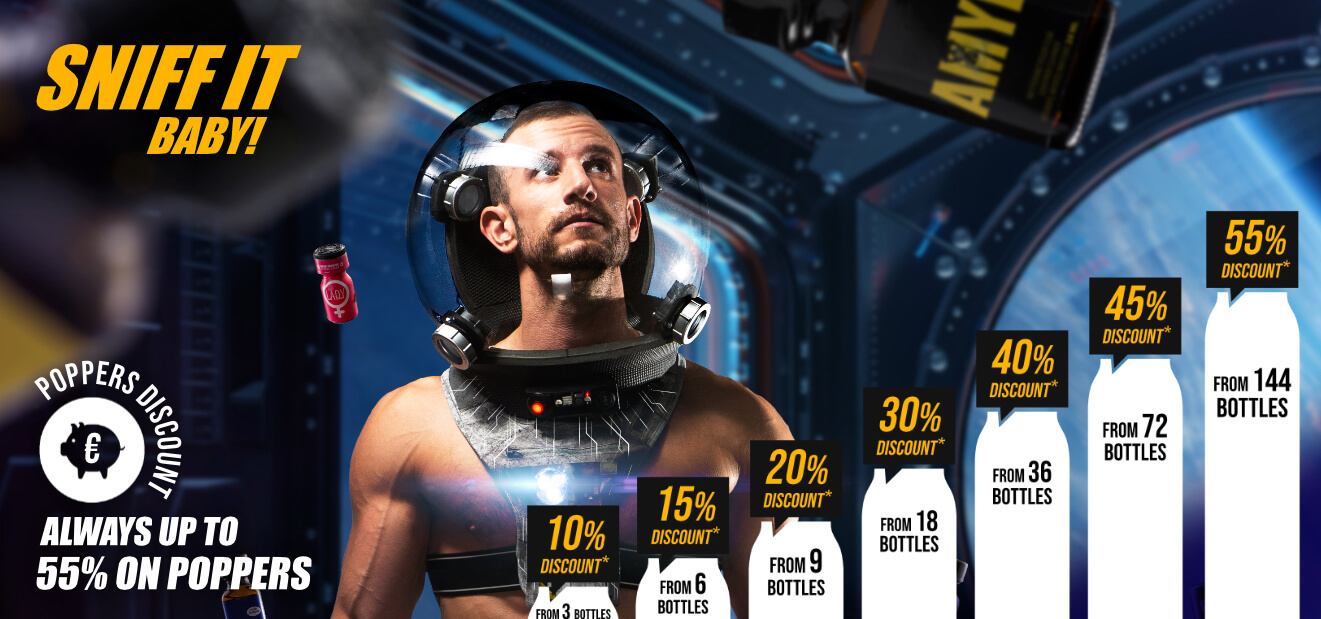 296 Produkte
Poppers by origin - a journey through the world of pleasure
Do you love to let go of all your worries during sex without any inhibitions? Then you've probably already become a real fan of our diverse poppers. Originally they come from the United States, but now they are known all over the world for their effect. Not only horny gays rely on the diverse flavors, but also straight men are already convinced of the specialty of the poppers. We take you on a country tour, so you can get to know the hottest poppers from the most famous states and cities.
ATTENTION: All poppers in our store are room scents and may not be officially inhaled directly from the bottle! We hereby distance ourselves from the improper use of our products. The sale takes place in our store only to persons from 18 years!
US Poppers - from the original homeland for hot pleasure
If you want to get to know the oldest poppers in the world, US Poppers are the right choice for you. Where it all started in the 70ies, some of the hottest and most popular varieties were created. You don't know names like Blue Boy XL, Jungle Juice Platinum and Iron Horse yet? Then it's high time you took a closer look at our US Poppers. They will get you and your lover going very quickly. They are also a real hit for experienced gays.
CA Poppers - the strong scents for all gays
Canada provides us with a few of the hottest and strongest poppers varieties that you absolutely have to get to know. The CA Poppers offered by us in the gay store are produced by the well-known manufacturer Lockerroom and stand for safety, quality and absolute pleasure. You are shy in bed and don't know how to survive your lover's cock in your little ass? CA Poppers will relax you and at the same time provide even more intense feelings. Find your favorite flavor and order your kick for bed today.
UK Poppers - the best from the kingdom
The Brits are known for their pleasure. Not only short bread and teatime in the afternoon are on the agenda here, but also hot UK poppers that make the bed shake. As a British company, we of course have most of the poppers from the UK on offer, simply out of love for the homeland.
They were produced directly for the UK market, but you can also order them safely from all other European countries. You are already experienced and can't stand the standard varieties anymore? With varieties like Potent Blue and FIST Black, you can experience Poppers pleasure on a whole new level.
Fun and pleasure from France - buy FR Poppers in your gay store
France stands for high pleasures already for breakfast. You want more than delicious croissants with jam? Then try our FR Poppers in best quality. We offer a wide range of poppers from France in different strengths and flavors.
Until the 90's poppers were forbidden in Germany's neighboring country, but today they are completely legal. And that means for you that you can buy the high quality french poppers also from us. Did you know that you can get discounts of up to 55% if you stock up right away? We have enough varieties for you in any case, choose your favorites.
NL Poppers - the sex fun for gays in your gay store
In one of the best and low-priced poppers stores, of course the popular NL Poppers can't be missing. Recipes directly from the Netherlands, available for you here. These varieties stand out especially for their beginner-friendliness, but you'll also find a few really strong highlights. Browse to your heart's content in our gay store and don't hesitate to contact us if you have any questions.
Amsterdam Poppers - Your trip to the city of lust
Amsterdam is the party metropolis par excellence, and did not get the nickname "City of Lust" for no reason. Our Amsterdam Poppers catapult you on your very own journey of lust. You won't wake up in front of a coffee shop, but in a world full of lust and attraction.
Sensuality and eroticism are at the forefront when you integrate the powerful Amsterdam Poppers into your sex life. The rush of pleasure is so intense that you no longer have time for fears, worries or anxieties. Let yourself in for an experience that brings the party feeling of Amsterdam directly to your home.
Rush Poppers - back to the roots
Joe Miller is the name of the man to whom we owe the high pleasure of poppers today. He filled the first active ingredient into a small bottle, attached a label and called his product RUSH Liquid Incense. In the meantime, Rush Poppers are available in many different versions. Of course, you can get not only the original product, but also the various versions with different scents.
Lockerroom Poppers - the name stands for quality
You choose your poppers not by country, but by manufacturer? Then we are happy to offer you the high quality Lockerroom Poppers. Lockerroom is one of the most famous manufacturers of poppers and comes from Canada. In our store, we have the full range of the assortment ready for you. Whether small bottles or large ones, you will always find your poppers in the best quality.