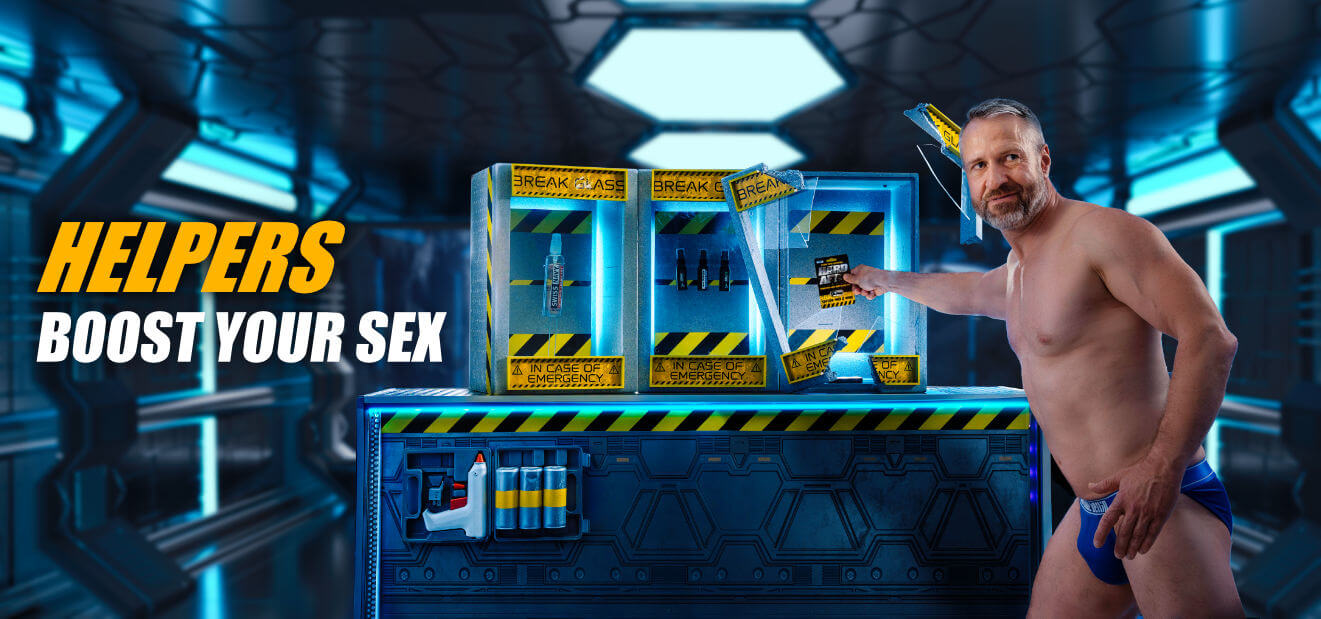 6 Produkte
No results were found for the filter!
Massage oils & lotions: Be my Lover, Baby!
You love romance and you like to spoil your partner ex-and intensively? Then a suitable massage oil is one of the potency and auxiliary means, which should not be missing in your cupboard. You two are not fucking, for once? You want to do something good for him and let him take off into ecstatic spheres? Then enchant him with a wonderfully fragrant massage oil and your hands that loosen his muscles, pamper his skin and of course go deeper once in a while and conquer his erogenous zones.
Unlike lubricants, massage oils and lotions have the property that they warm up the body, that they convince with their beguiling scent and that they care for the whole skin in a silky-gentle way. You love extended foreplay and can't get enough of indulging your sweet lover? If you think that among gays only hard anal sex is always an issue, you are thoroughly mistaken. Sensuality and eroticism also play a big role among gays.
Unforgettable and intimate - so you forget the time
The aroma of your last poppers is still gently wafting through the room as you open the elegant bottle of massage lotion and invite your partner to the bed. He willingly lets his jeans slide down over his firm buttocks and lies down naked in front of you. You put some of the pleasantly scented oil on your hand, warm it up slowly and glide over his pronounced shoulder muscles. It's hard for you not to fall over him immediately, because the massage oil makes his skin shine and his body appear in an erotic glow. But you treat him to an extensive massage, because your massage oil is pure luxury:
beguiling fragrances in different scents
appealing and aesthetic appearance of the bottle
made from plant-based ingredients
pleasantly warming on his skin
When your hands have reached his bottom, you can already hear his frantic breathing. He wants you so much, but he also enjoys your gentle hands and is not ready to go to the extreme yet. Give him the time, let him close his eyes and enjoy, because you know that afterwards you will spoil him in a completely different way.
Aphrodisiac and stimulating - for a special magic
With us you will find massage oils that will awaken your and his sensuality with their scent. The gentle scent will beguile you and awaken your desire for more. This "more" will of course be there later, the tube with the lubricant is already hidden under the bed. But for now, everything revolves around sensuality. In you slumbers a creative soul and you always wanted to try out how well you can handle the brush? Then body painting is one of the most erotic ways to put your pictures on canvas or much more on skin.
Sensual, stimulating and fun at the same time is the experience when you paint yourselves with edible body paint and then lick it off your body again. People like to take up a paintbrush, don't they? Which painter can resist when the canvas is so perfectly curved and aesthetic in front of you. Can you keep your real brush in check or do you use it to complete your work of art?