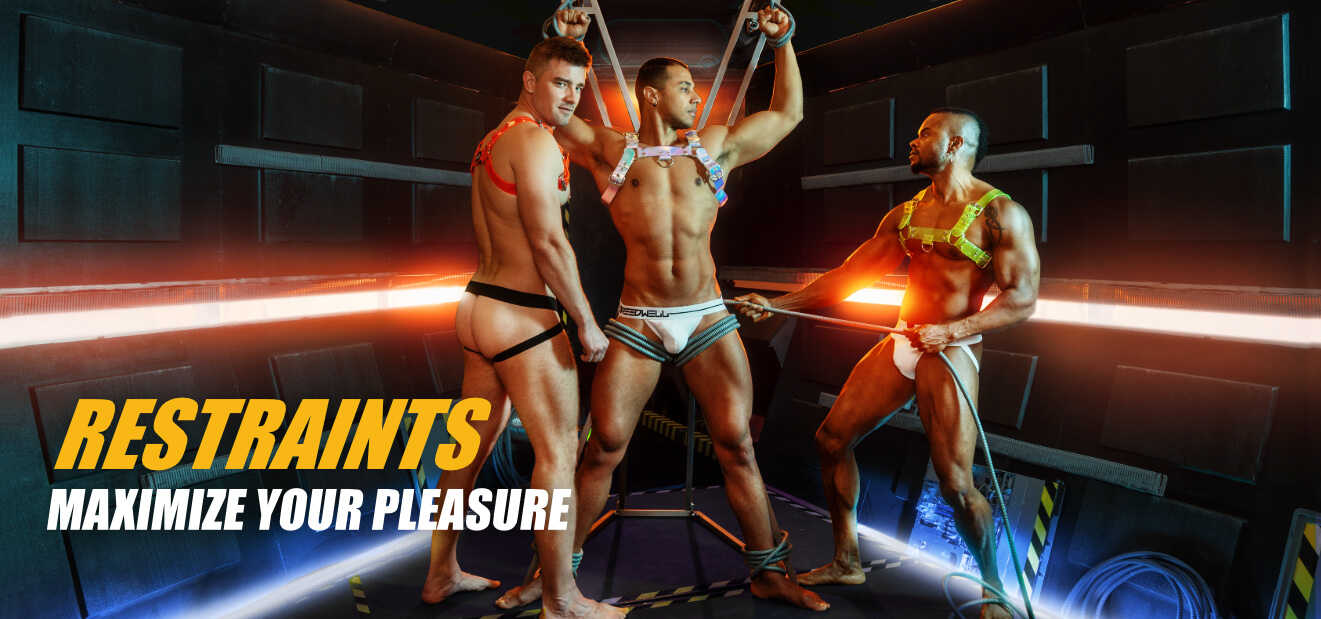 5 Produkte
No results were found for the filter!
Bondage Sets: As a true (s)expert you need this equipment
BDSM has long since become socially acceptable, and proud gays didn't need housewife porn to get the idea of hot bondage rolling. You knew what horny was before the phenomenon took over the cinema for straights.
Your BDSM fetish isn't an act, it's a real passion, and as a pro in the field, you of course know that it doesn't work without equipment. But even if you're just getting into it, you'll find hot things here that you won't want to miss out on in the bedroom.
In your drawer the ropes pile up and also with tapes you have already tied up by far more than one guy? Now you want more? Then our BDSM sets are just the right choice for you. With ties you can put him in the position you want him to be in, and with a straitjacket you will show him exactly where his place is for you.
Whole body restraints: kneel down, my slave!
What do you need for a lustful and hot evening? First of all, your favorite poppers and then maybe some ropes, for extended bondage games. If that's too little for you and you want to really put your slave on his knees, you'll get your money's worth with our diverse sets. Whether his hands are tied behind his back in the straitjacket or the combined leather hand and neck restraint exposes him to you, you remain the proud gay king and he is your enviable slave.
Sets have the advantage that you can combine them with other bondage utensils, but they are also suitable for hot hours all by themselves. If your toyboy is stuck in a floor pillory and is tortured by the dildo, you don't need anything more, but can just enjoy. A gag would perhaps still be well suited, because his cries of pleasure will of course eventually get on your nerves. Our sets are perfect for you if you:
as a master, have to educate your slave
want to be the slave yourself
appreciate high quality luxurious materials
BDSM is your declared passion
In the beginning it was just a tape that fascinated you, and then it went on and on. Today, it's your slave in his straitjacket driving you crazy and him right along with it.
BDSM is a philosophy - and you are the master
BDSM is not some newfangled porn nonsense that straight guys now feel the need to check it off of their bucket list, thinking they've already discovered a whole new life with a flogger. BDSM is a feature of the proud gay scene, because gays know exactly how respectful and at the same time agonizing pleasure works. As an experienced Dom, you know that cable ties from the supermarket are useful for one thing at most: Tying cables.
You value quality and that's why you don't buy your bondage equipment and sets just anywhere, but from us, your trusted supplier of poppers, gay fashion, aids and more. We are not just anyone, but the gay store for all men who are aware of their lust and who don't want to wait too long, but bring their slave to his knees. Why is he still whimpering? Put him in chains, because that's your job!