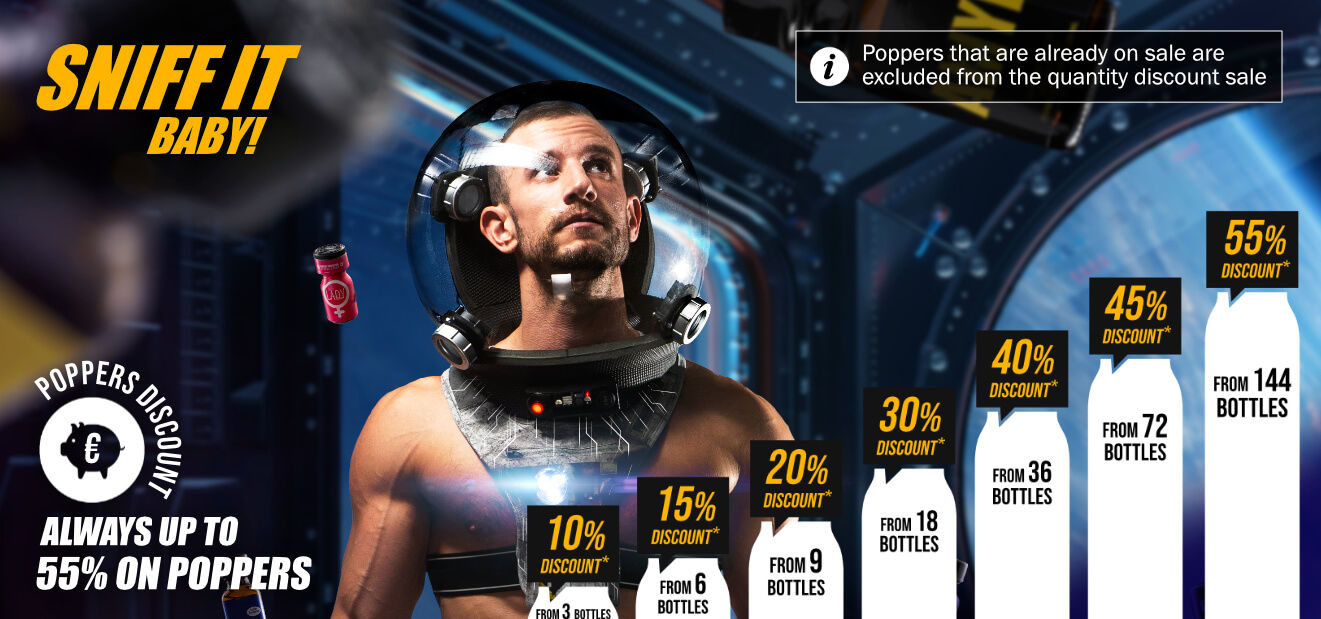 26 Produkte
Discover the world of Amsterdam Special Poppers at Tom Rocket's!
At Tom Rocket's, we take great pride in offering you a carefully curated selection of Amsterdam Special Poppers. Our Amsterdam Poppers shop is known for its affordability in Germany, Switzerland, Austria, and other EU countries. We place a strong emphasis on choosing high-quality manufacturers for our aromas, so you can rest assured about the quality. You'll find only aromas that have been produced under the strictest hygiene conditions and meet the highest quality standards.
Buy Amsterdam Poppers online at Tom Rocket's
Would you like to order and purchase Amsterdam Poppers online while saving money? In our Poppers shop, we provide you with a fantastic opportunity to do so with our tiered quantity discounts. The more aromas you order, the more you can save! Additionally, we have a great bonus system for loyal customers. With each purchase, you accumulate points that you can later redeem for free products or an instant discount. Furthermore, we offer a discount tier for our aromas, with discounts of up to an astonishing 55%! Starting from 3 bottles, you'll already receive a 10% discount, and with 36 bottles, we offer a 40% price reduction. For orders of 144 bottles or more, you'll receive an impressive 55% discount!
No matter which Poppers you want to buy, whether it's Amsterdam, RUSH, Lockerroom & Co., in our online shop, you can be sure that we provide secure and discreet shipping as well as safe payment methods for your orders. You have the option to conveniently pay with credit cards (Mastercard, VISA, AMEX), instant bank transfer, PayPal, cash on delivery, or prepayment.
A wide selection of Amsterdam Poppers
Originally from Canada, the Amsterdam Poppers brand has established itself as one of the most well-known in the world of aromas. They have been offering high-quality products at affordable prices for many years. The manufacturers of Amsterdam Poppers have perfected their craft, creating aromas with various ingredients, including propyl, pentyl, hexyl, or amyl nitrite. It's worth noting that Amsterdam was one of the pioneers in developing aromas back in the 1970s! Amsterdam Poppers is a favorite among enthusiasts of strong aromas. If you're looking for incredibly intense sensations, then Amsterdam is the right brand for you. "The Real Amsterdam Poppers!"
Discover Amsterdam Poppers in bottle sizes ranging from 10 ml, 15 ml to 30 ml, with fast delivery to Germany, Switzerland, Austria, and many other EU countries. They are formulated with propyl nitrite, amyl nitrite, pentyl nitrite, or a mixture of nitrites, creating a unique sensation. Furthermore, they are of the highest quality, as we source directly from the manufacturer. For years, the Amsterdam Poppers brand has been a leader in the world of aromas.
Effect of Poppers
Informally referred to as Amsterdam Poppers, a group of nitrites is often used in liquid form as fragrances to enhance sexual pleasure. The term "Poppers" is derived from the English verb "to pop," as the ampoules often produce a popping sound when opened.
Originally, these were room fragrances intended to be used as such. Nitrites are salts and esters of nitrous acid and were first synthesized in the 1940s and 1950s. Amyl nitrite was initially used to dilate blood vessels and has a relatively short duration of action. Therefore, especially butyl and isobutyl nitrites were rediscovered in the 1970s as aphrodisiacs. These aromas are officially marketed as room fragrances and are intended to be placed in the room. Due to room temperature, evaporation, and the resulting gas, users can experience the libido-enhancing effect by inhaling it through the nose.
They are now widely popular among gay men but also among heterosexuals, bisexuals, transgender individuals, and people of other sexual orientations. Many rely on the aphrodisiac effect of room fragrances. How it feels for you specifically depends on the products you choose and your own body. Everyone's body naturally reacts somewhat differently. However, many report a warm, tingling sensation. Touches are perceived as more intense, while pain sensitivity is reduced. Anal penetration becomes easier, and larger dildos, plugs, and similar items can be used more comfortably. Overall, many people who use aromas during sex report that they find the experience significantly more intense, and their orgasms are longer and more intense. The effects can include:
A feeling of warmth and a racing heart
Muscle relaxation
Reduced pain sensitivity
Increased tactile sensation
Enhanced libido


To protect yourself and others to the fullest extent, it's important to understand the risks and potential dangers associated with aromas and to use them responsibly. Your health should always be the top priority! Here are some important points to consider:
Never combine aromas with Viagra or similar medications.
Never consume aromas alongside other drugs or alcohol.
Do not ingest or take aromas in any other way.


It is of great importance to take these safety instructions seriously in order to avoid possible health risks. You can find more detailed information about flavours, their ingestion, the use of Amsterdam Poppers and their effects here:
How do poppers work, and what exactly are poppers?
How do you use poppers to increase pleasure?
What do poppers do for sex?
Are poppers legal?