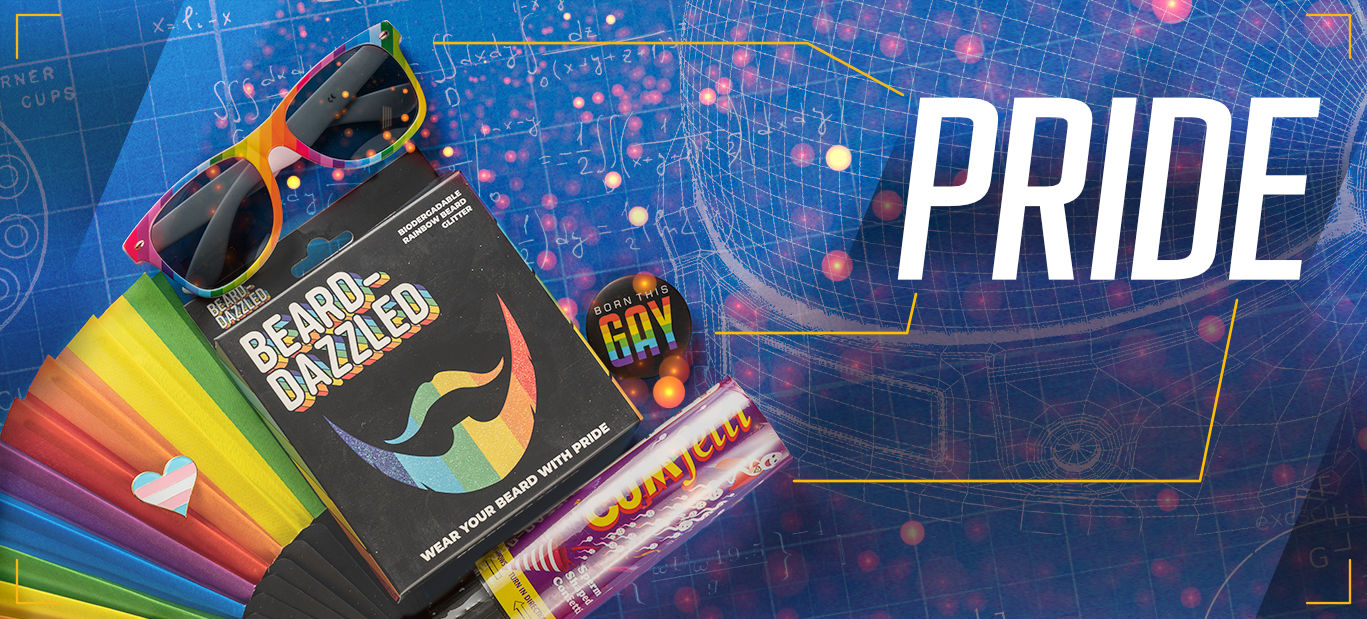 85 Produkte
Gay Event Stuff: Not just gay, but cool
Get your message out there with awesome gay event stuff for every day. Whether it's coffee in the office in the morning or at the gay party, our exciting products sweeten your everyday life. At the same time you clearly show that you enjoy your gay lifestyle and are proud of it. Rightly so, no gay man in this world should hide! And why not use everyday objects to bring a little more pride into your life? Without any words you show your surroundings that you love your life and that you are something special. By the way, our stuff is also a great gift idea for gays, whom you want to surprise.
Gay Pride means to stand by your sexuality without fear. And our cool event products help you to get the message out. How about a funny greeting card in gay style? Say "all the best" to your friends while showing pride in your gay life. Especially popular are our pins that will enhance your clothes and really show them off. A small piece of decoration, a big message.
From dirty to cute - gay stuff you absolutely need
There's not much that every gay needs to have at home. At the top of the list are our poppers, followed closely by our event stuff. You celebrate a party or are invited? With a gay party tattoo, you'll give those around you a hint of your motives. Be cute with a rainbow tattoo or dirty with the barcode of the slave. We offer you a lot of variety and gigantic fun!
badges for the coolest gay messages
horny party games with grope guarantee
ultra hot shorts for your party look
fun gadgets for your styling
party decorations for the gay party of the year
Having a sinful party at your place? With our event gadgets you set the scene. And so that your guests really feel comfortable, you have of course decorated the place beforehand. Whether with stylish garlands or with gay messages, everywhere where gays celebrate, it may sparkle, glitter and shine!
Playful, cute or provocative - you need them all
Today the cute gay keychain and tomorrow the provocative tattoo? Your life is like you, multifaceted, varied and exciting. Take your impulses outside and show the world that you are rightly proud of your lifestyle. You want to send a clear message to your colleagues? With us you will find numerous horny gay mugs that will do it for you. You want to be the king at the next party? Then put yourself in the spotlight with highlights. Whether it's a beard design or a pin for your clothes, we have everything you need.
And while we're at it, give your jacket a new look. Back to the 80s, with the expressive buttons that are guaranteed to embellish any piece of clothing. Whether it's a rocking denim jacket or a stylish leather jacket, it will only look half as chic without your message. Of course, you can also put your bag, hoodie and any other piece of clothing in the scene. Expressive, clear and with full pride! Stock up right now for the next party, we have everything for a sharp event!