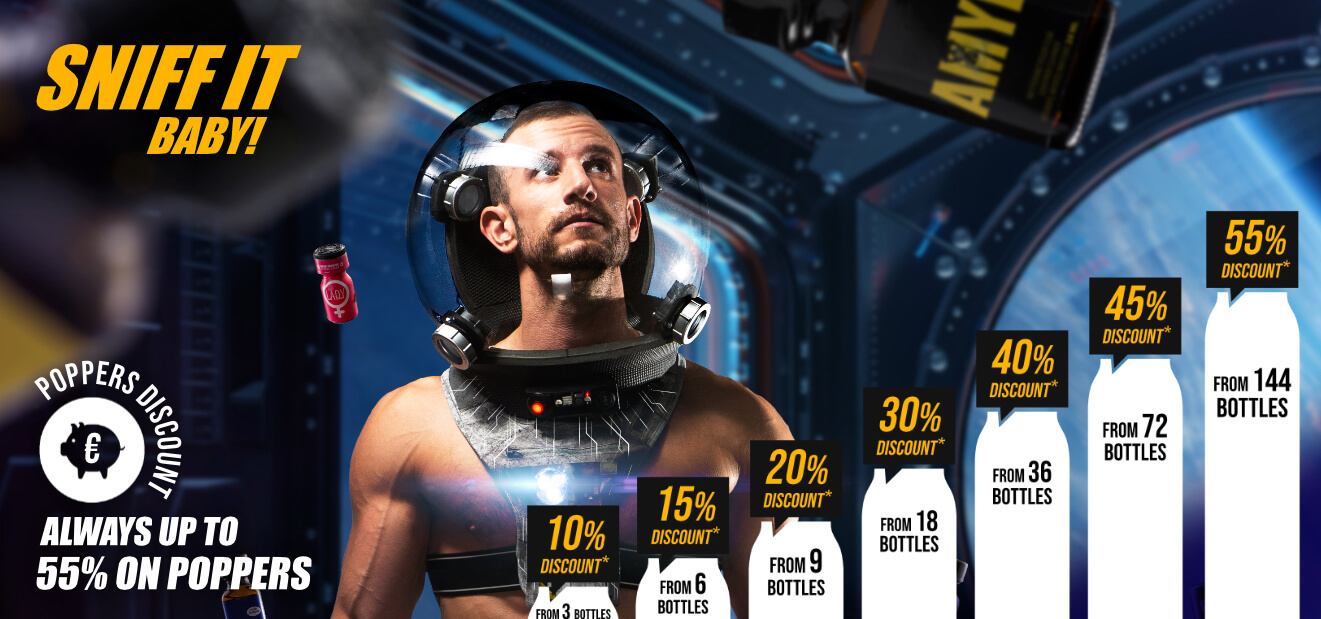 26 Produkte
NL Poppers: Gay sex fun from the Netherlands
The Dutch love sensual pleasure and, of course, passionate sex. So it's no wonder that some of the most popular poppers come directly from our german neighbor. As you are used to, in different varieties and top quality. The aroma alone is beguiling enough, but the effectiveness blows you away. Less anxiety during sex, more relaxation and a lot of feeling. All our NL poppers are available in the best quality, we put safety at the top of the priority list.
In the Netherlands itself, poppers have long been used not only by gays, but also by straight men who like to experiment. And in this country, too, the picture is similar. Due to the high quality in stores like ours, hot sex is practiced on a safe level. Of course, even though we are actually a gay-only store, straight people are also allowed to shop with us. We even have special bundles for ladies. That's how we gays are, we like to share our sex pleasure with everyone!
ATTENTION: All Dutch poppers in our store are room scents and may officially not be inhaled directly from the bottle! We hereby distance ourselves from the improper use of our products. The sale takes place in our store only to persons from 18 years!
Use NL Poppers correctly - this you have to consider
NL Poppers are available in different flavors, from light to hard. Just choose your favorite flavor and let yourself be carried away into a whole new world. Please always remember to use your poppers sensibly and carefully. If you have no experience, choose a lighter variety and if you have already sniffed a lot, give yourself the bangers. Feel free to contact us if you have any questions. We don't just sell you our gay products, behind Tom Rocket's is a 100 percent gay store that acts for you and with you!
We are happy to advise you and therefore here are some important tips for your safety. Serenity, relaxation, more sensations - all this is what Dutch poppers offer you. However, if you have taken nitrous oxide or illegal substances before, we advise you not to use them. So-called downers can drive the cardiovascular system too far into the basement. Similarly, if you take stimulants, your heart will be stressed and this is also not good for you. Also, please never use Viagra and our NL Poppers together.
Popping, sniffing, popping - the symbol of gay lust
Why actually poppers? The name poppers comes from the former ampoules in which the hot mixture was packed. When you broke them open, you could hear a soft "pop". This sound no longer exists today, because our NL Poppers and all other varieties are available in the practical 10 ml or 15 ml bottle (depending on size). But the popping pleasure is unclouded. If you place Poppers in your bedroom, the aroma spreads like a scented candle.
The effect begins very gently, you feel warm, hot and more lustful. When the poppers have their maximum effect, the pain sensation of your body is reduced and you feel less anxious. A great product if you have always been afraid of anal sex or fisting and want to relax more. Less pain with increased pleasure at the same time - that's how NL Poppers work.
Feel your lover twice as intense - Dutch poppers boost blood flow
Do you know how Viagra works? The blood vessels are dilated, more blood circulates and pumps through your cock. You become more sensitive and nothing stands in the way of great sex. Poppers work similarly, but with more effects. Since you don't suck or drink your NL Poppers through your nose, you only absorb the aroma. This indirect mode of action stands for fewer side effects than Viagra, with even more intense effects at the same time. Your blood vessels are dilated, the blood shoots directly into your cock during sexual arousal. When your lover touches you, you feel his hands, ass, dick or tongue even more intensely. This is a real pleasure enhancer, which not only improves sex itself, but also the orgasm.
Relaxed muscles for better gay sex - don't be afraid of his fist
Due to the increased sensitivity, you perceive his caresses on your best piece incredibly intensely. No wonder you want to feel him at some point. Remember, safe sex is priceless even during the absolute rush of pleasure. In our gay store you will not only find NL Poppers in many different varieties, but also the matching condoms. Store to your heart's content to give your lover the night of nights. Thanks to poppers, your muscles will be loosened, you will relax and you will be less afraid of the big moment.
Our fisting dildos or even his whole fist will fit in your ass. Due to the reduced muscle tension you are less sensitive to pain without losing your sensitivity. You can enhance the effect by looking for lubes with numbing gel. This way, gay anal sex becomes a painless and infinitely horny highlight.