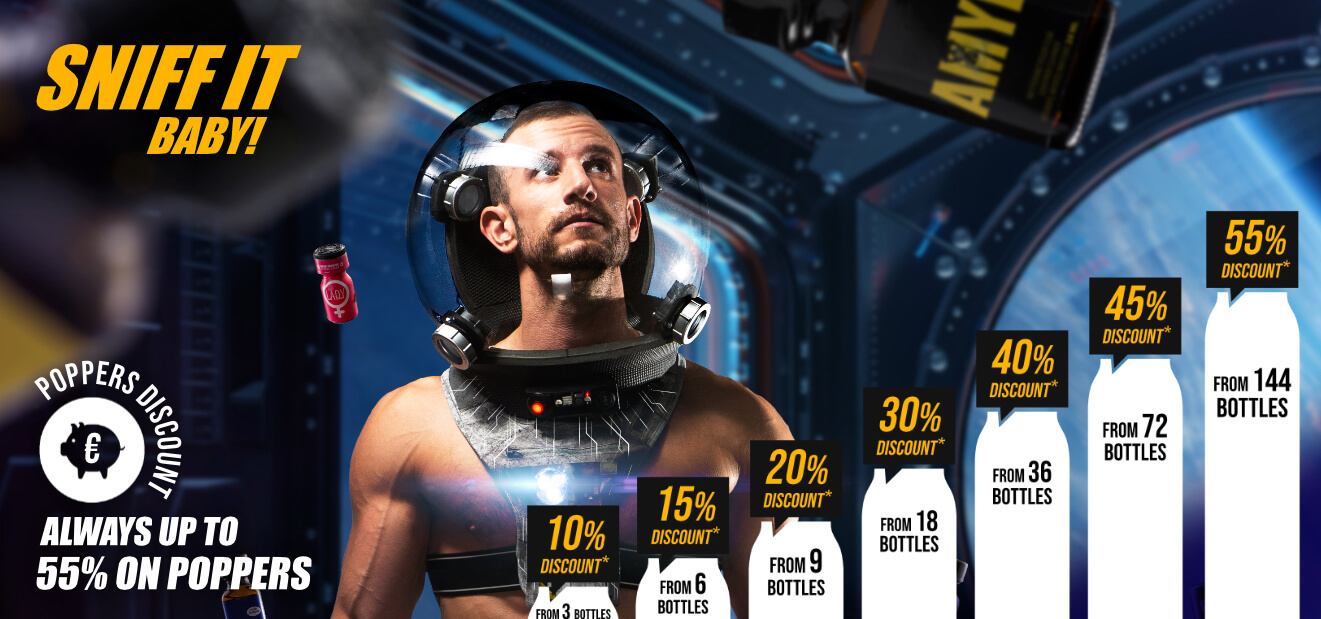 284 Produkte
Poppers by size: the right thing for every taste
Small or big bottle? We can't answer that for you. You alone decide which poppers are suitable for you. To ensure that we can satisfy all your needs, we offer poppers in three different sizes: small, medium and large. Sometimes it's not so much the size that matters, but the flavor. The purpose of the poppers also plays an important role. Do you want to drive all the guys crazy at the exciting gay party? Then it may be the big dose. Is it your first time with your lover? Then start small and increase slowly.
What are these poppers we keep talking about? They are different nitrites that give completely new possibilities during sex. They have a relaxing and pain-relieving effect, but at the same time they increase your sensitivity. In plain language: your ass no longer hurts during penetration, but instead you feel his cock twice as strong and lusty.
ATTENTION: All poppers in our store are room scents and may not be officially inhaled directly from the bottle! We hereby distance ourselves from the improper use of our products. The sale takes place in our store only to persons 18 years and up!
Buy Small Poppers in Gay Store at best prices
You can find small poppers in abundance at our store. Whether CA Poppers, US Poppers or all the different varieties we have available for you. In the gay scene, the practical small poppers are extremely popular, because you can easily take them to the next party. You want to have fun with your conquest in the darkroom, and suddenly you're both scared? Just sniff your poppers and you won't feel the fear anymore.
Small poppers (9 and 10 ml) are especially handy, but no less effective. The rush of pleasure that develops as the flavors unfold will literally wrap you around its finger. If you use your poppers especially often on the road, for example for fucking in the club toilet, the small practical bottles are superbly suitable. They release their aroma in a few seconds, and you'll experience the kick of fucking. They're almost too good to share, but together the poppers adventure is even more fun.
Medium poppers - the highlight for experienced gays
Our experienced customers especially like to buy medium poppers, as they have long since discovered their favorite varieties for themselves. Depending on the variety, the vials contain 13, 15 or 18 ml. This makes them particularly easy to dose and allows for maximum effectiveness. You have never tried poppers? Then test yourself first with our small bottles. If you already know which variety gives you the absolute kick, the medium flavors are super suitable for you.
They are small enough for you to take to the next fetish party and still have enough content for an unforgettable rush of pleasure. We have all the popular flavors in the medium bottle for you in stock. Whether Amnesia 420, Poppers Extreme CBD, XXX Hard or Fuckme - just look around and find your favorite products in the medium size.
Big poppers - the must-have for old hands
You already know the phenomenal effect of poppers and can't get enough of them? Then our big poppers are made for you. With up to 40 ml content, they offer you lots of sexy fun that you can easily share with your lover. Many beginners prefer to use small or medium bottles, simply to get to know the different varieties. As an experienced gay, you already know which poppers make you really horny. Then you can confidently reach for the XL bottle (up to 40 ml).
Of course, you can also find the most popular poppers in the large bottle in our gay online store. For example, the varieties Jungle Juice, Highrise Ultra Strong, Kraken Extra Power, Holy Water and many more. Up to 40 ml offer you a lot of fun and are also suitable for the larger round with gays in your bedroom. It does not always have to be cuddly and romantic. You fuck in threes or fours? Then don't miss the XL-ride with the big poppers in any case.
Always buy poppers safe with us in the gay store online
Poppers are a matter of trust. As experienced gays, we would like to recommend that you never turn a blind eye to poppers. Always buy your sex kick only where quality is guaranteed. For example, in our gay store, which provides you with everything you need for your lifestyle. Here you will find poppers sorted by origin, or even by size. From small and practical to big and gigantic - find your favorite varieties, and we will deliver them directly to your home.
All our poppers offered here are legal, and we sell them at a lower price than our competitors. Why? Because it is our desire to be the best and most affordable poppers store around.