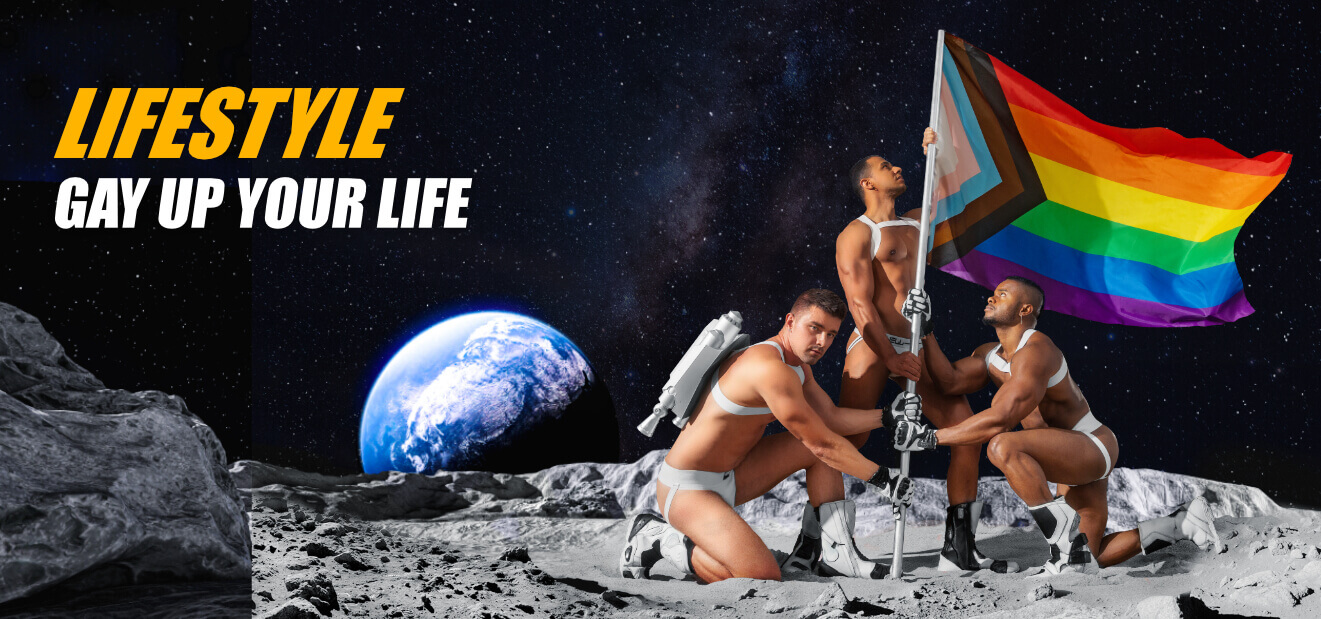 219 Produkte
Everything for the gay lifestyle
If you already have all the sex toys, your playroom is perfectly equipped, the supplies of lube are far from running out and the condoms are spilling out of the drawers, then take a look around the Lifestyle department.
Are you looking for great ideas for a gift or want to transform your apartment into a horny love cave with gay accessories? Are you tired of hiding your gay identity and want to flag the house in rainbow colors for coming out? Then you will also find what you are looking for in Tom Rocket's assortment.
Tom Rocket's offers gay diversity for your gay lifestyle
Tom Rocket's is one of the largest online stores for the gay lifestyle. As an established mail order company, we offer a huge range of products in queer fashion, lifestyle and sex toys, and guarantee fast and discreet delivery throughout Europe.
The best gift ideas from our range for you
You can get this handy masturbator in many colors and designs, with different textures for brilliant climaxes. Compact fun even on the go.
Cute teddy bears in a variety of bondage outfits. A great birthday gift guaranteed to put a smile on someone's face
Exciting party game that turns cozy game night into a wild adventure. Just get on the mat and let the Twister decide who has to fondle whom.
Pimp up your bathroom with a beautiful bar of soap in soft pink. The Gay Bar Soap beguiles with rose scent for a glamorous cleanse.
With this horny permanent lollipop in cock shape you can practice blow jobs and perfect your deep throat skills. Flavor: smooth milk chocolate.
Our gay collectible figurines are the perfect decoration for almost any occasion! Suitable as gifts, party decorations, Christmas tree ornaments or iconic collectibles!
The hard magnets from Tom of Finland are sexy, fun and stylish! You can decorate your fridge or lunchbox with Tom's colorful, iconic leather men. They are sturdily made and the perfect gift for your friends or a sexy eye-catcher for your own home.
Send the very best gay birthday greetings with Tom Rocket's greeting cards, whether in retro style or a cheeky Tom of Finland design. A sexy card comes good for a birthday, Christmas or - just to give a pleasure - just in between.
What is Pride?
Pride is the fantastic and colorful celebration of people's sexual diversity under the banner of the Pride flag. It is a celebration of the LGBTQ community and a wonderful opportunity for people of all orientations to celebrate sexual diversity together in support of people from the LGBTQ spectrum.
What is the story behind Pride?
The catalyst for today's Gay Power movement and annual events under the Pride banner was a June 28 night in 1969 in New York. Homosexuals, transsexuals and other sexual minorities were marginalized at the time. Gay lifestyle was even considered insane. Places to live one's gender identity openly were few and far between back then.
One of the few meeting places for the queer community, the New York bar "Stonewall Inn" on Christopher Street, was constantly disturbed by the police. On that night in June, people resisted the intolerant police arbitrariness for the first time, because they no longer wanted to put up with the discriminatory raids. The days of unrest that followed went down in history as the Stonewall Uprising and represent a turning point in the struggle for equal rights for queer people. The early 1970s saw the first gay pride marches in the U.S., while in Germany it took until 1979.
How to celebrate Pride?
Attend a Pride parade or event,
Supporting Pride organizations,
Promoting Pride artists and culture,
Sensitize employers and colleagues to Pride issues, tolerance, and inclusion.
How do I find the right Pride product for me?
Display proudly your identity and show what gay lifestyle really means to you. Fly a Pride flag on your balcony, in front of your front door, or wear it as a cape at your next event.
You can also make a small statement with Tom Rocket's Pride stickers, create visibility and promote solidarity, acceptance & equality. And with the sticker collection of Tom Rocket's you always have the right message at the start. With our ever-growing selection of cheeky sayings and saucy designs, you can leave your message wherever you go.
Your gear for Pride events
Here you'll find everything you need to make the next Pride event more colorful. The perfect accessories for the parade, the visit to the CSD or an after-party. At the top of every wish list are the products in rainbow colors: Bangle, backpack, sweatband or flower necklace for the event or tablecloth and napkin for the Pride dinner afterwards. And don't forget the rainbow flag, which you can get from us in various sizes.
Show your Pride and order now!