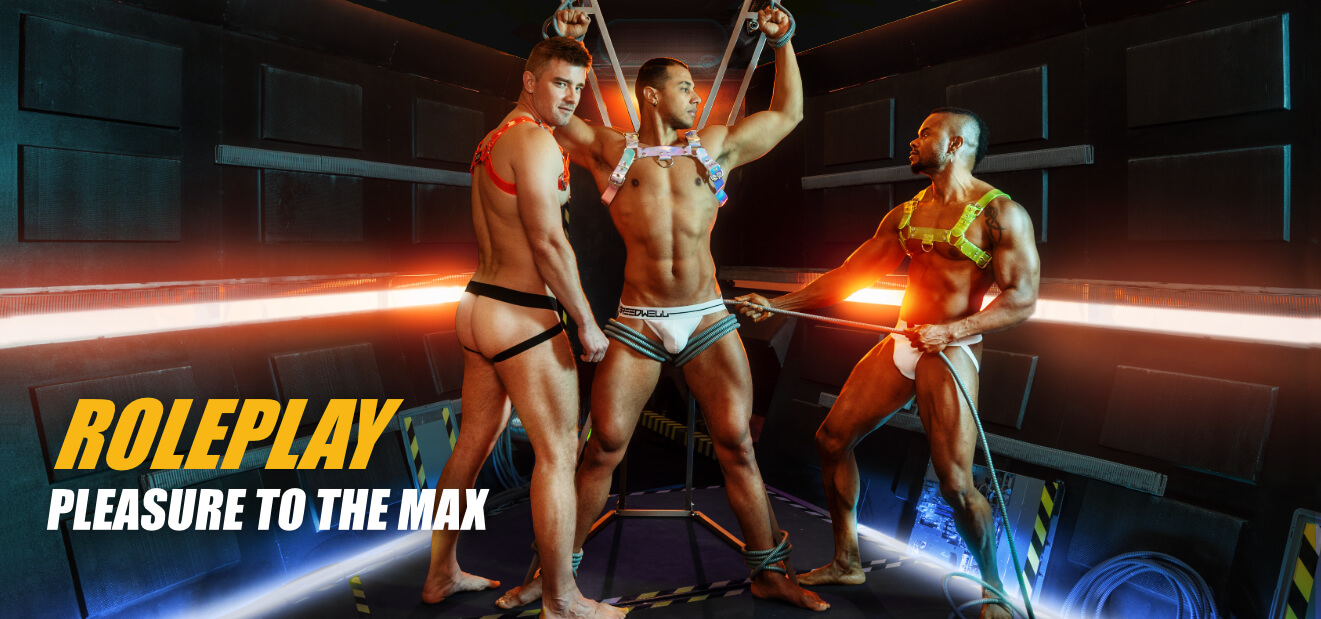 176 Produkte
Domination: You are the boss in bed!
At every gay party, it's the looks of the others that pay you respect and give you self-esteem, because you radiate that dominance that many submissive gay slaves yearn for. Your appearance alone is what makes the hot boys sweat. You don't even have to mention your BDSM fetish, your aura is strong and unbending, they know that you take the lead in bed and that's a good thing.
Of course, you are not just anyone, but the horny gay who has his equipment at home and who knows exactly how to educate and subdue the slave. As soon as your new lover once enters your bedroom, he knows that he will not get out of there so quickly. Do you already have your handcuffs with you at the party of the year and arrest him immediately, or do you first lure him into the bedroom before you put on his mask and subdue him?
Wicked role plays: Make your lover your pet pig
You offer him a round of poppers and then your game begins. With the hot Piggy Paws gloves, you make him your pet pig and can watch him crawl across your floor and seek your attention. Of course you watch him with a wary eye and can't get enough of his naked body, which is made for you. During roleplay you can slip into any role, but you remain the boss. Whether he becomes your house pig or whether you put him on the chain with the slave collar, one thing is clear from the beginning: you remain the boss.
With us, you will find a huge and high-quality selection of innovative toys and utensils that will make you the educator of an unruly slave. Domination in the true sense of the word. Find the right set for every need. Anal plugs with pig tails and penis cages in cute pink - all this will make your sex life so exciting that your slave will never voluntarily move out of your bedroom again. You are more into horny puppy play? You'll find everything you need to put your cute little gay dog in the limelight:
Masks for submission
Handcuffs and shackles
Whips to demonstrate your dominance
Toys to make him submissive
With the right equipment and your strong aura, you will make the hearts of thousands of gays beat faster, and you will be spoiled by the choice which slave you will bring to your bedroom today.
Stand still gay slave - the dominator is back
There he is in front of you, with his hard cock and his naughty mouth, contradicting you again and again. As a modern Dom you don't even put up with this contradiction, but push the gag into his mouth with pleasure. Now his blabbermouth is simply open and if you feel like it, you can use the practical opening exactly for your purposes.
His hands grab his penis, and he tries to masturbate? Not a good idea, because you are not just anyone, but the perfectly equipped Dom who puts the little slave pig in chains and then lets his hard penis slide into a cage. Now you can watch how he lies there, how his penis cage almost bursts and how he just can't do anything about it, because you are and remain the dominator.