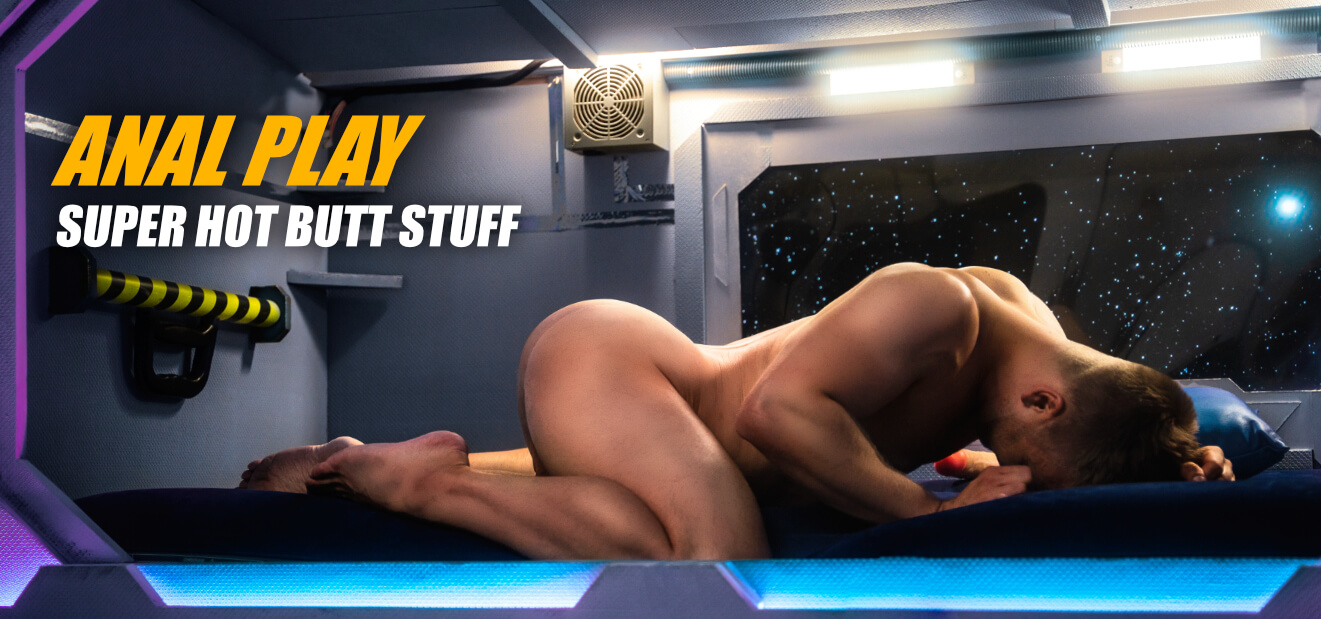 91 Produkte
Exciting gay games with buttplugs
Fancy a date at the rear? At Tom Rocket's, we offer you anal plugs that are welcome in every hole. They are absolute basics among anal toys, but still offer exciting adventures in many different variations. Whether you're in the mood for stretching, want to prepare your behind for bigger adventures, or are intrigued by the hidden stimulation in everyday life – we have the right anal plugs for you.
What is an Anal Plug?
There are so many gay sex toys – it can be hard to keep track. But: The anal plug is a classic among sex toys and is mainly used to prepare for anal sex. The insertion of the butt plug stretches the anus in advance, so that the sphincter muscle can relax. This can simply be preparation, or it can already be arousing stimulation.
A special feature of the anal plug is its characteristic, conical teardrop shape: It is pointed at the front to facilitate penetration, thick in the middle so that it cannot slip out. The wide base plate at the rear end prevents too deep penetration. Thanks to this shape, the anal plug fits well and securely while you use it.
Why is the Butt Plug so awesome?
We've already hinted at it with the question: An anal plug is not just a means to an end, but a delightful toy that you can incorporate into your erotic adventures in an exciting way. But let's get back to the actual question: The special shape makes the penetration of the anal plug an exciting experience. First, the slightly penetrating tip, then the maximum stretching when the anus accommodates the thicker part of the plug. Afterwards, once the plug is properly in place, the pleasant feeling of fullness sets in. This way, you experience all the exciting aspects of anal sex with a single toy. In addition, the anal plug stimulates the many nerve endings in the anus region and exerts a pleasant pressure on the sensitive prostate.
You can use an anal plug for men in different ways:
An anal plug can be a preparation for a large dildo or cock and stretch your anus and sphincter.
Of course, you can stimulate in many ways with the butt plug. We offer you anal plugs in various shapes – each causes tingling and goosebumps in different places.
If you are not yet very experienced in anal sex, you can slowly get used to the feeling with an anal plug and try out a bit.
By the way, an anal plug can also keep you busy outside of your sex life. You can insert the anal toy and thanks to the securing base plate at the lower end, simply leave it in your buttocks. Do you want to turn on your partner during the day for your nightly adventures? How about if he wears the anal plug while shopping – every step will cause little goosebumps and as soon as you are back home, you will have to replace the plug with your cock. Sounds good?
So there are many good reasons why anal plugs are so popular as gay sex toys. Because preferences and asses are all different, at Tom Rocket's you can find butt plugs for every application: from light stretching to preparation for large cocks to animalistic anal toys, everything is included.
Preparation for anal games with the anal plug – this is how it's done
You can only enjoy horny games at the back door if the sphincter muscle is relaxed. This is easier said than done, especially at the beginning, as the function of this muscle is to close the anus tightly. To relax the rectum, the best thing to do is massage it with your fingers until you get used to the new stimulus. When you are ready, the plug can be inserted. Grab a suitable lubricant and massage your rosette with it. A few hot thoughts, and it will be ready for the anal sex toy.
Your supplement for solo adventures – do it yourself, and make it hot
Jerking off is the order of the day in the gay scene. And that's a good thing, because during self-sex you can indulge your desires without any regard for others and spoil yourself thoroughly. For this, you can not only use your hands – with the right toys, your jerk-off session will be a welcome change and can easily keep up with a fuck.
You can use an anal plug very easily on your own and treat your ass a bit – hardcore, or very gently. We offer you many toys that you can use alone. Trust us, your ass will love them!
An anal plug is easiest to insert while lying on your back with your legs spread. If you already have a bit of experience, you can also sit on the anal plug (don't forget lubricant!). In the crouch, you can control the penetration well and actively decide whether you just want to go halfway or go all the way. In addition to conventional anal plugs, inflatable models can provide a bit of variety and make stretching feel different: You pump up the anal plug for men, and with each pump of your hands, the plug in your hole gets bigger and bigger.
Double the fun?
Do you like double penetration? Do you want to spoil your ass, but at the same time not neglect your cock? If you're into penetration in many points, you can buy and use an anal plug to combine jerking off and anal penetration. You can insert the plug and leave it in the hole, and then take care of your cock. Or you can sit on the anal plug and ride it. With a little coordination, you can jerk off at the same time and thus experience a really good solo orgasm. Is that enough to convince you that you absolutely should buy a butt plug?
By the way, if you prefer the feeling of a thick cock in your back door during solo sex instead of the classic form of anal plug, we also offer dildos with a suction cup. They stick to smooth surfaces and are thus ready for solo adventures.
Are there different types of buttplugs?
In the online shop of Tom Rocket's, you can find a large selection of anal plugs in various materials, sizes, diameters, and surface textures. We offer you:
Simple, conical anal plugs made of metal and silicone
Anal plugs made of glass
Inflatable butt plugs
Plugs with vibration function
Butt plugs with tail for petplay
Giant plugs for extreme stretching games and preparation for fisting
Whether you want to let your animal side out with an anal plug with a tail, or want to fill your hole particularly deep with a big anal plug – you'll find what you're looking for with us.
Which lubricant should I use for large anal plugs?
As with any type of anal sex, you must also provide plenty of lubrication when playing with the anal plug. Make sure to use a suitable lubricant, otherwise, you can damage your toys. If your anal plugs are made of silicone, it's best to use a water-based lubricant.
Order the suitable lubricant right away!
Cleaning and maintaining an XXL anal plug – getting clean after dirty games
All anal toys must be spotless before and after pleasure. This is the only way you can avoid infections and enjoy your toy for a long time. Use water and a mild detergent – e.g., soap – for basic cleaning, and then use a disinfectant for sex toys and anal plugs.
Choose the sex toy cleaner here and order it right away!
Anal hygiene and butt plugs
In order to enjoy the hot game with the anal plug for men, you need to feel clean and safe down there. Here you can order enema pumps, anal showers, bleaching cream, and depilatory agents for perfect anal hygiene directly!