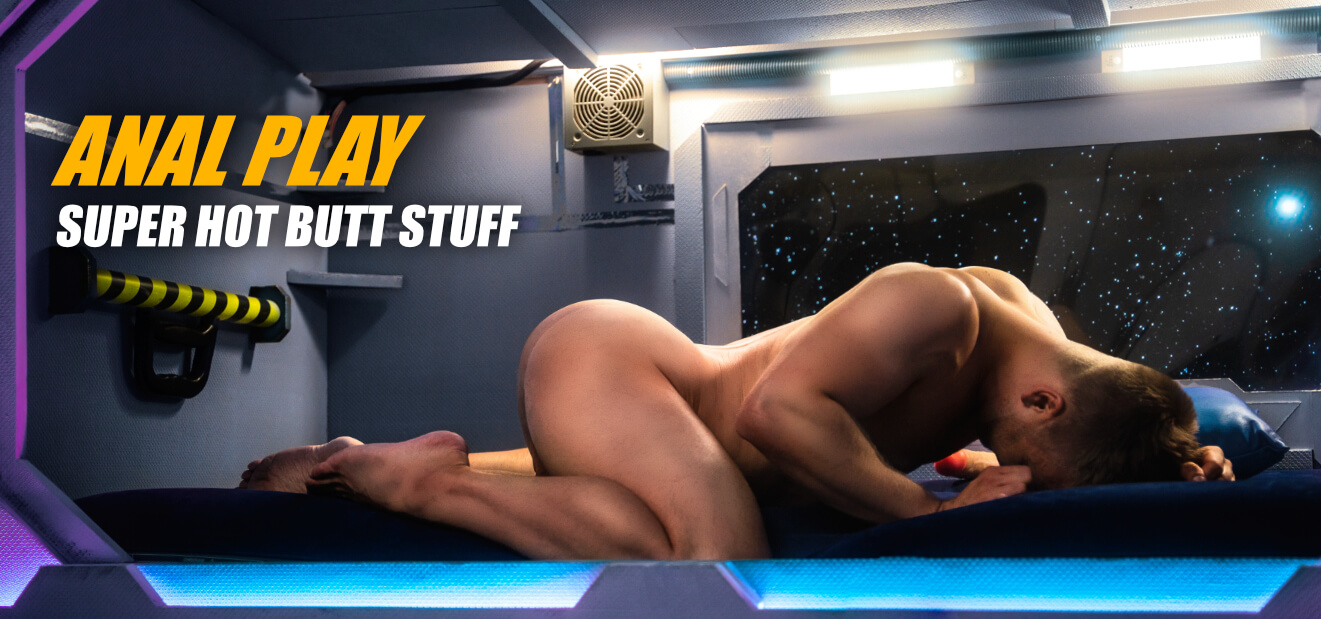 49 Produkte
Prostate Vibrators: Internal stimulation that makes you quake
There are so many wonderful toys that can make your sex life even more exciting and enable orgasms that you may have only dreamed of before. That was once – today you're not dreaming anymore, but taking your sexy luck into your own hands. This can be wonderfully done with one of our prostate vibrators. With different vibration settings, they make sure you sweat – both during sex and a solo performance.
The prostate vibrator is your new horny best friend
There are many good reasons why stimulation around the anal region causes such great feelings. One of them is your prostate. It should not be neglected when being pampered, but ideally play a leading role. Because besides the rosette and Co., it is one of your erogenous zones. At Tom Rocket's we provide you with prostate vibrators that transport you directly from the bed to Space Station XXX. They are the perfect addition to your lustful anal play and should therefore not be missing in your collection of sex toys. Who knows - maybe your new piece will even receive a place of honor?
The prostate massage in men – why is it hot?
Prostate – that doesn't sound incredibly sexy at first. But if you've ever played with a prostate stimulator, you know how damn sexy it can be. The small anal vibrators provide great feelings, hard dicks and lustful screaming. Why? The prostate, or also prostate gland, is a highly erogenous zone. It is about the size of a chestnut and is located below the bladder around the man's urethra. It can be easily palpated by gently inserting a finger into the anus, slightly curving it forward and gently continuing to palpate. Even the gentle stimulation of the prostate causes intense orgasms in most men. But not only that, this organ can do: The prostate is actually also responsible for your ejaculation. Because it produces the seminal fluid and transports the sperm to the outside. That means: Only if your prostate works well, you can cum properly.
What significance does the prostate have in sex?
A huge one! Since an incredibly large number of nerve pathways run through the prostate, it is an enormously erogenous zone. Therefore, in its erotic effect, it is absolutely comparable to the Grafenberg zone (also G-spot) in women, which is why this area in men is referred to as the P-zone. If you want to experience adventurous climaxes during sex, you should not neglect your prostate. Our prostate vibrators are practical helpers if you want to stimulate your own prostate or that of your partner.
What is a prostate vibrator?
In short: a hot toy for stimulation until ejaculation.
In the long version: The prostate vibrator is a sex toy for men that is inserted anally in most cases to stimulate the prostate directly. There are also prostate vibrators for external use, but they are rarer. They lie on the perineum (the sensitive area between the testicles and anus) and massage the prostate with gentle pressure.
The difference between a regular dildo and a prostate vibrator lies in the shape. Our prostate massage toys are specially shaped to optimally reach the prostate with their vibrations.
How you can achieve the best orgasms with a prostate vibrator!
Like any sex toy, the prostate stimulator can be inserted most easily with plenty of anal lube and patience. For this, you should be completely relaxed, which works best when lying on your back with your legs spread or squatting. Once the prostate vibrator is safely in the back, you're guaranteed to experience a blue miracle. With the gentle vibrations, you can indulge in pleasuring your rosette until you shoot your pleasure juice to the ceiling.
Are there different prostate vibrators?
Anal vibrators can spoil you from front to back with various vibration settings. And we mean that literally because some models do not only focus on stimulating the prostate but also have other extremely hot features such as cock rings and stimulators for the perineum. Some prostate vibrators are shaped like a butt plug or have a part that protrudes from the anus and prevents the prostate toy from completely disappearing into your back door.
Do prostate vibrators work for every man?
Prostate vibrators are suitable for every man, even if he is completely inexperienced in terms of anal play. Because some of our sex toys for the P-zone are so small that they can also delight the tightest rosette. With the right lube and a bit of relaxation, your prostate will not want to miss our prostate massage dildos.
Which is the best prostate vibrator for you depends entirely on your wishes and preferences. Do you want to be deeply filled in addition to stimulating the prostate? Then a long and large prostate vibrator could accompany you on your hot adventures. If you prefer to focus entirely on stimulating the P-point, you'll get your money's worth with small prostate vibrators.
But who says you have to choose one variant? Order different models and your prostate will definitely not get bored.
Prostate toys make your sex even more exciting
Did you know that prostate dildos can be used both for solo sex and partner sex? You can use the prostate vibrator for yourself when you feel like giving yourself a deep massage with a happy ending. Most vibrators have a baseplate, so they can't slip completely into your hole - no matter how wildly you're pleasuring yourself. This means: Once inserted and played with the vibration settings, you can knead your balls in addition to your prostate or bring your dick to ejaculation with your hands. Of course, the combination with a masturbator is also a hot temptation - try it out!
Hot tip: We also offer prostate massage toys with a remote control. This makes for even more relaxed solo sex.
If you prefer to bring your exciting fantasies to the bedsheet with two or even more people, the prostate massage dildo can provide particularly hot climaxes. Depending on the size of the prostate vibrator, not only the anus and prostate are pampered, but also the rectum gets a hot filling. The vibrations go through the body from the inside and can cause erotic shivers that your partner won't forget so quickly. Play with the vibration settings, tease the sweet ass in front of you, and exploit its unbridled lust. Believe us: You'll surprise your sex partner with a particularly hard dick and a violent orgasm.
Order directly if you want to experience this hot fun!