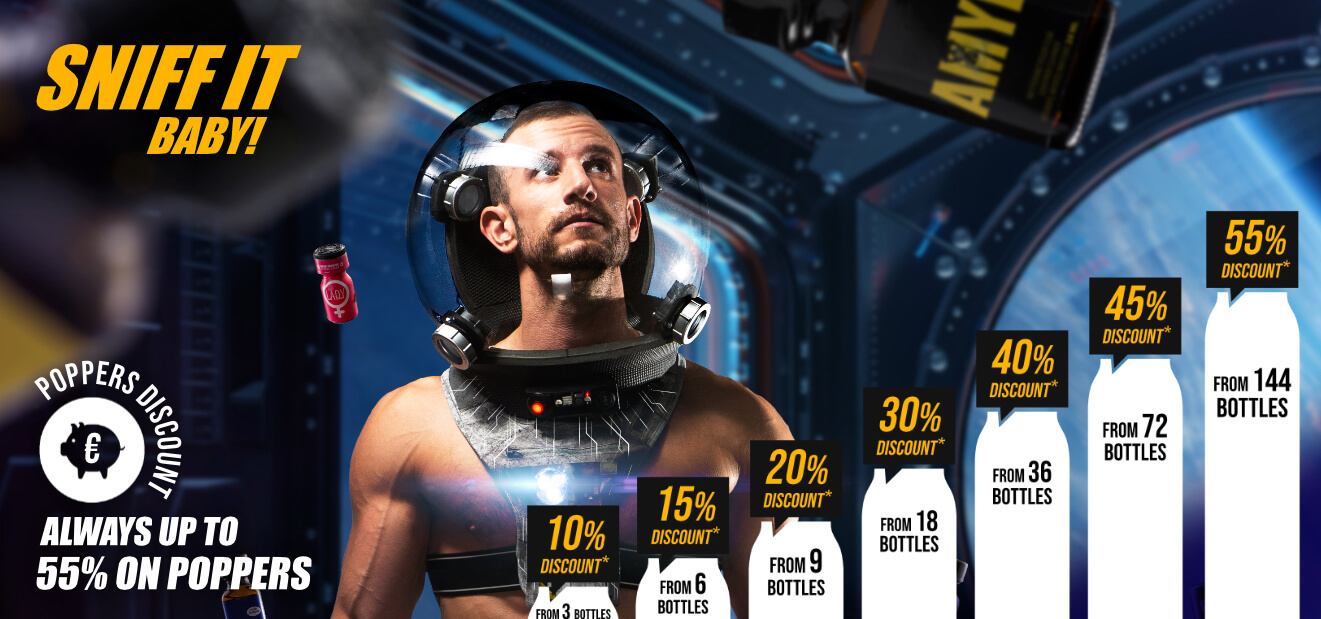 29 Produkte
Order RUSH Poppers
Predominantly gay men discovered an active ingredient in the early 60s that could increase sexual pleasure. But not only that was boosted, also during anal intercourse the passive partner relaxed dramatically during sex, as the sensation of pain was reduced. Joe Miller, founder of the company Pac West Distribution (PWD) then filled this active ingredient into a small round bottle at the end of the 70s, put a label with a red lightning bolt on a yellow background on this bottle and then named it RUSH Liquid Incense.
Thus PWD's legendary RUSH Poppers was born. Over the decades, the ingredients have been banned again and again. Isopropyl Nitrite is one of the current most common substances - closest in effect to the first ingredient - that has yet to be restricted. The interference of the states - with no interest in understanding what poppers are all about - with disinterest in researching the ingredients, regulating them and thus making them safer to process and consume.
RUSH Poppers variants
In our poppers store you can get flavors from Lockerroom, Amsterdam and many other well-known manufacturers as well as the different RUSH poppers.
We carry small, medium and large poppers as well as flavor packs:
RUSH original
RUSH the white max!
RUSH zero red distilled
Cristal by RUSH
RUSH ultra strong
RUSH zero
RUSH gold
RUSH red
RUSH black

Which of the many RUSH varieties you buy is up to you. Just test them and let yourself be stimulated by the strong effect of this legendary substance.
RUSH Poppers: Only the original kicks really well!
In your poppers store TomRockets.com you get both the original RUSH PWD, as well as many different versions with similarly developed fragrances.
You can recognize the original RUSH PWD Poppers by the embossed lid of each popper bottle. However, when buying, always make sure that you buy only original goods. Many poppers stores also offer imitated versions that sound similar to PUSH Poppers. We strongly advise you to stay away from cheap flavors and imitation poppers! They often have a completely different effect than the original and in the worst case can cause unwanted side effects (caused by cheap production).
Wondering why you should buy your RUSH flavors from us? There are many reasons. The most important one is your safety. As a store from gays for gays, we attach great importance to selling you only safe and tested goods. We understand the desire for uninhibited gay sex, but we think that safety always comes first.
Be inspired by the variety of our ORIGINAL RUSH Poppers products and try them out one by one. We promise you'll end up with more than one favorite RUSH.
How RUSH flavors work
You know poppers only from hearsay and want to experience how they work? It's hard to explain because the effect is so varied and diverse. But we can tell you what our customers say about it. They describe poppers as pain-relieving, as pleasure-increasing and as a ticket to a sexual journey. The best way to find out exactly how these little helpers work for you is to find out for yourself.

A number of events take place in your body after using them. Your pulse accelerates, you feel your heart racing all the way to your chest. Pleasant warmth floods your body because your blood vessels are dilated. Every corner of your body gets more blood flow, even your dick gets a real booster. And from then on the journey really starts.
Suddenly your muscles become more relaxed, your rosette loosens up and the fear of his cock vanishes. At the same time your sensitivity increases, you feel his hands much more intensely. The flush of RUSH poppers has hit. Now it's time to close your eyes and surrender, because you only fuck with poppers in such a relaxed way.
Order RUSH Poppers online
In our Poppers-Shop with 3 bottles RUSH Poppers you already get a discount of 10% and for 6 bottles and more you get a discount of 15%. You can see the whole discount scale here. On top of that we have a great bonus program for you!
If you have any questions about RUSH Poppers, just contact our customer service, which you can reach either here or during the day via chat or Whatsapp. We look forward to hearing from you! Your team from TomRockets.com