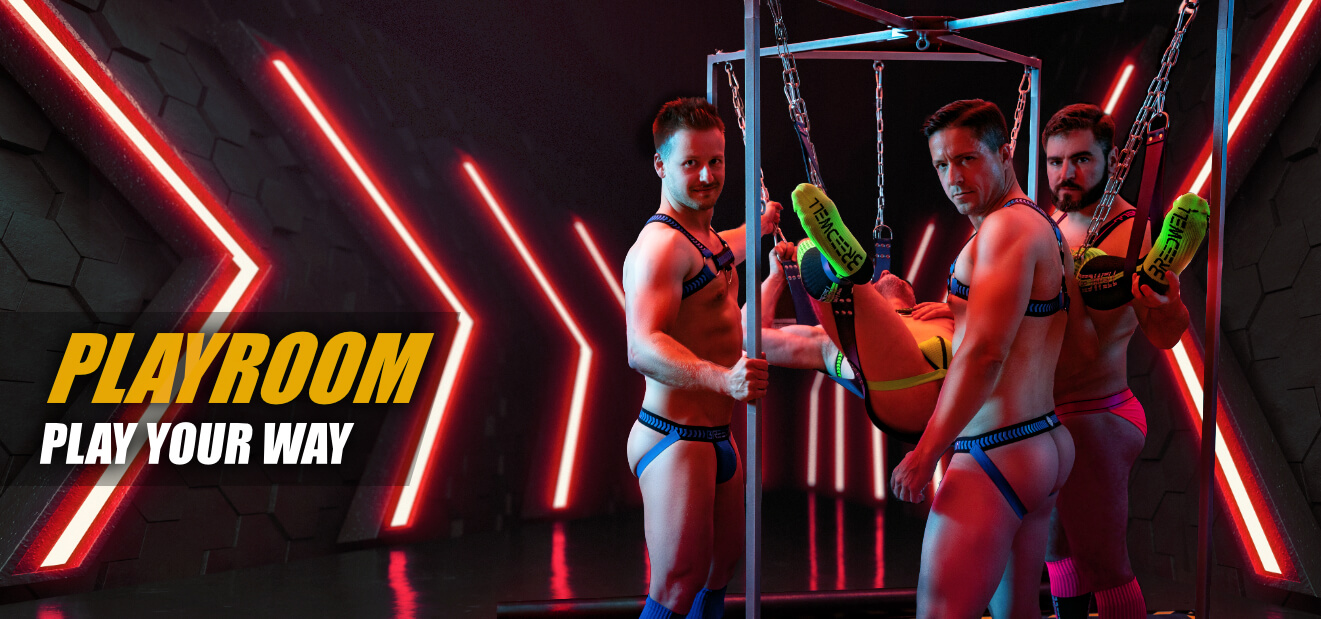 20 Produkte
No results were found for the filter!
Equipment for your playroom: How to become a sex pro
Whether you have a pronounced BDSM fetish or you just don't want to experience boredom in bed, the right equipment will make your sex life a whole lot hotter. When was the last time you hooked up with a hot gay guy at one of those infamous sex parties? How boring if you have to retire to the sofa for a quick fuck and then he takes off again. On the other hand, if you kidnap him into the depths of your playroom, you won't get out of there anytime soon, I bet?
But what actually belongs to the equipment of a horny, proud, gay stabber? Quite a lot, the choice depends to some extent on your needs and preferences. Classics are vinyl and latex sheets, which are perfect for hot fisting action and will forgive you if the lube runs out of his anus in masses. But fetish pads for disposable enjoyment are always a must-have for hot studs.
No alternatives – if you're going to do it, do it right
When you sniff poppers, you make sure you get the best quality and don't settle for alternatives. Why should sex be any different? Where is the pleasure, if you have to cut garbage bags for an oily and wet session and spread them on the bed. Shabbier you can not fuck as a proud gay.
You're prepared, of course, and whenever you hook up with a hot dude and fuck his brains out in your bedroom, you can score with your latex sheets, with the pillory for the floor and the stainless steel plate for pet play. Even if he doesn't say anything because he might just have a gag in his mouth, he'll look up to you and realize that you're a fucking horny boy with a real clue. Our kit combines a few features you can expect in any product:
Best quality for really great fucking pleasure
ideal for beginners but also (s)experts suitable
For the playroom or simply for the bedroom
with the guarantee of pimped sex
08-15 can really be anyone, but if you were the gay-in-chief at the party of the century and blew everyone away with your outfit, you can't suddenly show off in bed with floral bedding and incontinence pads.
Good sex stands and falls with the equipment
Sex is only as good as the equipment you use for it. If you want to chain up your little gay slave, you don't use cable ties for it like some clueless straight guys, but of course the real professional shackles. So why should you start saving on equipment now? It's not just about you, you have a reputation to lose as well.
Do you want to risk your date telling you next time that you had anything but action in the bedroom? On the other hand, if he's still dreaming three days later about how you fisted him on that pitch-black latex sheet, he won't tell you much, but will just keep coming back because he can't get enough of your experienced hands and perfect equipment. You decide how you will be remembered.