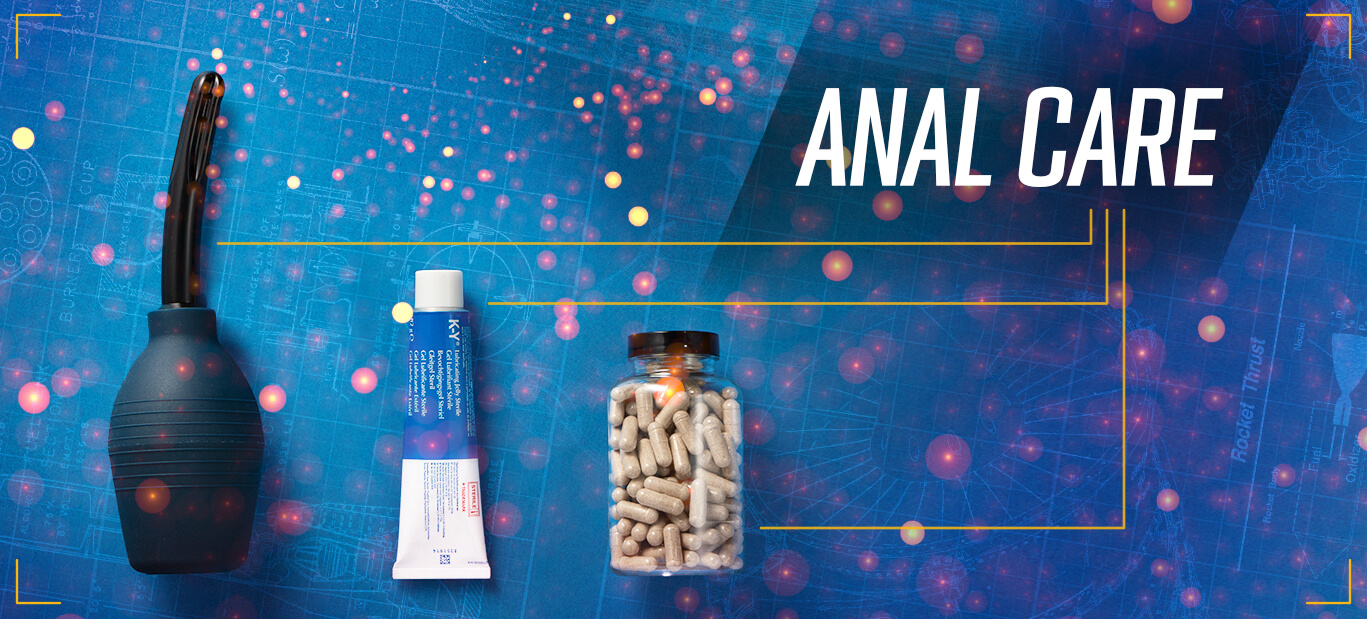 4 Produkte
No results were found for the filter!
Anal care: Against disturbing alarm in the intestine
If you regularly fuck hot gays, this can make your ass sweat quite a bit. It is stretched, strained and made to glow. Especially when fisting, your sensitive anus has to endure a lot. Thorough anal care is a must, because it's the only way to make sure that your ass doesn't hurt, bleed or feel sore after extended sex. We have a wide selection of anal care products for you, which will make pre and post-treatment easier and turn you into a sexking.
Anal hygiene is an important topic, especially for gays. Statistically, you have anal sex more often than any straight guy, so it's important that you're always healthy in the back. Do you know that annoying feeling when you actually have a date with a horny guy and then you can't go to the bathroom? You try everything, but that last bit doesn't want to disappear into the depths of your toilet and the fear that it won't stay clean during sex is great?
Don't give dirt a chance - for more cleanliness
Relax. Enjoy some poppers and then get ready for a kick-ass experience, with perfect hygiene. Forget about that pesky fear that he'll suddenly have your leavings hanging from his best piece or fist. Anal sex is not as dirty as it is often suggested by the media. Use digestive capsules to empty your bowels in a gentle and natural way. There is then nothing that can stop you. The perfect anal sex preparation consists of several components:
bleaching for a sexy shining asshole
depilatory cream for naked facts
anal showers for internal hygiene
capsules for optimized bowel movements
You will notice the difference! Your ass is perfectly prepared for the date with your lover? Feel inside yourself and discover a whole new self-confidence. You were always inhibited and tense because you were afraid of a brown surprise? It's up to you how you prepare for a date. He will hardly be able to hold back when you kneel in front of him with a freshly depilated butt. Rimming incoming!
Rimm it Baby - guaranteed without any disturbing incidents
Your whole body will be covered with goosebumps when his warm, soft tongue explores your backdoor and makes you sweat. Tense about bad taste or annoying ass hair? You don't have to be, if you have prepared yourself accordingly. However, shaving behind is a real challenge, the stubbles are annoying, the danger of cutting yourself is great and if a cut becomes infected, then you quickly have an ass abscess. Make it easier for yourself. Use a depilatory cream and make sure that within a few minutes after showering you'll have pure joy in the rear. And if you really want to shine, crown it all with a white-shining bleaching cream.
You've never shone like this before, I bet. He won't be able to hold back. His fingers pull your cheeks apart, his tongue dives down and when he has stretched you enough, he might give you his fist. Relax gay boy, because you are guaranteed to be well prepared, hygienically clean and just ready to surrender to him.