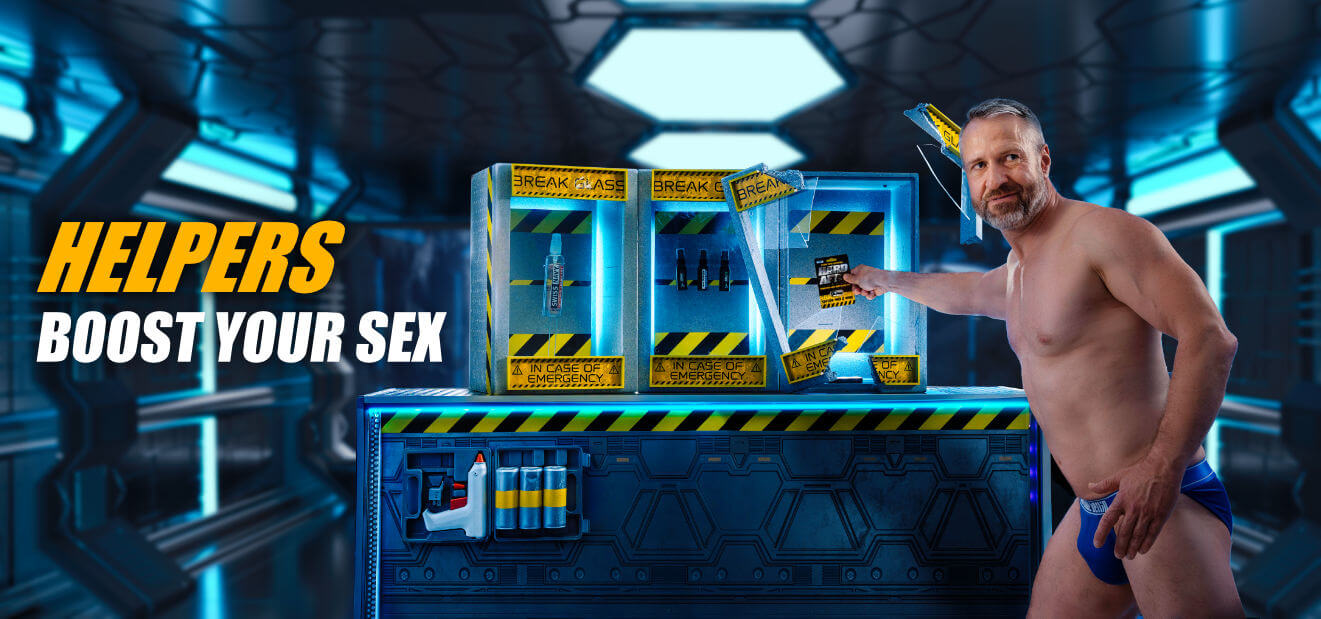 8 Produkte
No results were found for the filter!
Anal relaxation: Don't be afraid of deep experiences
Your first time anal? Not only for beginners anal sex is sometimes a real overcoming, because the worry that it hurts accompanies even experienced gays again and again. You can remedy this. We offer you potency and tools that help you in every situation to even better sex. The anal area is sensitive and the nervousness you feel is a normal effect. But why be in pain when you can provide relaxation and relaxed anal sex with the right anal cream?
Anal relaxation creams are a tool that will lightly numb your sensitive orifice and make you feel relaxed about his cock. They are also wonderful for fisting or for the use of large XL toys. You simply always need them, because with the relaxation cream or an innovative spray, you are more relaxed, open almost by yourself and have less pain. This will make even the first anal sex of your life a moment of pleasure that you wouldn't want to forget.
Anal relaxation tools: no cramps, no pain: this is how anal sex gets hot
You've popped the latest poppers and your libido is at 100%? You are relaxed and open, your muscles are ready to receive it? To make penetration smooth and without delay, an anal spray or cream is the perfect solution. Slightly cooling the anus, the feeling is fully preserved, but the sphincter muscle is even better relaxed. So your partner can penetrate you with his XL cock without any problems. Also perfectly suitable for solo sex with especially large toys. Our anal gels and sprays offer you:
mucous membrane friendly ingredients
fat- and oil-free substances
dermatological tests of many products
relaxed and ecstatic anal sex
The biggest problem with anal sex is lack of preparation. Not using an anal douche is as big a mistake as tension, which makes penetration with his penis painful. Anal sprays support you in this by completely relaxing your muscle in a few minutes, making you open up for him. You can not only feel this, you can see it. If you spray his butt hole with one of our sprays you can watch how he opens up for you. There is no stopping him, it will be really deep and horny.
He really fits in there - with relaxing help in any case
Just look at this XL fisting dildo as it stands in its full glory in front of you. It will never fit, will it? Yes, it will, if you prepare your anal area properly. Lubricant is indispensable anyway, but as an experienced gay, you know that yourself. However, there is more you can do to practice painless anal sex with toys or with a really hot guy. Sprays that gently numb and relax your muscle are a luxury and a guarantee for relaxed anal sex.
Try it yourself, even this XL fisting dildo will conquer you when your ring muscle relaxes and opens the gates for penetration. The anal canal is enormously stretchable, the biggest challenge is the sphincter muscle, which bravely and reliably acts as a bouncer. Puncture it with a spray, which makes it buttery and easy to overcome.