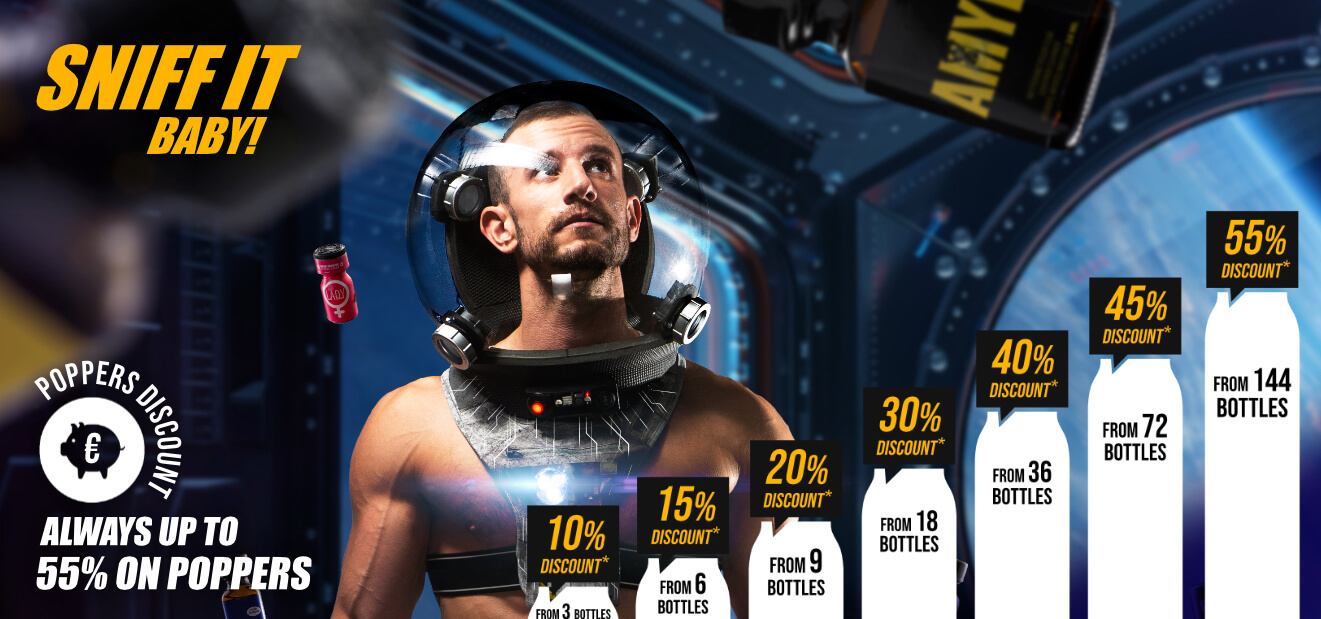 27 Produkte
Amsterdam Poppers: Gay Horniness from the City of Lust
Did you know that Amsterdam is also called the city of lust? If not, now you will understand why. Our poppers with the name Amsterdam are your guarantee for debauched and lustful excesses. No anus is guaranteed to stay dry, because they really kick and drive your lust to the top. Amsterdam is not just a city, but a statement. If you travel there, you will come back with completely new impressions. Whether you want to party with your boys at the gay party or make your lover in bed the stallion - Amsterdam Poppers belongs.
But why Amsterdam, when most poppers come directly from Canada? Well, you will only be able to answer this question once you have been to Amsterdam. Party, music, horny people and sex - all this is associated with the dutch capital. And all this is offered by our Amsterdam Poppers, which you can often get in XL bottles.
Amsterdam Poppers - a highlight for experienced gays
With us, every gay is the same. It doesn't matter if you've been fucking the hottest guys in your city for years or if you've just come out. Especially for beginners, the topic of pleasurable sex is often difficult, the fear of pain and other insecurities are a problem. Our regular customers often tell us about their purchases, we are not only sellers, but friends, advisors and much more. And with our Amsterdam Poppers the conclusion is always the same! Anyone who has used them knows what it means to party in the Netherlands.
Soft and warm, the effect of the poppers spreads through your body. Everywhere you feel the sensual tingling, because more blood is pumped through your veins. Suddenly his hand feels not only pleasant, but incredibly intense. Slowly he caresses your belly and then further down to your cock. It's already pumping intensely, you'd love to cum, but you're way too relaxed. The perfect time to take a rubber from the night cabinet and fuck him.
Safe humping with Amsterdam Poppers - safer sex is important
There aren't many reasons why you should avoid poppers. However, if you are taking cardiovascular medication or if you need Viagra for a solid erection, do not use it. Viagra works similarly to poppers, it dilates your blood vessels. Taken together, they can interact with each other. Your blood pressure may drop to such an extent that you may faint. Ask your partner before opening the popper if he has taken anything. This way you ensure safety for you and him.
Are you both sober, not taking any medication and do you want to have uninhibited and painless sex? Then get your Amsterdam aromas out of the fridge, let them warm up to room temperature for 60 minutes and then open Pandora's box. Gently pull the aroma from the neck of the bottle and you can already literally feel the effect.
High level effect - this is what happens with Amsterdam Poppers
If you have never used poppers before, you will ask yourself many questions. One of the most important ones answered in advance: Yes, poppers are legal and you can order them from us. They are not drugs, so there is nothing to stop you from enjoying them. Medically, poppers dilate the blood vessels and relax the muscles. In practice, this is noticeable through increased pleasure and less anxiety. If you are psychologically tense before sex because you are afraid of his big cock, poppers can provide relief.
On the one hand, they act like an aphrodisiac, on the other hand, like a numbing gel with pain-inhibiting effect. The blood vessels are quickly and efficiently dilated, which raises your pulse and lowers blood pressure. This process lasts no more than 30 seconds, after which your blood pressure normalizes and you are just horny.
ATTENTION: All Amsterdam Poppers in our store are room scents and may not be officially inhaled directly from the bottle! We hereby distance ourselves from the improper use of our products. The sale takes place in our store only to persons from 18 years!
Less inhibitions and more pleasure - Amsterdam Poppers for gays
Your fingertips feel strange when you stroke his skin. You perceive him much more intensely and he feels the same way. Amsterdam Poppers sensitize your sense of touch and make even stronger feelings of happiness possible. By the way, this is not only true for the receiver of caresses, but also for the giver! You suddenly feel completely timeless, as if you were in a completely different world.
At a party, the bass of the music goes straight into your blood and you dance as if intoxicated, while your lover rubs against you. You no longer perceive the music only through your ears, but through every fiber of your body. Poppers can not be described, this special pleasure rush you have to experience!