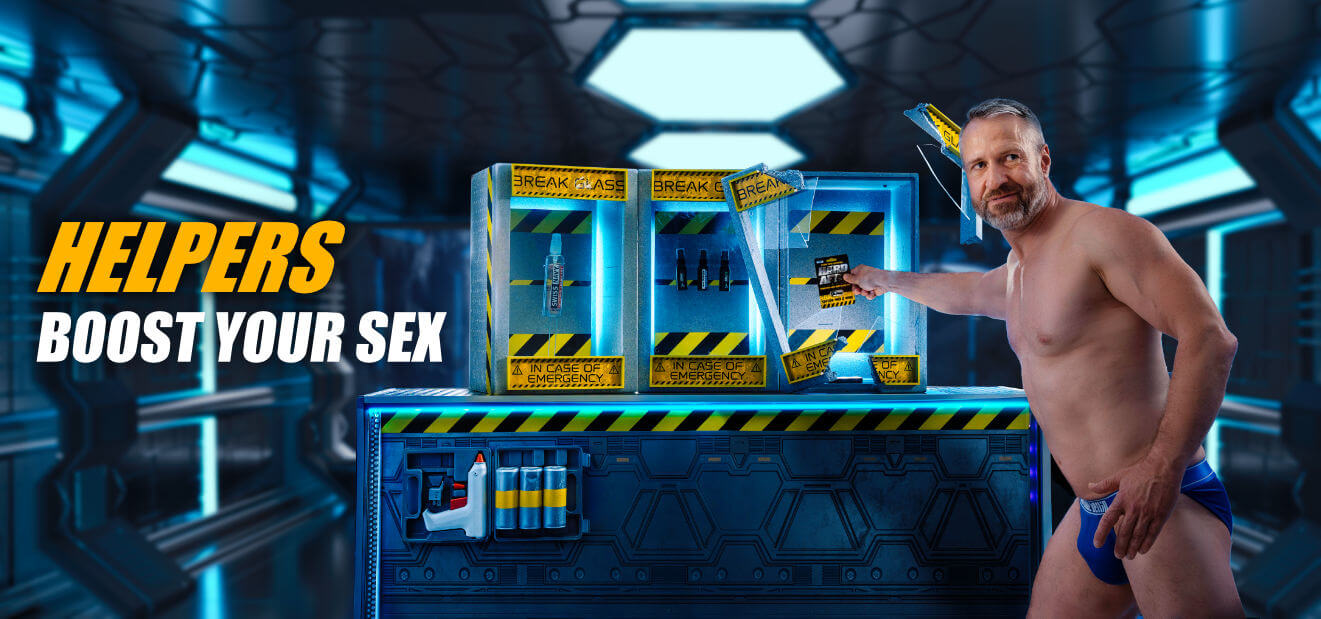 4 Produkte
No results were found for the filter!
Sperm Booster: Come on, Baby!
Many of our potency and enhancement products not only increase the fun, but also have a long-term effect on your sex life. So do our sperm boosters, which can not only provide a hefty cumshot in his face, but also optimize sperm production. Supplements that increase your sperm volume and make your dick secrete even more actually exist. Taken shortly before sex, you can ensure that he can no longer escape a hot shower of sperm from your tube.
Sperm boosters are tools that offer you completely new possibilities in bed. Imagine that you are the main person in an awesome gay threesome and you produce so much cum that two hungry mouths get enough of it. Nothing is more unpleasant than a lukewarm breeze and a pitiful amount of sperm that does not satiate the eager blowjob sluts. Give them the full juicy portion and make sure so that they always want to gulp off a new load from your cock.
Full blast in ass and mouth - jerk off really hard
Little secret tip: Sniff a few poppers and provide even more taboo inhibition in bed. His ass opens automatically when the muscles are relaxed by the poppers. Perfect conditions to penetrate and get it hard for him. Already horny at the sight when you have pumped the XL dose of your sperm into him and it runs out again in a small trickle, over his perineum, over his thick balls and up to the front of his cock? Always keep in mind when taking:
dietary supplements are not a substitute for a balanced diet
children and adolescents must not have access
dry and cool storage increases shelf life
You know it yourself, right? The sweetest gay guys are really eager for a cum shower and can't wait until they get the warm, white juice squirted onto their trembling lips, into their tight hole or directly over their dick. You can fulfill this wish of your future lover at any time by enjoying a sperm booster shortly before sex and thus increasing the amount of your pleasure juice. He'll be amazed when he licks his lips with relish after the first shot and there's plenty more to come.
The cumshot of his life - he didn't see that coming
Your cock is deep in his sweet mouth pussy/thrussy and he's getting ready to swallow your cream. But what is it? There's a lot more coming than usual, isn't there? He swallows, his eyes get bigger, your cream runs out of the corners of his closed mouth and your cock doesn't stop pulsating. He really didn't expect that, did he? The same effect can be seen when you squirt the full dose into his greedy looking face.
Attention eyes closed, because here sperm can burn really nasty. Also a hot tool when you do cam sex with a horny gay guy. He might be amazed when a lot of juice squirts out of your danger noodle and you can't stop pumping. Bet, from now on you are his favorite camboy?